Bitcoin's record crash: Should you buy crypto? 
In 2021, Bitcoin could do no wrong, skyrocketing to $69 000 and becoming one of the world's most popular assets.  
In 2022, Bitcoin, and the entire cryptocurrency sector, has collapsed, with the world's biggest crypto falling below $20 000.  
In November 2022, the crypto market has been hit by yet another setback, this time due to the collapse of crypto exchange FTX sending Bitcoin, and rival cryptos, to record lows.  
Become a better trader – Join our webinars          
Today, we take a look at the fall of FTX and the crypto crash as we ask – should you still trade cryptocurrencies?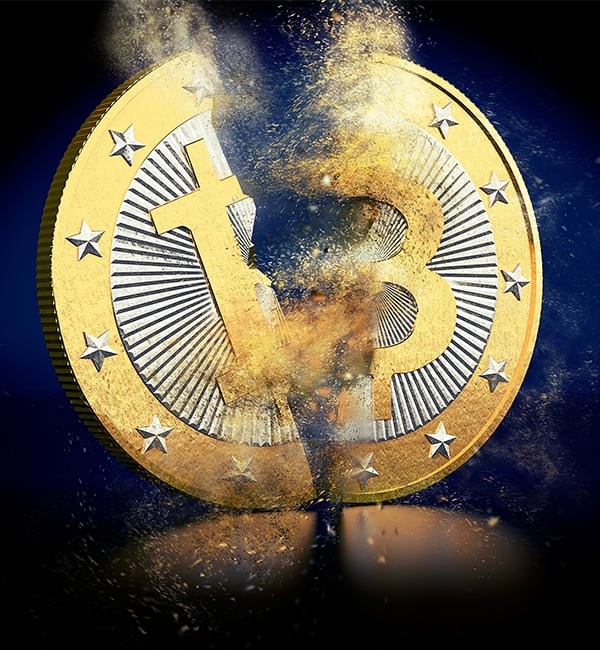 FTX fallout   
Earlier in November, FTX, the world's second-largest crypto exchange, collapsed, with billions being lost overnight. The fallout of FTX continues, dragging bitcoin and other cryptocurrencies to record lows on November 14.  
At the time of publishing Bitcoin is trading at a low of $16,733 (-22.5% for Nov), followed by Ethereum (ETH) at $1,256.  
FTX suffered a meteoric rise and fall, transitioning from one of the largest exchanges in the world to filing for bankruptcy overnight. Regulators have found that at least $1 billion of client funds are missing from FTX.   
FTX's bankruptcy marks a stunning reversal of fortune for Bankman-Fried. Since launching FTX in 2019 he had accumulated a personal fortune estimated at nearly $17 billion. FTX was valued in January at $32 billion, with investors including SoftBank and BlackRock.  
The collapse has triggered a massive sell-off with many market participants concerned about huge withdrawals from Singapore-based exchange Crypto.com. FTX's digital token is $1.60 (-94%) while Crypto.com's Cronos has lost 50% of its value to $0.06.  
The Wall Street Journal reported that withdrawals at Crypto.com are increasing reserves.  
Though smaller than FTX and market leader Binance, Crypto.com is among the top 10 exchanges.   
Ready to start trading? Open an account today        
FTX rocks the market  
Bahamas-based FTX filed for bankruptcy on Nov 11 after a failed rescue deal by rival exchange Binance. This triggered a rush of customer withdrawals.  
Bahamas securities regulators are investigating FTX for potential fraud, the Royal Bahamas Police Force reported.  
Visa stated on Twitter that it will end global credit card agreements with FTX.  
Binance CEO, Changpeng Zhao, said that the exchange had "never short-sold FTT tokens".  
 Zhao had abandoned a deal with FTX chief Sam Bankman-Fried to buy FTX's non-USA assets.  
Zhao has warned of a "cascading" crypto crisis and on Nov 14 called for "clearer crypto industry regulation".  
Zhao tweeted: "Full disclosure: Binance never shorted FTT. We still have a bag as we stopped selling FTT after SBF called me. Very expensive call."  
Crypto.com – "business as usual"  
Singapore-based crypto exchange Crypto.com's Chief executive Kris Marszalek said the company has a robust balance sheet and took no risks with client funds.  
Marszalek answered questions during in YouTube Livestream, stating that the platform always maintained reserves to match every digital token that trader's held on its platform.  
Marszalek said: "We will just continue with our business as usual and we will prove all the naysayers and there is (sic) many of these right now on Twitter over the last couple of days.  
"We will prove them all wrong with our actions. We will continue operating as we have always operated. We will continue being the safe and secure place where everybody can access crypto."  
Interestingly, he said an audited "proof of reserves report" will be published soon and that the exchange did not engage in any "irresponsible lending products".  
His online Q&A is in response to a transfer of $400 million worth of Ether tokens to another exchange called Gate.io on Oct 21. Naturally, such a huge transfer would trigger trader concerns about irregularly on the platform, especially during the crisis at rival FTX.  
Marszalek tweeted that the Ether tokens were recovered and returned to the exchange though this failed to calm a panicked crypto market.   
Marszalek said: "At no point were the funds at risk of being sent somewhere where we could not get it back. It happened over three weeks ago. It had nothing to do with any of the craziness that has been happening since FTX collapsed."   
Should you buy crypto? 
Crypto prices have been on a downhill slide throughout 2022 and the fallout from FTX has been particularly brutal.  
If you're feeling anxious about the outlook of crypto, you're not alone, as many long-term token miners are cashing out.   
Many investors and traders are worried about the impact on their crypto tokens.  
FTX's downfall should serve as an important case study of why it's not only a matter of which cryptocurrencies you're trading but which platform you're storing them on.   
It might be prudent to protect your portfolio by storing your crypto assets in a digital wallet rather than on an exchange. This could reduce your risk if the exchange, such as FTX, faces problems.  
It's also safe to stick to better-known (i.e more popular) cryptocurrencies rather than smaller and cheaper, albeit riskier, tokens. The crypto sector has exploded in terms of tradable assets, with dozens of new tokens popping up.   
Unfortunately, crypto remains the 'Wild West' of financial markets and until formal regulation is implemented, there's always a risk of catastrophic events like FTX can occur. Sadly, in this instance, unlike other assets such as forex or commodities, there's little to no recourse for traders.   
 The good news is that major cryptocurrencies such as Bitcoin and Ethereum, while not immune to platform crashes, have a better chance of pulling through periods of significant volatility.  
Ultimately, traders need to realize that crypto is an inherently risky market that sees extreme highs and lows.   
While this in no way should deter you from trading crypto, it is an important reminder to only trade funds you can afford to lose. Many have many millions trading Bitcoin from 2019 – 2021 and indeed the world's biggest crypto seemed to be heading towards $70 000 and beyond.  
Ironically, Bitcoin and rival tokens are the cheapest it's been in years, making it that much more attainable for new traders.   
The silver lining, however, is that there will be increased regulation in the crypto space in 2023. Global lawmakers are pushing for legislation and regulation as crypto becomes increasingly more intertwined in the financial system; many countries and institutions are using crypto as legal tender.   
Earlier in 2022, the US SEC outlined its crypto regulation policies to prevent future meltdowns like the one affecting FTX traders.  
Overall 
Overall, it's not an easy period to be a crypto trader as the long-term outlook is uncertain. Increased regulation will make crypto safer for all traders and see a resurgence in the asset. Crypto however remains a volatile (and profitable) environment for traders – no other asset sees such extreme jumps in prices, albeit low and high.  
Want expert trading tips?  
CMTrading offers all the latest trading tips, news, and information in real-time. Simply sign-up for an account and access your trading dashboard. What's more, it's completely FREE!  
 Gain access to the following powerful features:  
Trending stocks 

 

Analyst ratings 

 

Insider activity 

 
What's more, it's completely FREE!  
Ready to start trading? Open an account today        
Join CMTrading, the largest and best-performing broker in Africa, and discover more opportunities with an award-winning broker. Register here to get started            
Follow us on Facebook, Instagram, LinkedIn, Twitter, and YouTube