Qatar's vast wealth: $200billion FIFA World Cup 
The world's greatest football event will take place on November 20 as billions tune in to watch the 22nd quadrennial Men's FIFA World Cup. What makes the 2022 edition of the FIFA World Cup special is that not only is it a Winter event, but it will be held in the Middle Eastern nation of Qatar.   
The four-week-long event is expected to see hundreds of thousands visit Qatar as well as billions of viewers watching and streaming across 200+ countries.  
Ahead of the world's most-watched sporting event, we take a look at the staggering investment by Qatar to host this incredible tournament. What's more, we'll share top trading opportunities for all traders at the end of this article.  
Hundreds of Billions invested 
Become a better trader – Join our webinars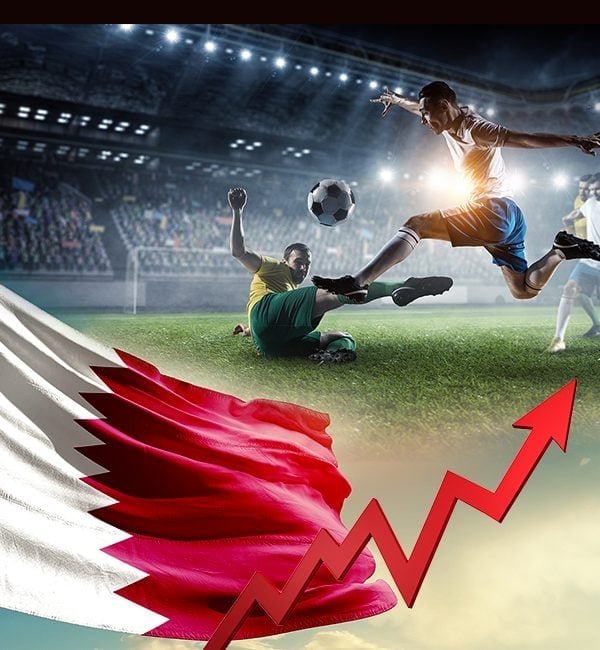 One of the biggest questions on fans' minds is "how much is Qatar spending on the FIFA World Cup 2022?'. Qatar is a small nation with a tiny population of just 2.8 million residents. Due to the country's size and vast oil reserves, it is the richest in the world in terms of per capita wealth.   
Yet even for a country as rich as Qatar, the 2022 FIFA World Cup required massive investment; so far, the country has spent about $200 billion. That's a mind-boggling amount when you consider that Russia, the previous host of the soccer tournament, spent $11 billion back in 2018.  
 FIFA World Cup spending: Year, hosts, total spending  
2018 FIFA World Cup – Russia – $11.6 billion  
2014 FIFA World Cup – Brazil – $15 billion  
2010 FIFA World Cup – South Africa – $3.6 billion  
2006 FIFA World Cup – Germany – $4.6 billion  
2002 FIFA World Cup – South Korea/Japan – $7 billion  
 Where has the $200 billion been spent? Well primarily in huge infrastructure and construction projects. Qatar has built a new city, Lusail, to host the finals of the World Cup. According to the Qatar government, the country is spending the equivalent of $500 million each week leading up to the tournament on creating new hospitals, hotels, airports, and, most importantly, several new stadiums.   
Ready to start trading? Open an account today         
Fueling the economy  
The country is expecting 1.2-1.5 million fans, that's more than double its current population. The tournament has created more than 1.5 million jobs in key sectors such as construction, real estate, and hospitality. The country is also expecting a huge increase in tourism as millions stream into the nation ahead of the tournament.  
The major investment could pay off economically as Qatar's GDP is set to rise by 4.1% by the end of 2022. According to FIFA officials, the tournament will generate $20 billion pumped back into Qatar's economy.  
2022 Qatar World Cup: Numbers you should know  
$20 billion: The estimated revenue Qatar will generate for hosting the World Cup. FIFA is expected to generate $7 billion in revenue for the event.  
3 million: The number of FIFA World Cup tickets sold. The top 5 ticket buyers by country are – Qatar, the USA, Saudi Arabia, England, and Mexico.  
1.2 million: Qatar estimates 1.2 million visitors during the tournament, that's more than half its current local population.   
4468: The size of Qatar is square miles making it the smallest country to host the World Cup yet.  
1300 – The expected number of daily flights throughout the World Cup.   
84: The average high temperature (in Fahrenheit) in Qatar in November.  
26 – 21: The average temperatures (in degrees Celsius) in Qatar during November and December respectively.  
World Cup to boost GCC economies  
The world cup will also benefit neighboring middle east nations.   
The Gulf Cooperation Council (GCC) economies are predicting a boost from the Qatar event, reports Standard and Poor's (S&P) Global Ratings report.   
In a report, the S&P said: "We also foresee a post-World Cup slowdown in economic activity in Qatar. Oversupply in the hospitality and real estate sectors could somewhat moderate their performance, although we don't expect this to materially affect banking sector asset quality.   
"We estimate real GDP growth of 4.8% in 2022, a sharp increase on 2021 (1.5 percent), partly due to the additional economic activity associated with the World Cup, but also reflecting the ongoing recovery following the removal of COVID-19-related restrictions. We estimate non-oil GDP growth in 2022 at 8 percent, compared with close to 3 % in 2021." 
Trading opportunity – Trade top Arab stocks!   
The world cup presents unique trading opportunities, especially for the GCC sector. From Forex to construction stocks, traders of all levels will be seeking opportunities  
How can you take advantage of the upcoming FIFA world cup? By trading 20 of the top stocks featured on the Saudi Exchange available on our platform  
These represent some of the most valuable companies in the world and offer a unique opportunity to diversify your portfolio.   
How to trade the top Arab stocks  
1 Login (sign-up) to your CMTrading account  
2 Check out the new stocks on the trading dashboard  
3 Enjoy new trading opportunities  
Largest Saudi Arabian companies: by market cap    
1 Saudi Aramco – $1.933 Trillion  
2 Al Rajhi Bank – $95.11 Billion   
4 SABIC – $67.21 B   
3 The Saudi National Bank – $63.06 B   
5 Saudi Telecom Company – $50.08 B 
Below are the new stocks on our platform: 
Instrument

 

MT4 Description

 

Size of 1 lot

 

AAYAN.KW

 

A'ayan Leasing and Investment Company K.S.C.P

 

10

 

AHLIBANK.KW

 

Ahli United Bank Kuwait

 

20

 

FINHOUSE.KW

 

Kuwait Finance House

 

10

 

MOBTELEC.KW

 

Mobile Telecommunications Kuwait

 

10

 

NAKUBANK.KW

 

National Bank of Kuwait

 

10

 

QAREEN.KW

 

Boursa Kuwait Premier Market Price Return Index

 

1

 

WARB.KW

 

Warba Bank

 

20

 

GPI.KW

 

Gulf Petroleum Investment

 

100

 

ADCB.UAE

 

Abu Dhabi Commercial Bank

 

100

 

ADNOC.UAE

 

Abu Dhabi National Oil Co for Distribution

 

100

 

ALDAR.UAE

 

Aldar Properties

 

100

 

DEWA.UAE

 

Dubai Electricity & Water Authority

 

100

 

EMIRNBD.UAE

 

Emirates NBD Bank

 

100

 

ESHRAQ.UAE

 

Eshraq Investments

 

100

 

MAADEN.SA

 

Saudi Arabian Mining Company SJSC

 

100

 

NCB.SA

 

Saudi National Bank

 

100

 

RIBL.SA

 

Riyad Bank

 

100

 

SABIC.SA

 

Agri-Nutrients Company

 

100

 

SEC.SA

 

Saudi Electricity Company SJSC

 

100

 

STC.SA

 

Saudi Telecom Company SJSC

 

100

 

TADAWUL.SA

 

Tadawul All Shares Index

 

1

 

ALINMA.SA

 

Alinma Bank

 

100

 

ALRAHJI.SA

 

Al Rajhi Banking & Investment Corp SJSC 

 

100

 

ARAMCO.SA

 

Aramco

 

100

 

BSFR.SA

 

Banque Saudi Fransi 

 

100

 

BUPA.SA

 

Bupa Arabia for Cooperative Insu Co SJSC

 

100

 
Want expert trading tips?  
CMTrading offers all the latest trading tips, news, and information in real-time. Simply sign-up for an account and access your trading dashboard. What's more, it's completely FREE!  
 Gain access to the following powerful features:  
Trending stocks 

 

Analyst ratings 

 

Insider activity 

 

TipRanks smart score 

 
What's more, it's completely FREE!  
Ready to start trading? Open an account today        
Join CMTrading, the largest and best-performing broker in Africa, and discover more opportunities with an award-winning broker. Register here to get started            
Follow us on Facebook, Instagram, LinkedIn, Twitter, and YouTube