Bitcoin soars as global banking crisis sparks rally 
The global economy is gripped by the dual collapse of major banking institutions Silicon Valley Bank and Credit Suisse (CSGN.S).  
As investors are rattled by the traditional banking sector, cryptocurrencies are on the rise.  
In fact, Bitcoin, the world's biggest cryptocurrency, is nearing a nine-month high.  
In this article, we examine Bitcoin's recent surge and what the future holds for the banking sector.  
Stay up to date on the latest market news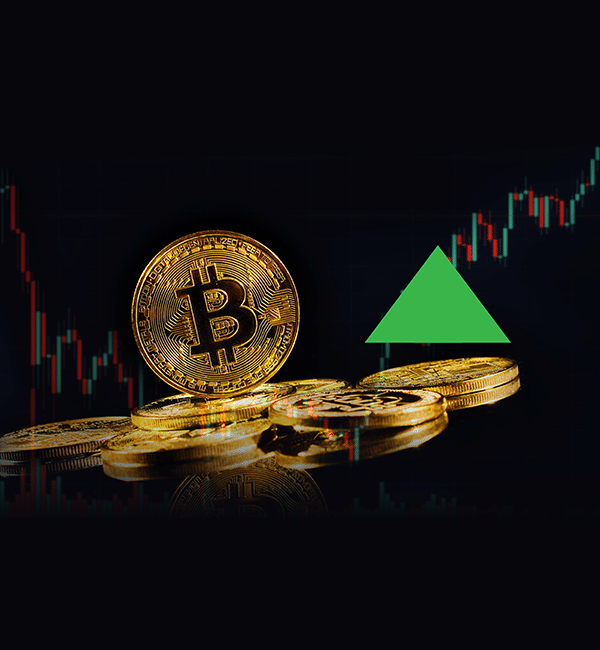 Bitcoin soars to record highs 
Bitcoin achieved its best week in four years on March 20 as turmoil in traditional banking drives many traders and investors to digital assets.      
Bitcoin hit $28,474, rising 26% in one week. The crypto king is up more than 35% since the start of March 2023.   
Ether, the second-biggest cryptocurrency, rose to a seven-month high of $1,846.50. 
Ready to start trading? Stay tuned for a special trading offer at the end of this article! 
The momentum is being driven by liquidity, as Bitcoin becomes more appealing considering the turmoil in the banking sector. Many analysts have changed their outlook for Bitcoin, predicting if it continues its growth, it could reach $45,000 by the end of 2023.    
The liquidity from central banks is finding its way back into crypto assets, as was the case in 2021 when bitcoin reached record highs.   
Want to learn more about the markets? Check out our latest podcast!    
Uncertainty in the banking sector  
The US Federal Reserve, European Central Bank, Bank of England, Swiss National Bank, Bank of Canada, and Bank of Japan announced in March a joint action to enhance market liquidity.     
This follows Swiss authorities' negotiation of a buyout of major financial institution Credit Suisse by UBS (UBSG.S). The buyout comes at a huge discount with a $17 billion debt write down.  
  World's most expensive petrol price 
A Fed rate decision on March 21 will likely add another layer of uncertainty. Traders are still expecting a quarter-point rise but are now positioned for a peak in rates in May at around 4.8%. This could be followed by a series of cuts later in the year.  
Banking stocks crash, Credit Suisse bailout  
The banking sector saw stocks crash on March 20 despite troubled moneylender Credit Suisse being bought out by Swiss rival UBS Group. The primary concern of traders and investors was regarding new risks of high-yield debt issued by big banks.  
In a package managed by Swiss regulators on March 19, UBS Group AG will pay $3.23 billion for the 167-year-old Credit Suisse Group AG and assume up to $5.4 billion in losses.    
Major central banks, faced with a loss of confidence in the financial system, scrambled to bolster cash flow with a series of coordinated currency swaps to ensure banks have the US dollars needed to operate.    
While these developments appeared to shore up some investor confidence, the rally quickly evaporated as focus shifted to the massive loss many Credit Suisse bondholders would take under the new UBS acquisition.  
Become a better trader – join our webinars            
Under the deal, Swiss regulators decided that Credit Suisse's additional tier-1 bonds – or AT1 bonds – with a notional value of $17 billion will be valued at zero, angering holders of the debt.    
Standard Chartered Plc and HSBC shares each fell more than 6% on March 20 to more than two-month lows, with HSBC facing the possibility of posting its largest one-day drop in six months.     
The MSCI index for financial stocks in Asia was down 1.3%.  
Co-ordinated effort by major banks 
The Credit Suisse deal is backed by a huge government guarantee, helping prevent what would have been one of the largest banking collapses since the fall of Lehman Brothers in 2008.    
Pressure on UBS helped seal Sunday's deal.    
UBS Chairman Colm Kelleher said in a statement: "It's a historic day in Switzerland, and a day frankly, we hoped, would not come.     
"I would like to make it clear that while we did not initiate discussions, we believe that this transaction is financially attractive for UBS shareholders  
Big Mac Index – Top 10 Global Food Index you should know 
In a global response not seen since the height of the 2020 pandemic, the Fed said it had joined central banks in Canada, England, Japan, the EU, and Switzerland in a coordinated effort to enhance market liquidity.     
The European Central Bank vowed to support eurozone banks with loans if needed. Credit Suisse's banking operations appear to be business as usual with the bank urging its staff to go to work.  
 UBS chairman Kelleher told a media conference that it restructure Credit Suisse's investment bank. UBS said it expected annual cost savings of $7 billion by 2027.    
Credit Suisse shares lost a quarter of their value earlier on March 21 and were forced to tap $54 billion in central bank funding.     
Uncertainty in the US banking sector 
Problems persist in the US banking sector, where bank stocks remained under pressure. Several large banks moved to deposit $30 billion into First Republic Bank (FRC.N), a credit institution rocked by the collapse of Silicon Valley and Signature Bank (SBNY.O).    
On March 19, First Republic Bank saw its credit ratings downgraded to junk status by S&P Global.  
Silicon Valley Bank Collapse   
Rampant rate hikes by the US Federal Reserve's actions saw the demise of the major financial institution Silicon Valley Bank (SIVB.O) earlier in March 2023.    
At the start of March, Silicon Valley Bank was a well-capitalized institution yet by March 8 it announced it was seeking to raise billions in funds.      
Within 48 hours, its panic-stricken venture capital clients crippled the institution with mass withdrawals, amounting to a staggering $42 billion, ending SVB's 40-year legacy.     
By March 10, US regulators closed SVB and seized its deposits in what has become the biggest US banking failure since the 2008 financial crisis.     
SVB reported $212 billion in assets for the fourth quarter of 2022. Overall, its demise is the second-largest banking crisis behind Washington Mutual, which in 2008 had approximately $300 billion in assets.   
More from CMTrading: 
How ChatGPT and AI will affect traders 
Nigeria election: More of the same for Africa's biggest economy?   
World's most expensive fuel prices 
Big Mac Index – Top 10 Global Food Index you should know 
Special offer 
Take advantage of market movements with our special March offer and start trading today!  
How to get your bonus:    
1 Deposit $250 – get a 100% back  
2 Use promo code CMT250 
3 Trade with our bonus 
T&C Apply | Min. deposit $250 | Max reward $250 | New clients | Promo code: CMT250 
____________________________________________________________________________________ 
Ready to start trading? Open an account today        
Join CMTrading, the largest and best-performing broker in Africa, and discover more opportunities with an award-winning broker. Register here to get started            
Follow us on Facebook, Instagram, LinkedIn, Twitter, and YouTube