10 easy ways to start online trading 
The stock market has been hit hard by the dual combination of high-interest rates and high inflation.   
Despite the difficulties, millions are being traded daily through the financial markets. Online trading is booming, with thousands of newcomers entering the market, many without having a financial background.  
Today, anyone with access to the internet can get into online trading. However, to be successful, you need to partner with a trusted broker, such as CMTrading.  
We take a look at the benefits of online trading and how you can grab your share of the markets. 
 Ready to start trading? Stay tuned for a special trading offer at the end of this article!  
Become a better trader – join our webinars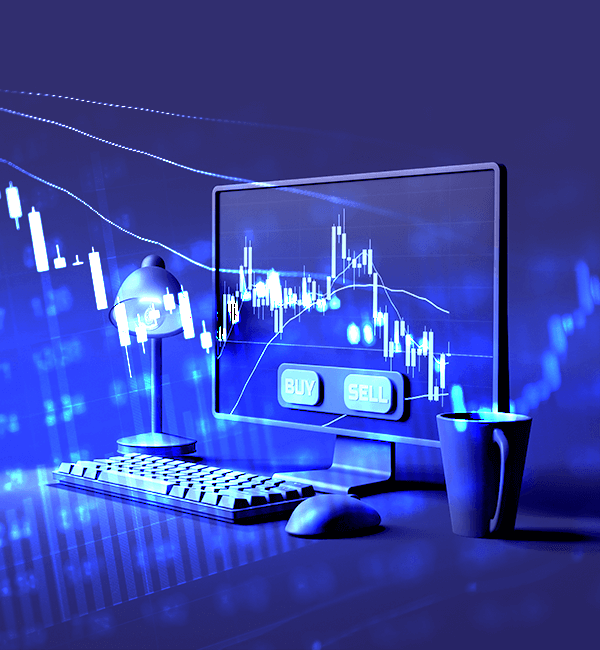 Calculated risk 
It's important to note that trading is a complex activity that involves risks and requires knowledge, skills, and discipline.   
Before starting to trade, it's essential to understand the basics of trading, such as how to read charts, interpret market news and trends, manage risks, and develop a trading plan.      
Moreover, it's recommended to start with a demo account or a small amount of capital to practice and gain experience. CMTrading offers many educational materials, webinars, and tutorials to help beginners learn the fundamentals of trading.   
Want to learn more about the markets? Check out our latest podcast!         
Online trading has many benefits, including:  
Convenience:  
Online trading allows you to buy and sell stocks from the comfort of your home or office, without having to physically visit a stockbroker or financial institution. This can save you time and make it easier to trade regularly.  
Lower costs:  
Online trading often has lower costs compared to traditional trading methods, as there are fewer intermediaries involved. You may also be able to find lower brokerage fees and transaction costs when trading online.  
Access to information:  
Online trading platforms provide investors with a wealth of information and tools, including real-time market data, research reports, and trading tools. This can help you make more informed decisions and better manage your investments.  
Faster transactions:  
Online trading allows you to execute transactions quickly and easily, without having to wait for a broker to place your order. This can be especially beneficial for day traders or investors who need to act quickly on market changes.  
Control: 
Online trading gives investors greater control over their investments, as they can monitor their portfolios and make trades at any time. This can help investors react quickly to changes in the market and manage risk more effectively.  
Stay up to date on the latest market news            
Big tech earnings: Trade Amazon, Google, and more!   
Here are the top 10 easiest ways to get into online trading:   
Find a reputable online trading platform:

 
There are many online trading platforms available, so do some research to find a platform that is easy to use and has a good reputation.  CMTrading is an award-winning broker with more than 10 years of service.   
Open an account

 
Once you have chosen a platform, you will need to open an account. This process is typically straightforward and only requires basic personal information.     
Do your research

 
Like any skill, trading involves discipline and education. You need learn technical analysis, how to use trading tools and most importantly, develop a trading strategy. 
Deposit funds

 
To start trading, you will need to deposit funds into your trading account. Most platforms accept a variety of payment methods, including credit/debit cards, bank transfers, and e-wallets.    
Start with a demo account or small amount of capital

 
Many online trading platforms offer demo accounts, which allow you to practice trading with virtual money. This is a great way to get familiar with the platform and test your trading strategies.   
Choose your assets

 
Online trading platforms typically offer a wide range of assets to trade, including stocks, forex, cryptocurrencies, and commodities. Choose the assets that interest you and fit your trading style.     
Set your trading parameters

 
Before you start trading, decide on your trading parameters, including the amount of capital you want to risk, your stop-loss level, and your profit target.      
Monitor the markets

 
To be successful in online trading, you need to stay up-to-date on market news and trends. Most trading platforms offer real-time market data and news feeds.     
Make trades

 
Once you have set your parameters and chosen your assets, you can start making trades. Always remember to stick to your trading plan and risk management strategies.     
Risk management

 
Even the best traders can fail. Markets are by their nature volatile, some more than others (i.e. crypto). You need to manage your risk through effective stop-loss methods.  
Not a get-rich-quick scheme   
Yes, it is possible to make money as an online trader, but it is important to note that trading involves risks, and there is no guarantee of profits.  The potential profitability of online trading depends on many factors, such as the trading strategy, the asset being traded, the market conditions, and the trader's skills, discipline, and risk management practices.     
Dricus Du Plessis – My incredible journey with CMTrading 
Overall 
Some traders are successful and make significant profits through online trading, while others may incur losses. The key to making money as an online trader is to develop a sound trading plan, stick to a disciplined approach, and manage risk effectively.     
It is worth noting that trading should not be seen as a get-rich-quick scheme, and traders should be prepared to invest time, effort, and capital to develop their trading skills and achieve consistent profitability.    
Overall, online trading offers investors greater convenience, lower costs, and greater control over their investments, making it an attractive option for many investors. However, it's important to remember that investing always carries some risk and it's important to do your research and seek professional advice before making any investment decisions.  
Special offer 
Take advantage of market movements with our special April offer and start trading today!  
How to get your bonus:    
1 Deposit $250 – get a 100% back  
2 Use promo code CMT250 
3 Trade with our bonus 
T&C Apply | Min. deposit $250 | Max reward $250 | New clients | Promo code: CMT250 
Ready to start trading? Open an account today        
Join CMTrading, the largest and best-performing broker in Africa, and discover more opportunities with an award-winning broker. Register here to get started            
Follow us on Facebook, Instagram, LinkedIn, Twitter, and YouTube