Banking crisis: Is a global recession more likely?
In March 2023, global financial markets were rocked by a series of bank crashes around the world. In the USA, a bizarre series of withdrawals brought down Silicon Valley Bank. Similarly, Signature Bank was also forced by regulators to permanently close its doors. Meanwhile, in Switzerland, the collapse of beleaguered Credit Suisse resulted in a massive government-brokered takeover by UBS.    
In May 2023, the fallout continues with the collapse and auction of First Republic Bank (FRC.N) to JPMorgan Chase & Co (JPM.N) on May 1.    
In this article, we take a look at the latest bank crash, determine why the banking sector is in crisis, and whether the global economy is headed for a recession.  
Ready to start trading? Stay tuned for a special trading offer at the end of this article!  
Become a better trader – join our webinars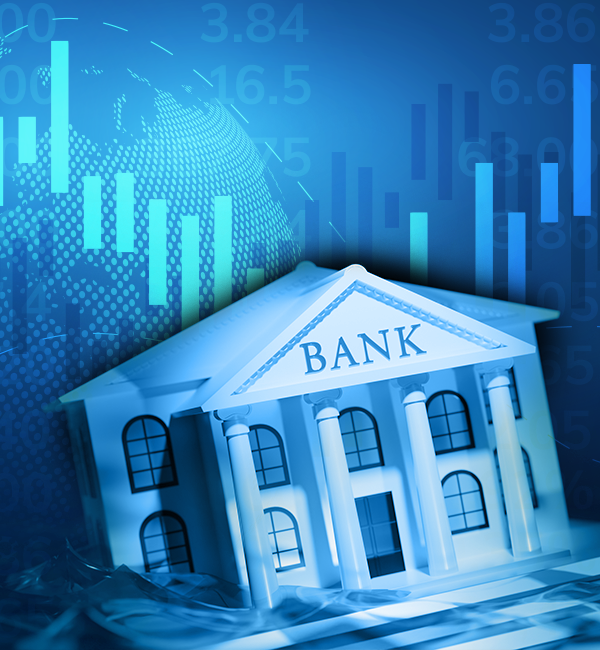 JPMorgan acquires First Republic in a government auction  
Regulators seized and sold assets of First Republic to JPMorgan on May 1, in a deal to remedy the largest US bank failure since the 2008 financial crisis. The bank had been in crisis since March.     
JPMorgan bought First Republic on Monday through a government auction, culminating weeks of failed rescue attempts involving some of the most powerful Wall Street players and US officials.   
Want to learn more about the markets? Check out our latest podcast!           
Besides JPMorgan, the bidders included PNC Financial Services Group (PNC.N), Citizens Financial Group Inc (CFG.N), and Fifth Third Bancorp (FITB.O).    
JPMorgan will pay $10.6 billion to the US Federal Deposit Insurance Corp (FDIC) as part of the deal to take control of First Republic.    
US President Joe Biden held a press conference on May 1, praising the deal for protecting existing clients without asking taxpayers to foot the bill.     
Biden repeated his call for stronger bank regulation and supervision: "These actions are going to make sure that the banking system is safe and sound.    
"Critically, taxpayers are not the ones that are on the hook."  
Stay up to date on the latest market news             
Big tech earnings: Trade Amazon, Google, and more!   
BANKING CRISIS  
First Republic was founded in 1985 and eventually bought by Merrill Lynch in 2007, a year before the financial crisis. It became public again in 2010 after Merrill Lynch was bought by Bank of America Corp (BAC.N).    
First Republic, much like SVB, focused on rich clients by providing them preferential rates on mortgages and loans. Unfortunately, its focus on the rich made it more vulnerable as it had a high reliance on uninsured deposits.    
In early March, as Silicon Valley Bank collapsed, First Republic became a target for spooked investors. The bank saw more than $100 billion in withdrawals during the first quarter of 2023.    
By the weekend of March 12, First Republic said it had taken additional steps to access a total of $70 billion in funds, including from JPMorgan. Unfortunately, by the end of March, it was all too late for the 40-year-old bank.  
Dricus Du Plessis – My incredible journey with CMTrading 
Financial vulnerabilities  
  So, are recent banking disruptions to blame for the economy sliding closer into recession?     
The World Economic Forum Chief Economists said: "These bank failures, and the market panic they induced, briefly sparked fears of the kind of systemic financial vulnerabilities that caused the 2007-08 global financial crisis."    
In its May 2023 report, the World Economic Forum (WEF) made startling revelations; of the chief economists surveyed, nearly 70% characterized the recent banking crises as "isolated episodes" rather than major signs of systemic weakness.   
The International Monetary Fund has warned that even isolated bank failures increase the likelihood of major disruption to the global economy.   
Interestingly, a large majority of respondents expect further bank failures in 2023. The report states: "Fears of systemic disruption have since abated, but concerns persist about pockets of financial vulnerability being revealed as rapid recent increases in interest rates begin to bite."   
Economists respond – the risk of further crashes  
In addition to the risk of further bank collapses the WEF's latest survey of chief economists revealed the likelihood of spillover effects.    
To stem mass withdrawals, banks will be lending more cautiously, further slowing the economy. Businesses may find it difficult to source funding through bank loans in the wake of financial disruption.  
Take a look at the WEF's survey results: Chief Economists Survey, April 2023  
How would you characterize recent distress in the banking sector?    
Isolated episodes with limited additional impact – 69%  
Indications of systemic vulnerability – 31%  
How likely are further bank failures or other serious financial disruptions in 2023?  
Extremely unlikely – 6% 
Neither likely nor unlikely – 27%  
Somewhat likely – 64%  
Extremely likely – 3%  
What is your expectation for the regulatory response to the recent financial disruption?  
The response will be limited – 28%   
National-level changes to banking regulations – 36% 
Noth national and global changes to banking regulations – 36%  
RISING RATES  
Many blamed the root cause of the crisis in the banking sector on loose monetary policy which has persisted for many years. When the current system was hit by fast-paced interest rate hikes by the US Federal Reserve since 2022, financial institutions were hard-pressed to keep pace.  
A major cause of rapid decline for these banks has been rapid policy rate increases, which triggered sharp falls in the value of many assets, including government bonds. The Federal Deposit Insurance Corporation (FDIC) states that the US banking sector is sitting on $620 million of unrealized losses. This leaves smaller lenders particularly vulnerable to mass withdrawals.  
The US Fed is expected to hike rates by a final quarter point on May 3rd. Many believe this will be followed by a pause in rate hikes. Forex markets are still betting on a Fed rate cut before the end of the year though with the current banking crisis that seems unlikely.  
The deal has raised questions about the dangers of having banks that are "too big to fail". The regulatory oversight of the banking industry has also been called into question as the Biden administration focuses on keeping corporations from becoming too powerful through deals.  
JPMorgan chief executive, Jamie Dimon, said of the deal and his bank's growing influence: "We have capabilities to serve our clients, who can be cities, schools, hospitals, governments; we bank the IMF, the World Bank.  
"And anyone who thinks the United States should not have that can call me directly." 
Ready to start trading? Open an account today        
Join CMTrading, the largest and best-performing broker in Africa, and discover more opportunities with an award-winning broker. Register here to get started            
Follow us on Facebook, Instagram, LinkedIn, Twitter, and YouTube