Big tech, bigger profits: Trade Apple earnings 
May the 4th might be World Star Wars Day but another blockbuster event is taking place – Apple's latest earnings report.  
Wall Street and tech traders are anticipating a great report from the world's biggest tech company.  
CMTrading takes a look at Apple, its performance, and what trading opportunities it presents.   
Big Month For Big Tech   
Global markets have been raised by first-quarter updates from US Big Tech firms since April 2023. Already, the tech sector has been rocked by Tesla and Netflix's Q1 earnings reports earlier in April.    
Three of the four biggest US companies by market value have already posted their first quarter profits – Microsoft (MSFT.O), Google-parent Alphabet (GOOGL.O), Amazon (AMZN.O), Apple (APPL), and Meta.    
These five tech stocks have accounted for two-thirds of the S&P500's gains this year. One of the reasons for the boost has been the uptake of Artificial Intelligence sparked by the emergence of ChatGPT. This new AI-backed momentum has added a new non-cyclical attraction to the tech sector.   
Want to learn more about the markets? Check out our latest podcast!    
 Ready to start trading? Stay tuned for a special trading offer at the end of this article!  
Become a better trader – join our webinars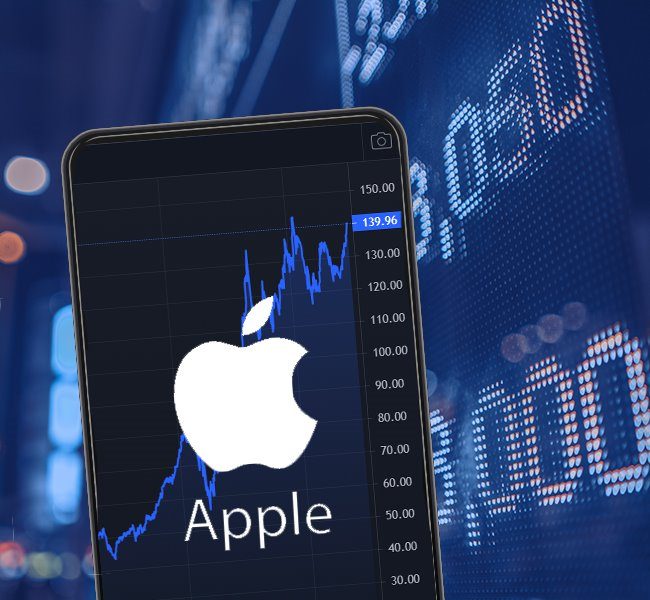 Apple snapshot – May 4  
Apple (AAPL) – $167,45, 21% past six-months         
Earnings Per Share (EPS) forecast – 1.43  
Revenue forecast Q1 – $92.9B    
Market cap – $2,65T  
Apple stock is pushing up toward its former highs because of sustained demand for iPhones, its latest MacBook Pro, and future services revenue. The company is benefiting from strong demand in Asia for its iPhone 14, with no major production cuts planned for the year.   
Another boost for Apple is its expanding fintech services, which now include a banking platform in partnership with Goldman Sachs.  
What's driving Apple stock?  
Big Tech has, so far, managed to beat Wall Street's expectations this earnings season with Microsoft, Amazon, Google, and Meta largely outperforming analysts' estimates.  
Their earnings come in a period of major consumer and corporate spending. Massive layoffs by Google, Meta, and Amazon have also uncertainty in the sector.  
Want to learn more about the markets? Check out our latest podcast!           
The industry's biggest test will be when Apple reports its fiscal second-quarter earnings results. The iPhone maker serves as an accurate measure of the tech sector as well as consumer spending – if Apple sales are up, consumer spending remains high.  
A solid result from Apple could raise the tech industry and not only drive up its shares but that of its "Big Tech" rival names.   
Stay up to date on the latest market news             
Big tech earnings: Trade Amazon, Google, and more!   
Conversely, should Apple miss its earnings forecasts, we could see a sell-off in the tech sector, undoing massive gains earned earlier in 2023.  
Apple targets $92.6 billion  
Wall Street expects Apple to report revenue of $92.6 billion for the second quarter, a 4.8% decline from the $97.3 billion reported during the same quarter in 2022. This would follow a 5% decline the company posted in its Q1 report.  
How does Apple compare to other major tech rivals?  
Apple and Microsoft make up roughly 13% of the S&P index's market value. Apple, however, beats Microsoft in market cap – a staggering $2.67 trillion vs $2.27 trillion.  
A company as large as Apple will have a huge impact on the S&P 500, a miss by Apple could have an outsized impact on their portfolios.  
Dricus Du Plessis – My incredible journey with CMTrading 
A key to consumer spending  
The global economy is being hit hard by high inflation. As companies raise prices, consumers are becoming more budget-conscious and less likely to spend on luxury items. To combat rising inflation, the Federal Reserve has conducted its fastest pace of rate hikes in a decade. This has affected all sectors of the economy, especially luxury goods such as Apple's highly prized iPhones.  
A miss on Apple's revenue, especially for its iPhone business, would mean global consumers are spending less. Worse, it would be any signal that revenue will most likely be even weaker than anticipated in Q3.   
Investing in Fintech  
On April 17, Apple announced its new Apple Card Savings Account in partnership with financial titan Goldman Sachs. The new savings account has "no fees, minimum deposits, or balance requirements", says Apple. Additionally, the account offers an annual percentage yield (APY) of 4.15%.   
In May, its new foray into banking is paying off.  
Forbes reports that more than 240,000 accounts have been opened equating to nearly $ 1 billion in deposits. Apple's new savings account comes at a turbulent time in the banking sector.    
Since the start of 2023, many major banks have collapsed including Silicon Valley Bank, Signature Bank, and now First Republic Bank. JPMorgan Chase & Co purchased the assets of First Republic Banks in a government auction earlier in May.  
How earnings season works:  
Earnings season is a period during which publicly traded companies release their financial results for a specific quarter. In general, companies report earnings four times per year, corresponding to the end of each quarter:   
Q1: January through March  
Q2: April through June  
Q3: July through September  
Q4: October through December   
During earnings season, companies announce their financial performance for the previous quarter. This includes their revenue, earnings per share, and other financial metrics. Companies may also guide their future performance, outlining their expectations for the coming quarter or year.   
Investors and analysts closely follow earnings reports to evaluate a company's financial health and performance, as well as to gauge the potential for future growth. Earnings reports can also impact on stock prices, as investors may buy or sell shares based on the company's financial results and guidance.   
In general, earnings season kicks off several weeks after the end of each quarter, with many companies releasing their earnings reports within a few days of each other. The actual release date can vary, however, and some companies may report earnings outside of the traditional earnings season schedule. 
Ready to start trading? Open an account today        
Join CMTrading, the largest and best-performing broker in Africa, and discover more opportunities with an award-winning broker. Register here to get started            
Follow us on Facebook, Instagram, LinkedIn, Twitter, and YouTube