Big tech earnings: Trade Amazon, Google, and more!   
Google, Amazon, Meta… some of the world's biggest companies are set to release their first quarter (Q1) in May.     
A packed earnings season dominates this week's trading radar as more than a third of S&P500 companies report.   
The release of these earnings could cause high volatility, especially in the massive technology sector.  Where there's volatility, there are trading opportunities.  
In this article, we highlight some of the upcoming Q1 company earnings and why you shouldn't miss out on the trading opportunities they present.    
Ready to start trading? Stay tuned for a special trading offer at the end of this article!  
Become a better trader – join our webinars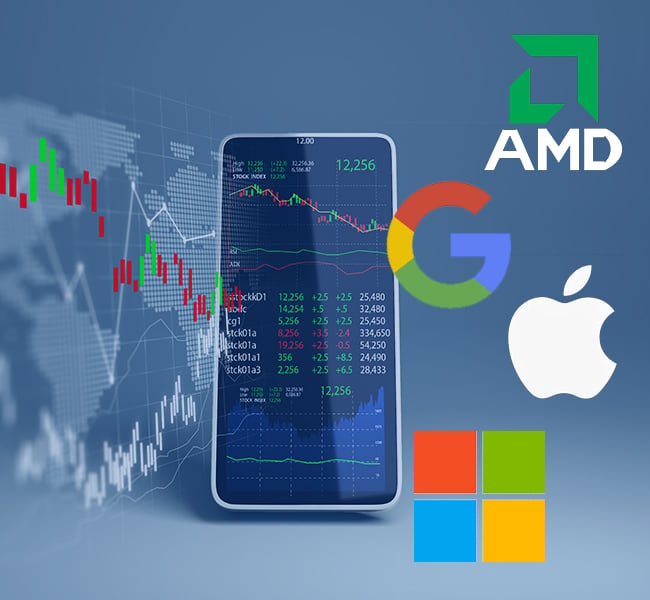 Big Week For Big Tech  
World markets are preparing for first-quarter updates from US Big Tech firms this week (April 24 – 28). Already, the tech sector has been rocked by Tesla and Netflix's Q1 earnings reports earlier in April.   
Three of the four biggest US companies by market value are scheduled to post their first quarter profits – Microsoft (MSFT.O), Google-parent Alphabet (GOOGL.O), Amazon (AMZN.O), Apple (APPL), and Meta.   
These five tech stocks have accounted for two-thirds of the S&P500's gains this year. One of the reasons for the boost has been the craze around Artificial Intelligence sparked by the emergence of ChatGPT. This has added a new non-cyclical attraction to the tech sector.  
Want to learn more about the markets? Check out our latest podcast!         
Earnings Season 2023 – Q1 snapshot of top companies this week (April 24-28)  
April 25  
Microsoft (MSFT) – $281,77, +12.41% past six-months    
Earnings Per Share (EPS) forecast – $2.24      
Revenue forecast Q1 – $51.12B   
Market cap – $2.10 Trillion   
Microsoft (MSFT) has mounted a comeback from its lows, but it remains about 18% below its highs. Investors are assessing how long it's slowing growth will last. Microsoft, one of the biggest companies in the world, is coming off five-straight years of booming sales and earnings growth. Its growth since 2020 has been driven largely by its cloud computing division.   
MSFT's near-term outlook still calls for growth, followed by a big rebound in 2024. Microsoft is diving headfirst into AI technology with nearly $100 billion in investment.  
Stay up to date on the latest market news            
Alphabet (GOOGLE) – $105,97, +1.43% past six-months     
Earnings Per Share (EPS) forecast – $1.08   
Revenue forecast Q1 – $68.87B    
Market cap – $1,36T   
Amid rising fears of a global recession, many traders and investors are questioning Google's resilience to an economic downturn. The company has seen a huge drop in its digital advertising business.     
Despite mounting competition in AI-driven internet searches, shares in Google-parent Alphabet have risen 19% in 2023. The S&P 500, by comparison, has gained 8%. The Nasdaq is up nearly 15%.    
The company's cloud-computing revenue growth is expected to slow. Overall the performance of GOOGLE lags behind rival tech titan Apple (AAPL) – AAPL stock is up 27% in 2023.  
Crypto trading: What are Altcoins?   
April 26  
Meta Platforms (META) – $212,79, +54.75% past six-months      
Earnings Per Share (EPS) forecast – $2.02    
Revenue forecast Q1 – $27.61B     
Market cap – $545,88B  
Shares in Facebook parent Meta Platforms (META) dropped to their lowest value during 2022. Ongoing concerns about CEO Mark Zuckerberg's big bet on the metaverse exacerbated existing worries about the social media giant's performance.    
Its fortunes have changed in 2023 as META stock has more than doubled. The company's aggressive cost-cutting efforts seem to be paying off. As the digital ad market recovers, Meta is well-positioned to report strong earnings growth in 2023.   
The strength of its underlying business continues to face competitive threats as a young audience flocks toward TikTok.  
April 27  
Amazon's (AMZN) – $106,21, -11.93% past six-months     
Earnings Per Share (EPS) forecast – $0.2117    
Revenue forecast Q1 – $124.55B     
Market cap – $1,09T  
Amazon's (AMZN) stock has experienced a significant boost since March 2023, with its shares increasing by more than 15%. Ahead of its earnings, however, experts are betting it has already peaked and will drop by May.    
The company is expecting a challenging quarter with analysts predicting a 13.5% decline in earnings compared to 2022. This is despite its revenue being forecasted to increase by 7.1% to $124.7 billion.    
If Amazon can maintain its revenue growth, there may be room to reduce expenses, leading to better-than-expected earnings. One of the primary factors affecting its business is labour costs and the current dual combination of high-interest rates and high inflation.  
 Dricus Du Plessis – My incredible journey with CMTrading 
April 28 
Exxon Mobil (XOM) – $118,20, 11.64% past six-months       
Earnings Per Share (EPS) forecast – $2.6   
Revenue forecast Q1 – $82.66B   
Market cap – $1,09T  
The 2022 Russian invasion of Ukraine disrupted the global oil supply, sending fuel prices skyrocketing. Record high oil prices, above $110 a barrel, saw record profits for oil giants such as Exxon (XOM) and Chevron. That windfall has ended with oil prices back down to 2021 levels.    
Exxon Mobil will be looking to flex its performance with its next earnings release, on April 28. This company is projected to report earnings of $2.65 per share, which would represent year-over-year growth of 28.02%. Quarterly revenue is expected to be $96.04 billion, up 6.12% from the same period in 2022.    
The oil industry is feeling the brunt of a strong US dollar and high-interest rates. Globally, inflation is making travel prohibitively expensive, curbing revenues for oil companies and supplies.  
Earnings season: Trade Netflix, Tesla, and more! 
 How earnings season works:  
Earnings season is a period during which publicly traded companies release their financial results for a specific quarter. In general, companies report earnings four times per year, corresponding to the end of each quarter:   
Q1: January through March  
Q2: April through June  
Q3: July through September  
Q4: October through December   
During earnings season, companies announce their financial performance for the previous quarter. This includes their revenue, earnings per share, and other financial metrics. Companies may also guide their future performance, outlining their expectations for the coming quarter or year.   
Investors and analysts closely follow earnings reports to evaluate a company's financial health and performance, as well as to gauge the potential for future growth. Earnings reports can also impact on stock prices, as investors may buy or sell shares based on the company's financial results and guidance.   
In general, earnings season kicks off several weeks after the end of each quarter, with many companies releasing their earnings reports within a few days of each other. The actual release date can vary, however, and some companies may report earnings outside of the traditional earnings season schedule. 
Special offer 
Take advantage of market movements with our special April offer and start trading today!  
How to get your bonus:    
1 Deposit $250 – get a 100% back  
2 Use promo code CMT250 
3 Trade with our bonus 
T&C Apply | Min. deposit $250 | Max reward $250 | New clients | Promo code: CMT250 
Ready to start trading? Open an account today        
Join CMTrading, the largest and best-performing broker in Africa, and discover more opportunities with an award-winning broker. Register here to get started            
Follow us on Facebook, Instagram, LinkedIn, Twitter, and YouTube