Trading opportunities: Pfizer, Meta to release earnings 
The first earning season of the year is in full swing as some of the world's biggest companies are set to report their fourth-quarter results from January to February 2023.  
In the final week of January, pharmaceutical giant Pfizer and social media titan Meta (Facebook) will release their results.  
Today, we highlight both companies and share valuable insights for all traders. What's more, we'll share a full list of top companies set to release their earnings soon!  
Become a better trader – join our webinars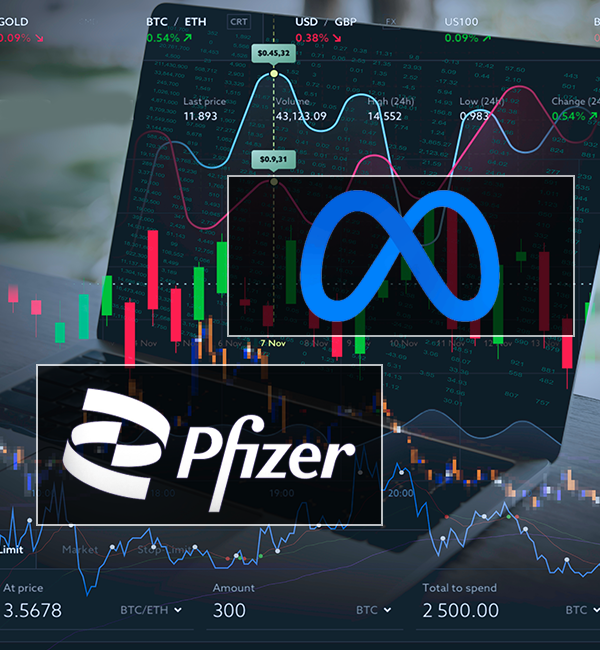 Pfizer – the end of COVID-driven profits?  
Pfizer (PFE) Q4 Earnings – What to expect     
Earnings Per Share (EPS) forecast – $1.07

 

Revenue forecast – $24.61B vs $22.6B reached in Q3 

Total market cap – $245.80 bn 

 
Stay up to date on the latest market news   
The COVID-19 pandemic sent the global economy into chaos. As the world reeled from economic recession all eyes were on the pharmaceutical sector to produce much-needed treatment and ultimately vaccines. 
Drugmaker Pfizer, like its rivals Johnson & Johnson and Moderna, delivered a vaccine in record time and was able to cash in with lucrative government contracts worth hundreds of billions. Its share price skyrocketed along with its profits.   
Ironically, the worst the pandemic became the better pharmaceutical companies performed via the sales of vaccines and treatment. The profits from Pfizer's vaccines were never going to last yet despite a demand reduction, the company consistently reached its earnings targets since 2020.  
In 2023 however, Pfizer's COVID-19 profits and prospects have all but diminished and the company needs to focus on long-term goals.   
Pfizer stock – most lucrative year yet  
Pfizer is hoping to cap the most lucrative year in its history with fourth-quarter results due on January 1. Experts and shareholders hope the drugmaker's 2023 guidance isn't too much of a letdown as demand for COVID-19 vaccines plummets.  
PFE stock is down 14% in January compared to a 2% decline for the S&P 500 Health Care Sector Index. Q4 revenue could increase 2% year-on-year based on Pfizer's guidance though February releases have historically been off target for the company. Earlier in January, Bank of America analysts downgraded from a "buy" to "neutral". The company is however set to pivot its business model and focus on its all-inclusive flu/cold vaccine in 2023.   
Meta (Facebook) – Enter the metaverse  
Pfizer (PFE) Q4 Earnings – What to expect     
Earnings Per Share (EPS) forecast – $2.26  
Revenue forecast – $31.53B vs $27.71B reached in Q3    
Total market cap – $562.19 bn    
Last year was a nightmare for Meta Platforms. The parent company of Facebook, Instagram, WhatsApp, and FB Messenger suffered as ad-driven revenue dried up. Combined with changes to ad tracking and privacy on Apple's mobile platform, Meta took a major hit throughout 2022.   
Its share price declined 65% last year. Yet, there are signs that Meta will make a turnaround in 2023.  
Nightmare year for Meta  
 Meta kicked off 2022, with disastrous fourth-quarter 2021 results, due to Apple's iOS changes. Revenue growth continued to decline on a year-over-year basis throughout the year as the company reeled from poor ad revenue and pumped billions into its metaverse. It's a far cry from its performance in 2020 as the company reported millions of new monthly users, capitalizing on the social media boom during the first year of the pandemic.  
Don't miss out – Get Daily Trading Signals     
Is a turnaround on the way?  
Meta's stock performance was poor yet the company remains confident it will improve its fortunes in 2023. The company said it's working on a solution to be less reliant on Apple's mobile platform. The company is also seeking other forms of monetization and revenue, moving away from its traditional ad-driven model.  
Here's what to trade with just $100 
Pfizer, Meta earnings – What do the experts think?   
Alon Roslyakov, CMTrading South Africa Office Manager, shares advice for anyone wanting to trade Pfizer and Meta shares.       
PFE:  
Pfizer Inc. (PFE) is a well-established pharmaceutical company with a diversified product portfolio, which includes vaccines, oncology, and biosimilars. The company has a strong financial position, with steady revenue and earnings growth. Pfizer's COVID-19 vaccine developed in collaboration with BioNTech has been authorized for emergency use by regulatory agencies around the world and that has become a significant contributor to the company's revenue. Pfizer's strong pipeline of potential new drugs and vaccines, as well as its ongoing efforts to expand its portfolio through acquisitions and partnerships, could provide a positive outlook for the company's future growth.   
We can see on a macro level (Daily Chart) the clear rejection of support with a clear bullish hammer formed. The lower hammer being as a result of dividends paid. That being said, a negative earnings report we look toward the $41 mark for the next support level. On the other hand, a positive report would see the stock's first resistance point being its SMA lines. This could be a catalyst to support the higher high formed in late December with a higher low forming this could indicate a change in trend towards the bullish side.   
META  
Facebook Inc. (META) is a well-established social media and technology company. The company operates the world's largest social networking platform and owns other popular platforms such as Instagram and WhatsApp. Facebook's financial performance has been strong in recent years, with steady revenue and earnings growth. The company has a large user base, and its advertising business, which accounts for most of its revenue, is expected to continue to grow as more businesses shift their advertising spend to digital platforms.    
For the better part of the past decade, Facebook has been on a long-term uptrend. 2022 violently broke that trend. It seems META has found its bottom at $85, 77% down from its 2021 highs. The recent breakthrough of 50 and 100 SMA's is a positive sign for the stock that is looking to regain its value. Coming in next is the 155 – 185 order blocks with the 200 SMA coinciding with the bottom of the range. A positive earnings report could see short liquidity being taken out with pushback to levels of $250 being in sight.   
Conclusion   
Traders should be careful entering trades in companies surrounding earnings announcements. These are by far the most volatile points over the lifecycle of a stock. Keeping an eye on price movements and not acting hasty in fear of missing a trade is imperative. Sometimes even with the released data being positive from a fundamental standpoint, intricacies hidden within earnings reports can have more of a defining implication than the numbers themselves.   
More company earnings are on the way   
The first earnings season of 2023 is in full swing and many of the world's biggest companies will report their results, creating major trading opportunities.   
Top stocks earnings releases: EPS, Revenue forecast, and market cap:      
Tuesday, January 31, 2023 

 
Pfizer (PFE) $1.07 / $24.37B / $268.6B  
Wednesday, February 1, 2023

 

 
Meta Platforms (META) $2.26 / $31.48B / $359.19B   
Thursday, February 2, 2023 

 
Apple (AAPL) $1.98 / $123.39B / $2.13T   
Alphabet A (GOOGL) $1.18 / $76.64B / 1.2T   
Amazon.com (AMZN) $0.1888 / $145.78B / $1.00T 
 Ready to start trading? Open an account today        
Join CMTrading, the largest and best-performing broker in Africa, and discover more opportunities with an award-winning broker. Register here to get started            
Follow us on Facebook, Instagram, LinkedIn, Twitter, and YouTube