Amazon, Apple & Google – Big day for traders!
The first earning season of 2023 is in full swing as some of the world's biggest companies are set to report their 2022 fourth-quarter earnings in February.
In the final week of January, pharmaceutical giant Pfizer and social media titan Meta (Facebook) have already released their results.
Today, we highlight Amazon, Apple, and Google and share valuable insights for all traders. What's more, we'll share an exciting opportunity for all traders!
Become a better trader – join our webinars
Apple (APPL) Q4 Earnings – What to expect     
Earnings Per Share (EPS) forecast – $1.94  
Revenue forecast – $121.88B vs $90.1B reached in Q3    
Total market cap – $2.29 trillion
Apple remains a darling of Wall Street though, despite billions generated from its tech division, there are some red flags. Consensus on WallStreet is that the tech behemoth will report $121 billion in revenue in its next earnings, the company's first annualised decline since 2019.
Apple is diversifying its portfolio, pumping billions into its Apple TV streaming division and its digital services.
Google (GOOGL) Q4 Earnings – What to expect      
Earnings Per Share (EPS) forecast – $1.18 
Revenue forecast – $76.07B vs $69.09B reached in Q3    
Total market cap – $1.29 trillion
Alphabet's (Google's parent company) shares were hit hard in 2022 by the decline in the digital advertising market. Google has also come under fire in recent years facing scrutiny and billion-dollar fines for antitrust crimes. There's also the looming threat of AI competition from OpenAI's ChatGPT chatbot.
Google is beating the S&P 500 as of publication. There's also a good chance that it will rebound alongside a resurgent tech sector in 2023, provided a new bull market continues.
AMAZON (AMZN) Q4 Earnings – What to expect      
Earnings Per Share (EPS) forecast – $0.1729
Revenue forecast – $145.64B vs $127.1B reached in Q3     
Total market cap – $1.05 trillion
Amazon has been reeling from a reduced e-Commerce market, fending off threats from rivals and the dual combination of high inflation and lower consumer spending. The company, however, is innovating and leads the cloud computing industry through its Amazon Web Services (AWS).
Its streaming services also continue to generate healthy amounts of revenue and the company has dipped its toes into the gaming industry.
Stay up to date on the latest market news
Apple, Google, and Amazon earnings – What do the experts think?  
Alon Roslyakov, CMTrading South Africa Office Manager, shares advice for anyone wanting to trade company earnings:
AAPL
Apple Inc. (AAPL) is a well-established technology company that designs, develops, and sells consumer electronics, computer software, and online services. The company operates in several different markets, including smartphones, personal computers, wearables, home products, and services. Apple's financial performance has been strong in recent years, with steady revenue and earnings growth. The company has a strong brand and a loyal customer base, and its product offerings are generally well-regarded by consumers.
Currently, we see AAPL moving along a micro downward trend channel. This is forming a bullish flag that indicates a continuation to the upside if the channel is broken to the upside. On the other hand, we see since 2022 a pattern of lower highs and lower lows have been formed. A rejection of the resistance trendline would confirm a downward continuation within the channel down to the $120 price level.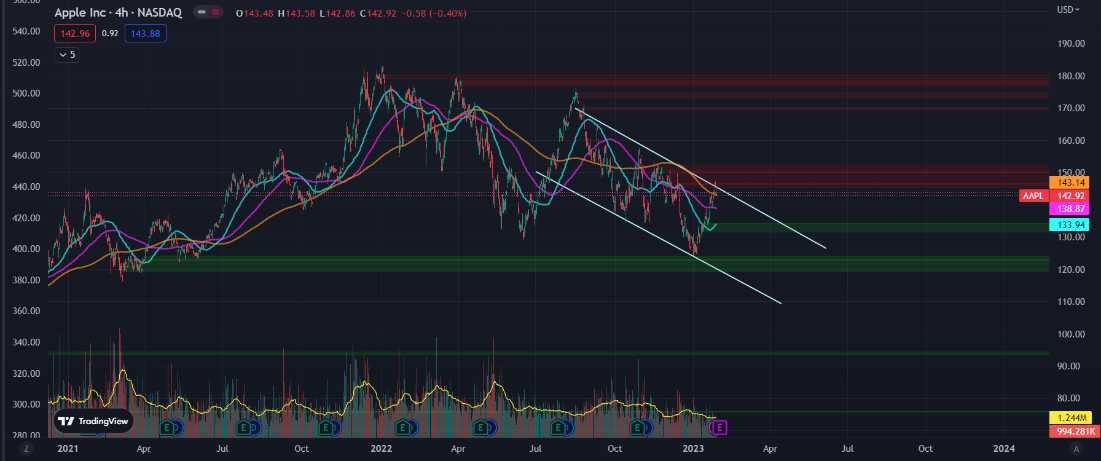 GOOGLE
Alphabet Inc. (GOOGL), the parent company of Google, is a well-established technology company that specializes in Internet-related services and products. The company operates the world's largest search engine, as well as other popular platforms such as YouTube and Google Maps. Google's financial performance has been strong in recent years, with steady revenue and earnings growth. The company's advertising business, which accounts for the majority of its revenue, is expected to continue to grow as more businesses shift their advertising spend to digital platforms.
Google has a large user base, and its technology and artificial intelligence capabilities are highly regarded in the industry. Additionally, the company is investing heavily in new areas such as cloud computing, hardware, and healthcare, which could provide significant growth opportunities in the future.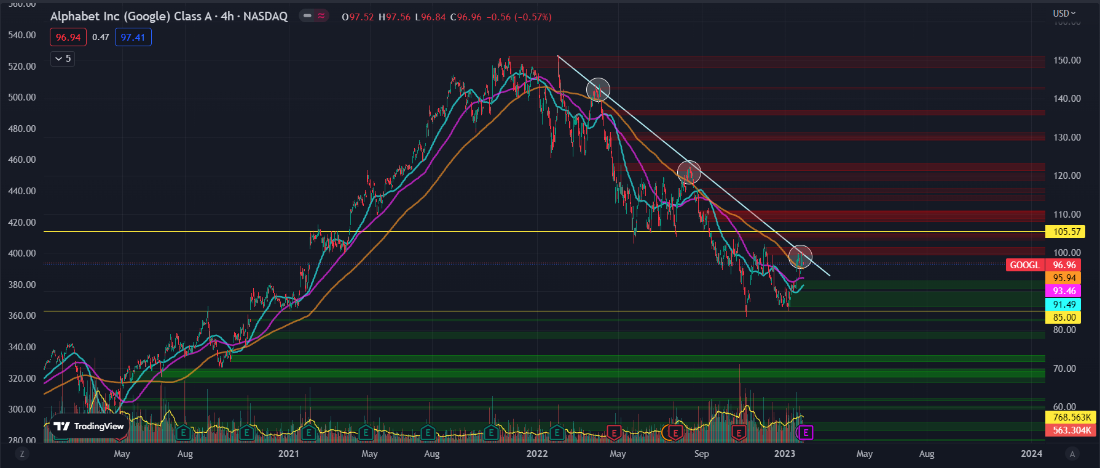 GOOGLE has been on a steady downward trend, in line with the rest of the market. Points of note are the fake breakouts of the 200 SMA line. There is a clear rejection of the bearish algo line occurring 3 times over the past year. A high-volume break of the algo line and subsequent turn into support would show great promise for a bullish trend. Looking at the short side a rejection similar to the past with a break below the 200 SMA again would see the stock target the $85 level as support.
AMZN
Amazon.com Inc. (AMZN) is a well-established e-commerce and technology company that operates an online retail platform, as well as provides cloud computing, artificial intelligence, and other services. The company has a large customer base and has seen steady revenue and earnings growth in recent years. Amazon's dominant position in e-commerce and its expanding product and service offerings make it a major player in the technology industry.
The COVID-19 pandemic has accelerated the shift toward online shopping, which has had a positive impact on Amazon's business. The company's investments in logistics, delivery capabilities, and technology are expected to continue to provide a competitive advantage.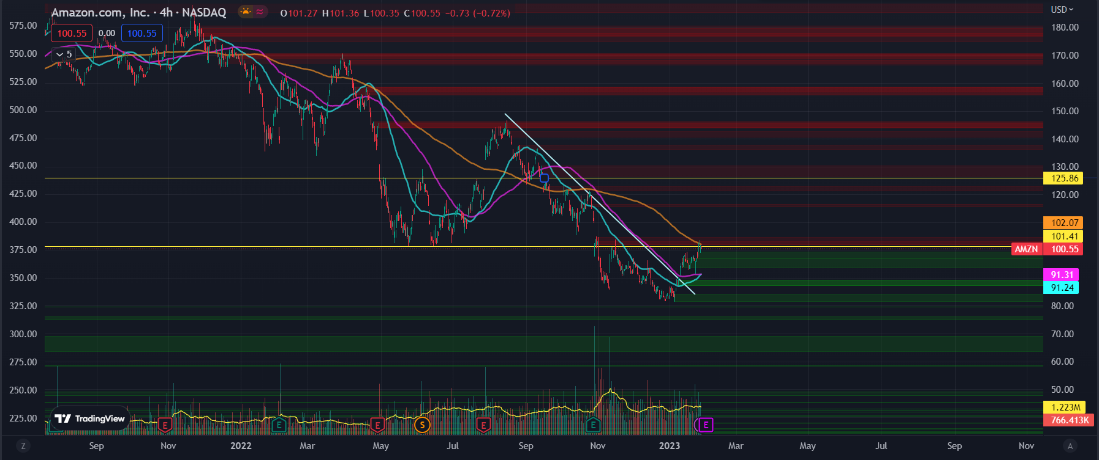 Similar to the market and its FAANG compatriots AMZN has been declining in value since 2022. However, like AUG of 2022, we see the stock rebounding from its lows. There is potential that with decreasing interest rates and good earnings reports that the stock could replicate the same pattern; resistance break out, 50 + 100 SMA support creation, 200 SMA break and gap up on high volume earnings report. $125 would be the target for this move to the upside. On the downside, we look to a rejection of the 200 SMA, retracement below the supporting SMA's, and back down to retest support of $90.
More company earnings are on the way  
The first earnings season of 2023 is in full swing and many of the world's biggest companies will report their results, creating major trading opportunities.
Top stocks earnings releases: EPS, Revenue forecast, and market cap
Thursday, February 2, 2023
Apple (AAPL) $1.98 / $123.39B / $2.13T
Alphabet A (GOOGL) $1.18 / $76.64B / 1.2T
Amazon.com (AMZN) $0.1888 / $145.78B / $1.00T
Special offer
Take advantage of market movements with our special February offer and start trading today!
How to get your bonus: 
Deposit $250 – get a $200 bonus
Use promo code EXTRA200
Trade with our bonus
T&C Apply | Min. deposit $250 | Max reward $200 | New clients | Promo code: EXTRA200
Ready to start trading? Open an account today      
Join CMTrading, the largest and best-performing broker in Africa, and discover more opportunities with an award-winning broker. Register here to get started          
Follow us on Facebook, Instagram, LinkedIn, Twitter, and YouTube