5 great stocks to trade  
So, you'd like to start trading but don't exactly know what to trade? There are many opportunities in the financial markets and today we're highlighting five great stocks you should consider.   
Online traders can access many tradable assets and the best part is you don't need to have a huge amount of capital to start trading.   
What you will need is competitive conditions offered by an award-winning financial broker such as CMTrading and tap into the power of Trading Contracts for Difference (CFDs).   
Here's what to trade with just $100 
In this article, we'll share top assets you can trade with $300 and share valuable trading advice. What's more, we have an amazing not-to-be-missed offer to help you on your trading journey at the end of this article!  
ADVICE FROM AN EXPERT TRADER    
Alon Roslyakov, CMTrading South Africa Office Manager, shares advice for anyone wanting to trade in 2023.     
Trading stock CFDs with $300 can offer several benefits to traders.  
Here are a few great reasons to trade CFDs:  
1 Leverage  
One of the main benefits of trading CFDs is the ability to trade with leverage. This means that you can trade a larger position than the amount of money you have in your account. For example, if you have $300 in your account, you could potentially trade a position worth $3,000. This can be especially beneficial for traders with small trading accounts, as it allows them to potentially make larger profits.  
Become a better trader – join our webinars 
2 Short Selling  
CFDs also allow traders to short-sell or bet against the market. This means that you can profit from a stock's decline in value, rather than just its appreciation. This can be especially useful in bear markets or when you believe a particular stock is overvalued.  
3 Access to a Wide Range of Markets 
 CFDs also provide access to a wide range of markets, including stocks, indices, commodities, and currencies. This can give traders a diverse portfolio of trading opportunities.  
4 Low Initial Investment 
With a trading account of $300, you can easily start trading stock CFDs which can be beneficial for people who want to take a small step in the trading world.  
5 Flexibility 
CFDs are also flexible in terms of trade duration, traders can hold positions for minutes, hours, days, or even months. This flexibility allows traders to adapt to different market conditions and trading strategies.  
Stay up to date on the latest market news 
Understand the risks   
It is important to remember that trading CFDs is also associated with risk and traders should have a good understanding of the CFDs and the underlying markets before investing. Additionally, traders should also consider other expenses such as the spread, overnight financing, and other fees that may eat into their small trading account. It is advisable to seek professional advice before investing.    
Forex, commodities, and crypto are considered more volatile than the stock market because currency values are influenced by multiple political, social, and economic factors every other day. Stocks typically follow predictable market cycles and are less volatile than currencies. Therefore, in trading stocks with a lower initial amount such as $300 traders should look to hold shares for a more extended period rather than day trading. Below are some examples of trades that could be taken on share CFDs with an initial capital investment of $300 that can yield results from 50 – 200% in returns depending on the success and/or length of the trade as well.  
Don't miss out – Get Daily Trading Signals          
1 Amazon (AMZN)  
Amazon is a well-established company with stable financial performance, it's one of the biggest companies in the world with a strong brand and a diversified revenue stream, so it can be an attractive option for traders who are looking for a high-potential stock to trade.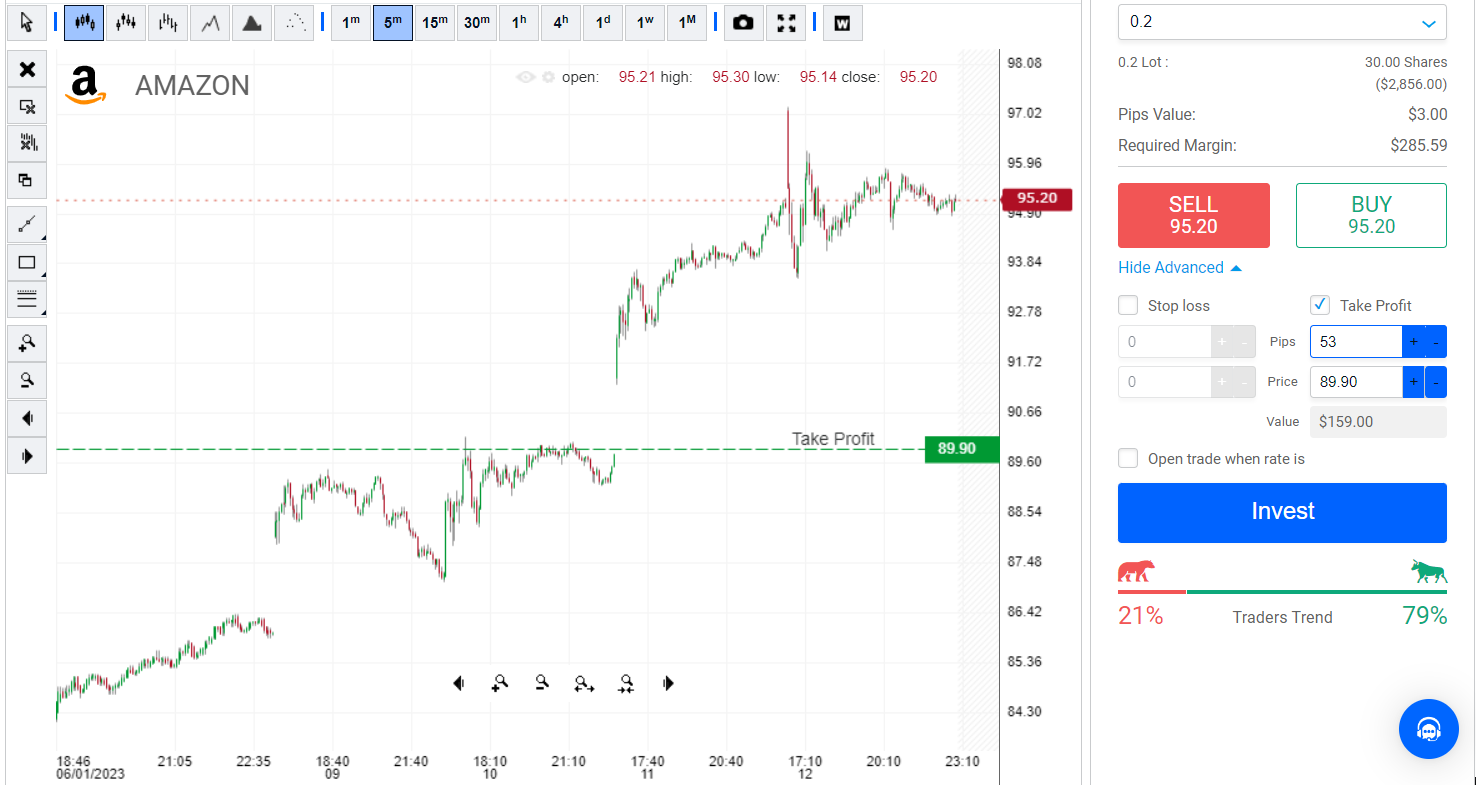 2 Apple (AAPL)  
However, Apple is considered one of the most valuable and profitable companies in the world, with a diversified revenue stream and a strong brand. Apple's financial performance has been solid, with steady growth in revenue and profits. The company has also been expanding into new markets and product lines, such as wearable technology and home automation, which could provide additional growth opportunities in the future.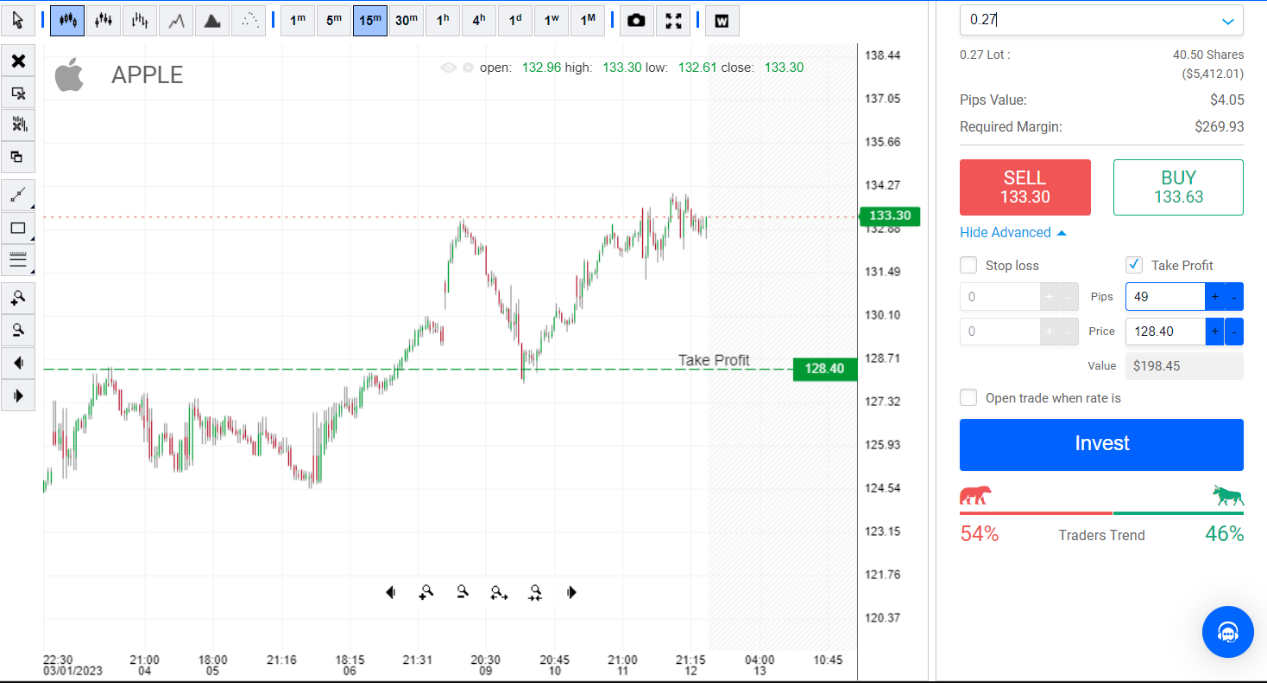 3 Hewlett-Packard (HP)  
Hewlett-Packard (HP) is a company with a diversified business portfolio in the technology industry, with products and services that include personal computers, printers, and imaging equipment. In recent years, HP has been undergoing a significant business transformation, focusing on its software and services business as well as expanding its presence in the 3D printing market. The company has also been making efforts to optimize its cost structure and increase its efficiency, which could improve its financial performance in the future.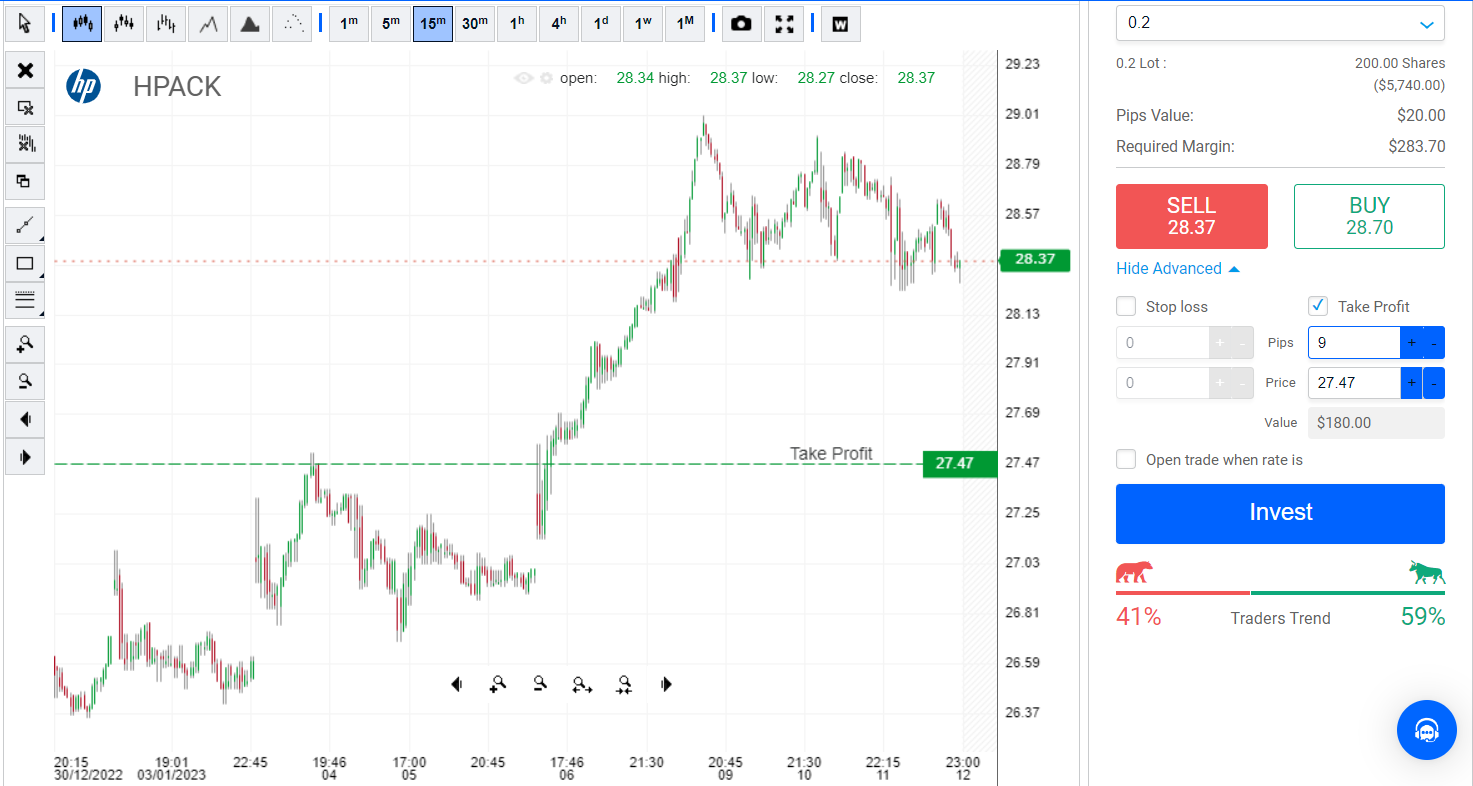 4 Paypal (PYPL)  
PayPal is a successful company in the financial technology (fintech) industry and is a leading provider of digital payments and financial services. PayPal has been experiencing strong growth, driven by the increasing demand for digital payments and the shift toward e-commerce. The company has also been expanding its services to include new products such as Venmo, a mobile payment and money transfer service, and Xoom, an international money transfer service. These new products could provide additional growth opportunities in the future.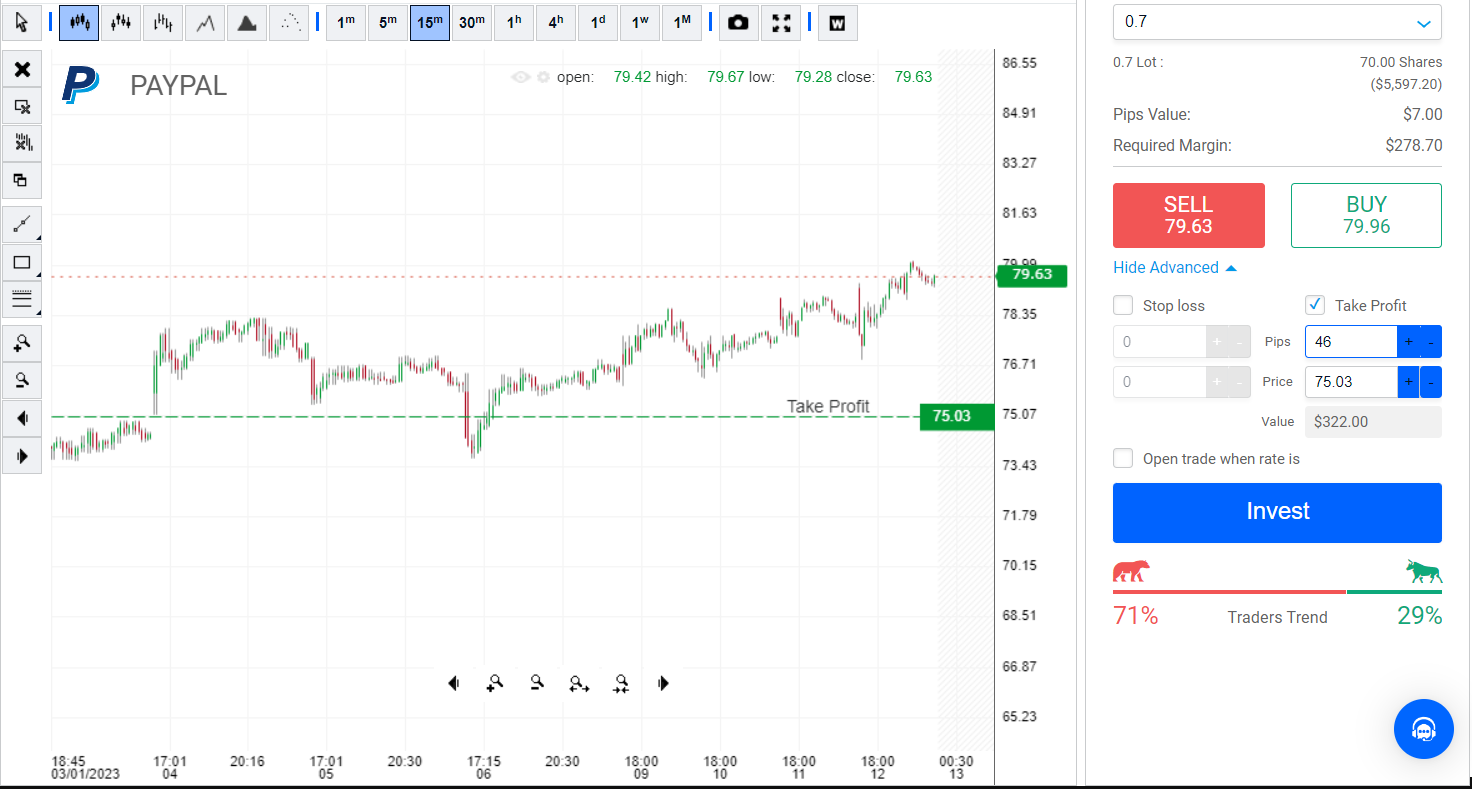 5 Uber (UBER)  
Uber is an industry-leading company in the ride-sharing and transportation industry and is a leading provider of transportation services worldwide. In recent years, Uber has been expanding its service offerings to include new products such as UberEATS, a food delivery service, and Uber for Business, a service that provides transportation solutions for companies. These new products could provide additional growth opportunities in the future.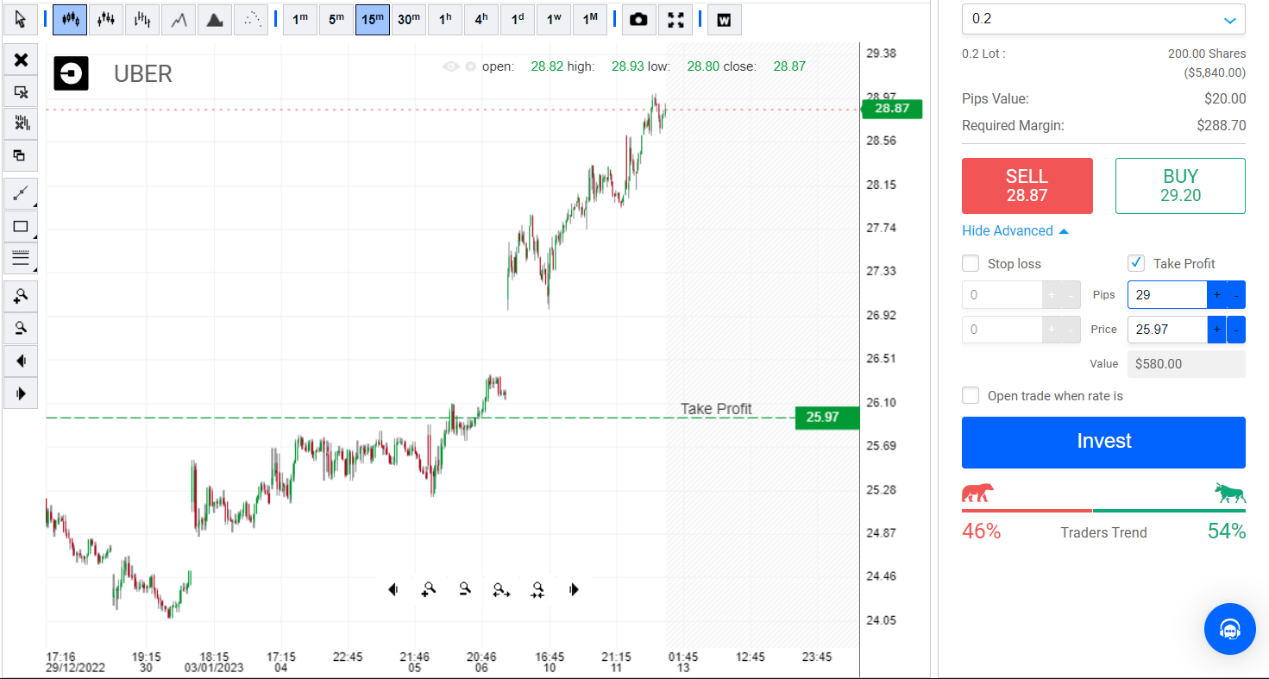 Trading with CFDs – how it works   
One of the most advantageous methods of benefiting from price movements is to trade CFDs online. CFDs or Contracts for Difference are financial derivatives that allow investors to speculate on the price fluctuations of an underlying financial asset such as commodities without buying it beforehand.   
Moreover, CFD traders can profit both when prices are rising as well as when they are falling. This is because CFD trading allows traders to open a buy or sell position, which means they can buy when prices are moving up or sell when the prices are dropping to generate profits.    
Also, CFDs are traded on margin, which means that traders only need a small amount of capital to open a position on the market and enjoy increased returns at the cost of higher-risk exposure.    
Please note that trading CFDs is considered a high-risk investment, which can result in the loss of your invested capital. Always get in touch with your account manager to discuss profit targets and how you can minimize your exposure to downside risk.   
_____________________________________________________________________________________Special offer 
Take advantage of market movements with our special January offer and start trading today!  
How to get your bonus:    
1 Deposit $300 – get $300 bonus  
2 Use promo code JAN300   
3 Trade with our bonus 
T&C Apply | Min. deposit $300 | Max reward $1000 | New clients | 31, 2023 _____________________________________________________________________________________ 
Ready to start trading? Open an account today        
Join CMTrading, the largest and best-performing broker in Africa, and discover more opportunities with an award-winning broker. Register here to get started            
Follow us on Facebook, Instagram, LinkedIn, Twitter, and YouTube