Online Share Trading: Netflix & Tesla Move The Markets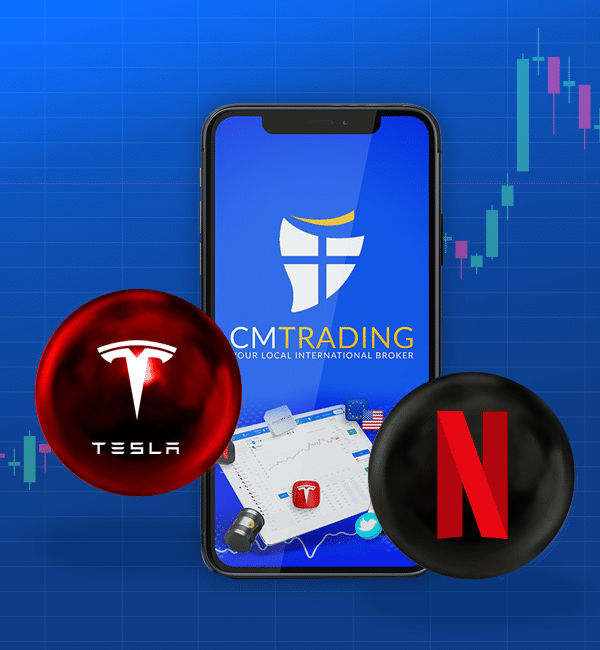 Netflix, Tesla, Amazon, Google… some of the world's biggest companies are reporting their earnings from July to August 2023. These companies provide the perfect opportunity to enhance your Online Share Trading portfolio. 
Both Netflix and Tesla release their quarterly earnings on July 19. Though the results were hit-and-miss for both companies, the pair nonetheless moved the financial markets. 
In this article, CMTrading explores Netflix and Tesla earnings as well as provides advice and insights for all traders.  
Netflix – more subscribers, drop in earnings.
Netflix, the pioneering streaming video company (NFLX), failed to meet analyst expectations for second-quarter revenue, which caused its shares to plummet nearly 9% in after-hours trading. Despite reporting strong earnings that exceeded predictions and gaining 5.9 million new streaming customers from April to June, its revenue figure fell short, and the third-quarter revenue forecast was weaker than expected.   
As competition in the streaming market intensifies and Netflix nears market saturation in the United States, the company has been exploring new ways to generate revenue. They introduced a cheaper tier with advertising last November and initiated a crackdown on password sharing in May. 
Want to learn more about the markets? Check out our latest podcast!     
In response to the disappointing results, Netflix stated that they aim to accelerate revenue growth in the second half of the year. Their plans include creating compelling shows and movies, improving monetization, expanding the video game business, and enhancing user experience.   
The second-quarter earnings per share of $3.29 outperformed the consensus forecast of $2.86. Additionally, the company added nearly 6 million subscribers, exceeding Wall Street's expectation of 1.9 million. However, the average revenue per member declined by 3% from the previous year due to a significant portion of new sign-ups coming from countries with lower subscription prices. 
While Netflix's advertising tier remains a small part of its membership base, some investors may have had overly optimistic expectations, contributing to the share online share trading decline. The company's 2023 free cash flow estimate was raised to $5 billion, partly due to reduced content spending during labor strikes in the entertainment industry.   
Despite facing challenges, Netflix maintains an advantage in global production compared to its competitors. The company's co-CEO, Ted Sarandos, expressed hope for a resolution to the ongoing labor tensions in the entertainment industry.   
Overall, Netflix recognizes the need to reaccelerate its growth and is committed to exploring new strategies to remain competitive in the ever-changing streaming landscape.  
Online Share Trading – Getting back on course
In 2022, Netflix experienced a sharp 60% decline in valuation due to stagnant streaming subscriber growth. To revive its growth narrative, the company emphasized its newly introduced video game business during earnings conference calls.   
However, in the current quarter's shareholder letter, video games received minimal attention. This is because Netflix differs from other media companies; it doesn't require a new narrative. The existing one is still effective.
Streaming continues to expand, cash reserves are increasing, and the prospect of advertising has investors excited. Moreover, Netflix possesses a robust collection of international content and a deep library, which can help it weather a potential extended strike by writers and actors.   
Analyst Ross Benes from research firm Insider Intelligence pointed out that the absence of references to video games in the shareholder's letter indicates that the company is primarily focusing on advertising as the key area of interest.   
While Netflix's shares dropped 5% after hours, this seems to be a result of profit-taking after the significant gains the company made this year (with a rise of over 62% as of Wednesday's closing) rather than any concerning issues with its initial quarterly performance.   
After a challenging period last year, Netflix is now back on track, and interestingly, it achieved this without needing to change its strategy significantly.  
Tesla – price cuts affect earnings
According to recently released figures, Tesla experienced a decline in profit margins in the latest quarter, partly due to several price cuts made earlier this year, which affected its earnings.   
Despite this, Tesla's profitability remained better than what many Wall Street analysts had predicted. The company maintains its target of selling 1.8 million vehicles this year, suggesting that it is managing the volatile electric vehicle market more effectively than anticipated.   
During an analyst call, Tesla's shares fell by 4% after the company mentioned that factory downtime would lead to lower production in the current quarter. CEO Elon Musk indicated the possibility of further price reductions later this year.  
Tesla's stock has surged by 137% since the beginning of the year, with significant gains in the last two months, as Wall Street approves of its strategy of cutting prices to safeguard its market share. 
The gross profit margin from automotive operations, excluding the impact of regulatory credits, dropped to 18.2% in the past three months. This compares to 18.8% in the first quarter of 2023 and 26.2% a year ago.  
Start Online Share Trading Today With CMTrading
Analysts had anticipated a steeper decline in the latest period after slow sales early in the year prompted Tesla to lower prices. The move led to increased sales and higher deliveries in the second quarter, surpassing expectations. Even with the current reduced levels, Tesla's gross profit margins outperform those of most traditional carmakers. 
 Elon Musk informed analysts that if interest rates continue to rise, Tesla would further reduce prices to ensure that financing costs do not make its vehicles more expensive for customers. He also emphasized that the company's short-term focus is on selling more vehicles, as the value of the cars will increase significantly once Tesla perfects its Full Self-Driving software. 
 Musk added that Tesla intends to invest "north of $1 billion" in the next year on its new AI training hardware, known as Dojo, in its pursuit of achieving full autonomy, a promise he has made for years. 
In recent weeks, investors had been anticipating that the second-quarter results would mark the lowest point in Tesla's profit margins. The company has been actively working on improving the efficiency of its car production and increasing output from its newer facilities in Texas and Germany. These efforts played a significant role in minimizing the decline in the overall operating margin for this quarter, which was 9.6%, five percentage points lower than the previous year. 
 Tesla's free cash flow for the quarter also saw improvement, reaching $1 billion, a notable increase from the $441 million in the preceding three months. Adjusted earnings per share for the second quarter were 91 cents, up from 76 cents in the same period last year, surpassing the 82 cents that most analysts had predicted.
Additionally, revenue experienced a substantial increase of 47% to $24.9 billion, exceeding forecasts by approximately $500 million. 
When following formal accounting principles, earnings per share grew by 13 cents, amounting to 78 cents. 
For further information and inquiries about upcoming events or partnership opportunities, visit CMTrading.com.
Join CMTrading
, the largest and best-performing broker in Africa, and discover more opportunities with an award-winning broker.
Register here to get started