Online Trading for Everyone: Another hugely successful CMTrading seminar in Lagos!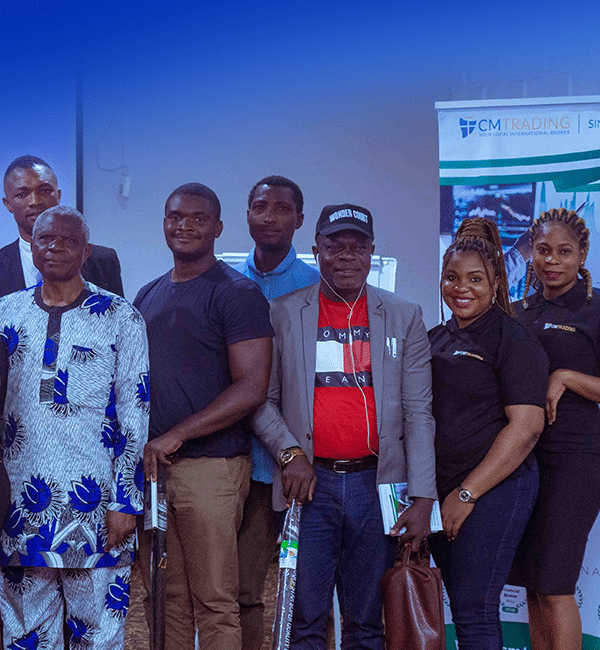 "Trading is for everyone"—it's a philosophy that not only forms the core of CMTrading but one that the company practices globally.
On July 15, the company hosted an online trading seminar at the Ibis Hotel in Lagos, Nigeria. The event proved to be a resounding success, leaving participants inspired and equipped with valuable knowledge to navigate the dynamic world of online trading.
Want to learn more about the markets? Check out our latest podcast!        
Under the theme "Conquer the markets", the event garnered positive feedback from attendees, with numerous success stories and important insights shared.
Online Trading Success
The event, aimed at first-time traders, was hosted by Nigeria's Jide Hassan, a renowned Master Trader at Tiazzan Capital. Titi Oyinsan, producer and host of the Women's Wealth TV show, was in attendance, helping to inspire guests.
CMTrading is an award-winning, financial broker, having already scooped multiple awards in Nigeria, Kenya, and South Africa in 2023 so far.
When asked whether online trading can generate wealth for traders, Jide Hassan, said: "Success in trading won't happen overnight, but it will happen in one night."
Topics covered during the event included:
Introduction to Online Trading
Making Money in the Financial Market
Pathway to Online Trading
Social Trading/Auto Trading
Introduction to Macroeconomics in Trading
Getting Started in Forex
Titi emphasized the significance of involving women in financial literacy. She stated, "One of the highlights of the event was that I was able to enlighten the men about the importance of involving their wives, sisters, and/or daughters in financial literacy."
"Financial literacy is the first path to financial freedom. Once you understand how your finances work and how to manage your wealth, you'll be well on your way to success. Online trading presents an incredible opportunity for anyone to access the financial markets and the huge profits that can be obtained."
Recognizing the transformative potential of inclusive financial education, Titi's message resonated strongly with the audience, promoting greater understanding and cooperation within households.
Among the remarkable success stories shared at the event was that of an Uber driver who attended the session. This individual proudly shared his experience of generating $250 in profits within two months through his investments.
Notably, he successfully withdrew his funds without any hassle and even convinced his initially skeptical father by providing evidence of his withdrawal from his bank account.
The driver credited the guidance and support he received from CMTrading, who assisted him throughout the process.
'Partner with CMTrading for success online'
When asked about advice for first-time traders, Titi offered valuable insights, saying, "Get a trainer or guide to get you started. Start small and build up your portfolio gradually. Do some research and look out for business news updates. Partner with CMTrading for success online."
Her words of wisdom resonated with the audience, providing practical tips to navigate the intricacies of online trading effectively.
The event showcased the commitment of CMTrading to empowering individuals with the knowledge and tools necessary for financial success.
Through engaging sessions, expert speakers, and inspiring success stories, participants gained valuable insights and practical strategies to embark on their trading journey with confidence.
'Happy we have an office here in Nigeria'
Oluwaseun Adeniyi, Team Leader of Sales, Nigeria commented:
"The seminar was about conquering the market and gaining practical knowledge about trading and how it works.
"The best moment was seeing our existing clients talk about how good our platform is, enjoying our copy trading and our amazing Market Analysts. Hearing them talk about enjoying their returns and being aware and happy we have an office here in Nigeria."
Q: Why are seminars like these important?
Oluwaseun said: "Seminars like this are important because it cements our physical presence here in Nigeria. It creates awareness to new and existing clients, who didn't know we have an office here in Nigeria."
Q: Advice for first-time traders?
Oluwaseun said: "Be open-minded, understand risk management, and be willing to put in the hard work."
Start your online trading journey
So you want to start online trading but are not sure what the benefits are or even how to begin? Don't stress, follow our list below to kickstart your trading journey.
Remember: Anyone can trade, but to make a success in the markets, you have to partner with a reputable, award-winning broker such as CMTrading.
1 Accessibility: Online trading provides a convenient way for people to access financial markets from the comfort of their own homes. With just an internet connection and a computer or smartphone, individuals can trade at any time, breaking down geographical barriers.
2 Flexibility: Online trading offers flexibility in terms of time and location. Traders can participate in the market during trading hours that suit their schedule, enabling them to manage their investments alongside their regular work or personal commitments.
3 Lower costs: Compared to traditional brick-and-mortar brokerage firms, online trading platforms often have lower commission fees and transaction costs. This allows traders to keep more of their profits and reduces barriers to entry for new investors.
4 Education and research: Online trading platforms provide extensive educational resources and research tools. They offer access to real-time market data, charts, technical indicators, and news updates, empowering traders to make informed decisions based on their analysis.
5 Diverse investment options: Online trading platforms provide access to a wide range of financial instruments, including stocks, bonds, commodities, forex, and cryptocurrencies. This allows traders to diversify their portfolios and potentially take advantage of various market opportunities.
6 Control and autonomy: Online trading gives individuals full control over their investment decisions. Traders can execute trades instantly, set stop-loss orders, and manage their positions in real time, empowering them to react quickly to market changes.
7 Potential for higher returns: While trading carries risks, it also presents the opportunity for higher returns compared to traditional investment methods. Skilled traders can capitalize on market fluctuations and generate profits through short-term trading strategies.
8 Community and networking: Online trading platforms often foster a sense of community by providing forums, chat rooms, and social features. Traders can connect with like-minded individuals, share insights, and learn from experienced traders, creating a supportive network.
9 Practice with virtual accounts: Many online trading platforms offer demo or virtual accounts, allowing beginners to practice trading without risking real money. This feature enables individuals to gain experience, refine their strategies, and build confidence before committing actual funds.
10 Potential for passive income: Online trading can be a source of passive income. By employing long-term investment strategies or utilizing dividend-paying stocks, individuals can earn regular income from their trading activities.
For further information and inquiries about upcoming events or partnership opportunities, visit CMTrading.com.
Join CMTrading
, the largest and best-performing broker in Africa, and discover more opportunities with an award-winning broker.
Register here to get started