Nigeria election: More of the same for Africa's biggest economy? 
All eyes were on Nigeria in late February as Africa's biggest economy headed to the polls. The result? The ruling party candidate Bola Tinubu has been declared the winner in the most hotly contested presidential election in a generation   
The election was anything but smooth amid allegations of violence, rigging, and demands by opposition parties for a rerun.  Nigeria is a major player in the oil and Forex markets in Africa. 
World's most expensive petrol price 
Tinubu (70) of the All Progressives Congress (APC) secured 37% of the vote. What will this result mean for Nigeria and the African continent? In this article, we help unpack one of the most crucial political races in Africa and what it means for traders and investors going forward.  
_______________________________________________________________________Looking to start trading? Stay tuned for a special trading offer at the end of this article! _______________________________________________________________________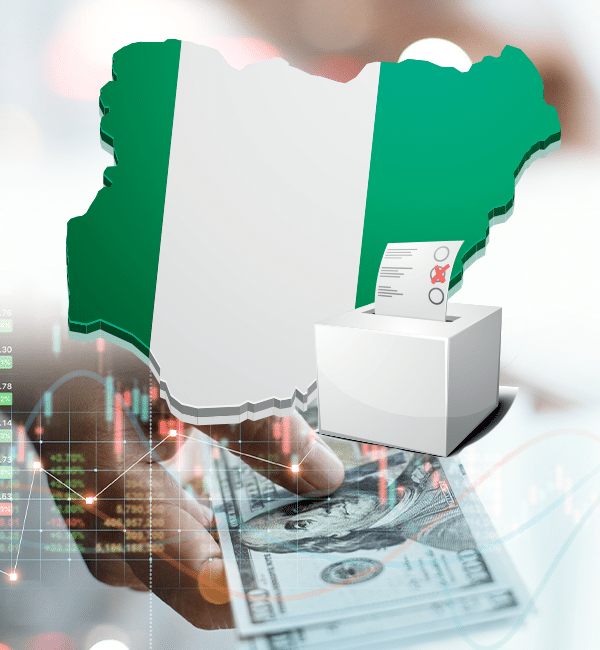 The outcome of the 2023 race  
It was widely hoped that the PDP candidate Abubakar Atiku would take the reins but ultimately Nigeria's ruling party remains in power for the foreseeable future.  
Nigeria election: Percentage and candidates' share of the vote  
Tinubu Bola Ahmed (APC) – 36.61%, 8,794,726  
Abubakar Atiku (PDP) – 29.07%, 6,984,520  
Obi Peter Gregory (LP) – 25.4%, 6,101,533  
Musa Mohammed Rabiu Kwankwaso (NNPP) – 6.23%, 1,496,687  
Start trading these new US stocks     
"It is one country, and we must build it together." 
Tinubu's victory in the race to replace the outgoing president, Muhammadu Buhari, extends his party's hold on power. Nigeria is not only Africa's biggest economy but also a top oil producer. Many Nigerians view Buhari's eight years in office as poor and corrupt, having squandered the country's natural resources.    
Tinubu said in a victory speech: "I take this opportunity to appeal to my fellow contestants to let us team up together. It is the only nation we have. It is one country, and we must build it together."  
Difficult path ahead  
Nigeria, the African continent's most populous nation, faces serious problems including economic turmoil, high inflation, and surging rates.    
Despite being the continent's biggest oil producer, the country has been crippled by the corruption of the commodity; Oil theft has cost the country $2bn in 2022, reports Nigeria's senate. The theft of oil has prevented the country from meeting its Opec production quotas and being a bigger player in the oil industry.  
Become a better trader – join our webinars      
There are signs however that the country is moving in the right direction.   
Economic growth despite the crisis  
Nigeria's economy grew faster than expected in the fourth quarter of 2022. Interestingly, this growth was driven by non-oil sectors.    
Africa's biggest economy grew 3.52% year-on-year in the final three months of 2022 compared to 2.25% in the third quarter, reports the Nigeria National Bureau of Statistics.   
Want to learn more about the markets? Check out our latest podcast! 
The growth is a rare bright spot amid high inflation and widespread employment. The oil and Forex markets are experiencing volatility in Nigeria as shortages of both petrol and cash wrack the nation.     
Growth in services, telecommunications, and trade  
Nigeria's economic growth was primarily driven by its services sector, which grew by 5.69%, and contributed to more than half of the country's GDP. Mass flooding slowed growth in the agriculture sector to 2.05% compared to 3.6% in Q3 2022.     
The non-oil economy increased by 4.4% in Q4 compared to a year earlier. Nigeria has seen high growth in telecommunications, trade, and agriculture. The oil sector contracted 13.4% as production dropped to 1.34 million barrels a day. In 2021, the country was producing 1.5 million barrels a day.   
Oil production to be ramped-up  
In 2023, Nigeria has been ramping-up oil production to reach its OPEC+ targets but is plagued by ongoing supply disruptions. There has been a minor improvement in the output it might not be enough for the country to reach its 2023 target.    
Like many countries, Nigeria is facing the dual combination of high inflation coupled with high-interest rates. The Central Bank of Nigeria raised its benchmark interest rate by 100 basis points, the highest level in 17 years. The Bank cited persistent inflation, which rose to 21.8% in January, its highest since 2005.  
Check out our latest financial podcasts     
Nigerian election – What will happen now?  
CMTrading's Oluwaseun Adeniyi, Team Leader in Sales Nigeria, shares her views on the Nigerian elections.     
Q. What will happen now that the ruling party will remain in power?  
"We anticipate a positive change as it's promised to a renewed hope. It will affect majorly Nigerian stocks because most investors would tend to pull out their funds to safety should stocks crash."   
Q. How will it affect markets? e., volatility. 
"Some of Nigeria's biggest issues are economic instability, currency valuation, employment growth, and insecurity. These are all issues we hope the government will tackle."    
Q. What in your opinion are some of Nigeria's biggest issues? 
"Nigeria remains an incredible market filled with numerous opportunities. There's also the USD trade factor as Naira seems imbalanced."    
Q. What advice do you have for anyone wanting to become a trader in Nigeria? 
"Understand Risk Management and you will know peace. The trend line isn't your friend. Your stop loss and Take Profit will help you succeed and avoid taking too much risk." 
Stay up to date on the latest market news      
_____________________________________________________________________________________ 
Special offer 
Take advantage of market movements with our special February offer and start trading today!  
How to get your bonus:    
1 Deposit $250 – get a 100% back  
2 Use promo code CMT250 
3 Trade with our bonus 
T&C Apply | Min. deposit $250 | Max reward $250 | New clients | Promo code: CMT250 
____________________________________________________________________________________ 
Ready to start trading? Open an account today        
Join CMTrading, the largest and best-performing broker in Africa, and discover more opportunities with an award-winning broker. Register here to get started            
Follow us on Facebook, Instagram, LinkedIn, Twitter, and YouTube