Market winners: Bitcoin, Tesla, Silver, and more!
From Bitcoin hitting an all-time high to Tesla posting a record high, we highlight some market winners for the past week.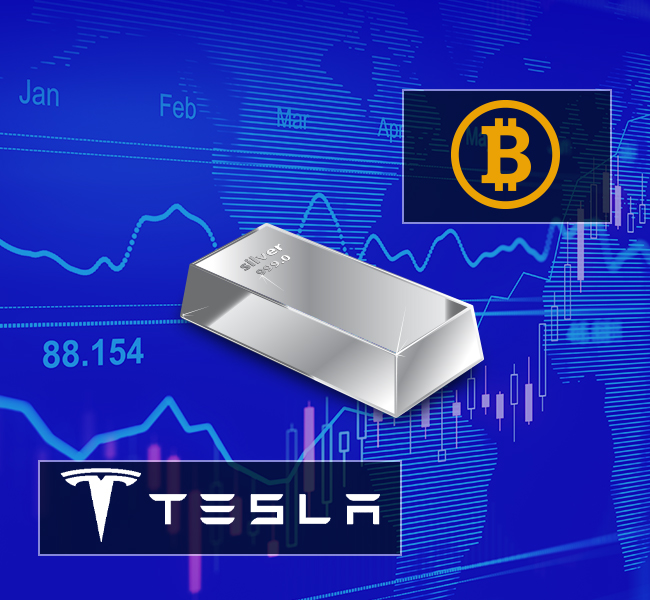 It has been an incredible week for Bitcoin, as the world's most popular cryptocurrency surpassed its all-time high to hit a new record of more than $66,000.  
Electric carmaker Tesla posted a stellar quarter, exceeding market expectations.  
Today, we look at some market winners for the past week on CMTrading's platform.  
Most tradable instruments weekly:  
BTC/USD 
Bitcoin reached a new all-time high of more than $66,000 following its first ETF-linked asset traded on the New York Stock Exchange (NYSE).  
A Bitcoin-linked futures exchange-traded fund (ETF) was launched on the NYSE on October 19. This major step towards legitimacy for the cryptocurrency pushed its price to a record $66,976 on October 20. By October 22, Bitcoin's price dropped to $63,000 though.  
The new ETF makes trading Bitcoin more accessible for investors, further increasing interest in the world's biggest crypto.  
Bitcoin has gained more than 50% in the past month and is up an incredible 450% over the past year. Given its performance, analysts have raised their outlook for the asset and believe it could reach $100,000 before the end of the year.  
TESLA 
Electric car giant Tesla reported its third-quarter earnings in October beating expectations; the company posted revenue of $13.76 billion vs $13.63 billion expected.  
The company reported $1.62 billion in net income for the second time it has surpassed $1 billion.  
Tesla's automotive revenue rose to $12.06 billion, and costs of automotive revenue amounted to $8.38 billion for the quarter. Tesla also generated $806 million in revenue from its energy business.  
Its shares rose by 8.53% in the week seeing a huge spike from $855.72 to $897.50 on October 21. Its shares are $909.68 at the time of writing.  
XAU/USD 
Gold was poised for a second weekly gain on October 22, drawing support from a weaker dollar which offset higher US bond yields. Inflation fears have been escalating as well as expectations that central banks could begin easing economic support, furthering weakening the dollar.  
Spot gold rose 0.2% to $1,786.53/oz and US gold futures gained 0.4% to $1,788.20/oz.  
Bullion prices were set for the second week of gains, aided by a weaker dollar which was set to decline. A lower dollar makes gold more attractive for traders.  
Gold has traded in a broad $1,749 – $1,800 range in October 2021. A steep rally in US benchmark 10-year Treasury yields limited its gains.  
Biggest percentage move weekly:  
Commodities: SILVER (XAG/USD) 4.03%  
Silver markets rallied during the third week of October. It was expected that traders of the precious metal would break above the highs experienced on October 19. Silver then attempted to get back below the $24 level while the US dollar proved mostly flat against a broad basket of currencies. Silver picked up bids at $24.20 on Oct 22, reaching its highest levels since September. Overall, silver prices are grinding higher.  
Crypto: Solana 34.78%  
Solana's sol token has climbed in the last week as the crypto market saw several bullish developments. Solana's price has climbed in 2021 from $1 to $216 in eight months. The cryptocurrency reached $194.30 on October 22, its highest point in more than a month. Sol has risen 713% from July to September as more traders have turned to crypto in 2021.  
This week's best performing sectors:   
1 Retail – 3.40 %   
2 Transportation – 2.96 %   
3 Technology – 2.86 %   
4 Consumer Discretionary – 2.28 %   
5 Financial – 1.52 %  
This week's best performing industries:  
1 Wholesale – 5.90%   
2 Automotive Aftermarket – 5.25%   
3 Tyres – 5.23%   
4 Accident & Health Insurance – 5.23%   
5 Auto & Truck Manufacturers – 5.00%  
Earnings Season – Invest in the brands you love   
In October, some of the biggest companies in the world are releasing their quarterly earnings. Their earnings reports could cause major price movements, volatility in the market, and opportunities for you.    
Find out more about earnings season here!    
Trade the easy way    
Join CMTrading, the largest and best-performing broker in Africa, and discover more opportunities with an award-winning broker. Register here to get started     
Follow CMTrading on Facebook, Instagram, LinkedIn, Twitter, and YouTube.    
Prices are accurate at the time of publishing.