Market winners: Bitcoin, Amazon, Gold… and more! 
From Bitcoin to Amazon, we look at some of the biggest winners on the market this week.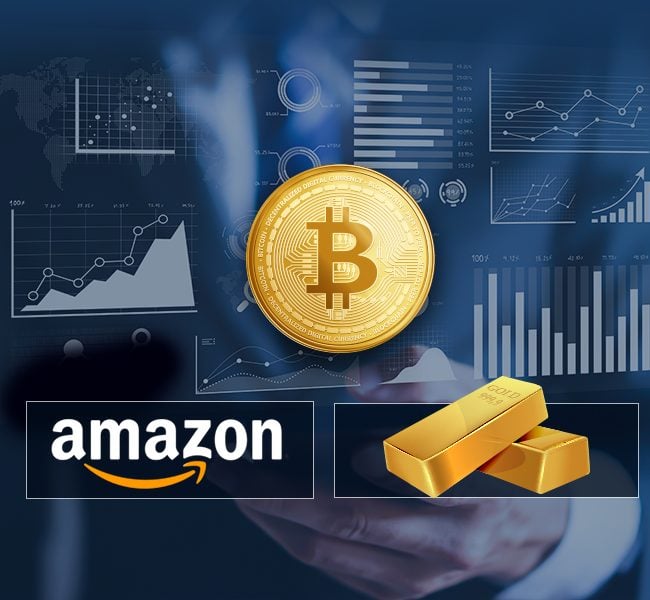 Stocks rebounded on October 7 in a week that has rollercoaster swings in global market sentiment. The rally was due to US lawmakers reaching a short-term deal to increase the US debt ceiling.  
The Dow Jones rose 337.95 points (+1%) to 34,754.94, buoyed by gains in Visa, Nike, and Home Depot.  
One of the biggest winners in the first week of October 2021 is Bitcoin. (More on that later in the article.)  
Today, we look at some of the best-performing instruments on CMTrading's platform and share valuable information on Earnings Season (ES).   
 Trading made easy – Sign up today! 
Most tradeable instruments (weekly):  
XAU/USD 
Gold is trading above $1,750 as worries about the US debt ceiling and China's indebted property sector raised the value of the precious metal. At $1,755 it is in familiar territory considering its performance over the past few months. One reason for the minor rally in gold is concerns over the US ending its huge pandemic stimulus in November and the effect on the USD.  
How to trade gold the easy way 
BTC/USD 
The world's most popular cryptocurrency passed the $50,000 mark for the first time in a month; on October 6, it breached $50,000, and at the time of writing, it is up 6% at $55,338. Its spike equates to a 33% increase in the first week of October 2021, making it highly profitable for Bitcoin (BTC) traders. 
The entire crypto market saw a boost; Ethereum was trading at $3,636.03 (+2.21%), XRP $1.08 (+0.18%) and Cardano $2.30 (+5.98%).  On October 11, Bitcoin is trading at $56,451. 
Bitcoin's recent surge pushes its value to more than $1 trillion, with the total market cap of crypto reaching $2.3 trillion, matching that of Apple, one of the world's most valuable stocks.  
 Trade Bitcoin in South Africa – Sign up today 
AMAZON(AMZN)
Amazon.com received a boost in the first week of October, trading at $3,302.43 (0.41%), up from a low of $3,117.41. AMZN stock started 2021 at $3,218 and sits only about 1% higher at the time of writing. The stock has been under pressure lately, down by 11% since the ecommerce giant reported its quarterly results in July. The company saw a massive boost during 2020 as lockdowns pushed home deliveries. In 2021 the company is facing issues affecting its core online retail business, but the drop could provide an opportunity for savvy traders. On October 11, AMZ is down to $3 288,62. 
Biggest percentage move (weekly):  
Stock: ALIBABA 7.01%  
Chinese ecommerce titan Alibaba received a massive rally, up 9% to 155.50 HKD. The reason for the Surge? US President Joe Biden and China's Xi Jinping have agreed to hold a virtual summit, thawing tensions between the two nations. Sadly, a nearly 10% move won't be particularly meaningful as Alibaba has been on a downward trajectory for most of the year.  
Commodities: COTTON 7.50%  
Global demand for textiles is the driving force behind the price of cotton. The popular commodity traded at $1.0893 as the world celebrated Global Cotton Day (Oct 7). Global output is rising by 6% as production limits are lifted globally, lifting the price to a decade high. On Oct 11, it is trading at $1.106. 
Crypto: XLM/USD 32.26%  
Stellar (XLM) has made a huge recovery with +30% gains to a high of $0.366 on October 7 . In September, XLM hovered around $0.27. Stellar has emerged as Ripple's competitor in the blockchain sector.  As of Oct 11, it's trading at $0.349. 
More trading opportunities 
Want more trading opportunities? Looking to diversify your portfolio? We look at the top-performing sectors and industries globally for the first week of October 2021. 
 Best-Performing Sectors: 
1 Energy +3.80 %  
2 Basic Materials +3.00 %  
3 Financial +2.91 %  
4 Consumer Non-Cyclical +2.47 %  
5 Utilities +2.45 % 
Best-Performing Industries: 
1 Coal Mining +6.63 %  
2 Oil Well Services & Equipment +6.42 %  
3 Oil & Gas Integrated Operations +6.20 %  
4 Railroads +5.56 %  
5 Tyres +4.94 % 
Earnings Season – Invest in the brands you love  
In October, some of the biggest companies in the world are releasing their quarterly earnings. Their earnings reports could cause major price movements, volatility in the market and opportunities for you.   
Find out more about earnings season here!   
Trade the easy way   
Join CMTrading, the largest and best-performing broker in Africa, and discover more opportunities with an award-winning broker.   
Follow CMTrading on Facebook, Instagram, LinkedIn, Twitter, and YouTube.   
Prices are accurate at the time of publishing