Bitcoin soars above $50,000: Will the crypto king continue to climb? 
The world's most popular cryptocurrency passes the $50,000 mark for the first time in a month, but will Bitcoin continue to soar beyond its all-time high?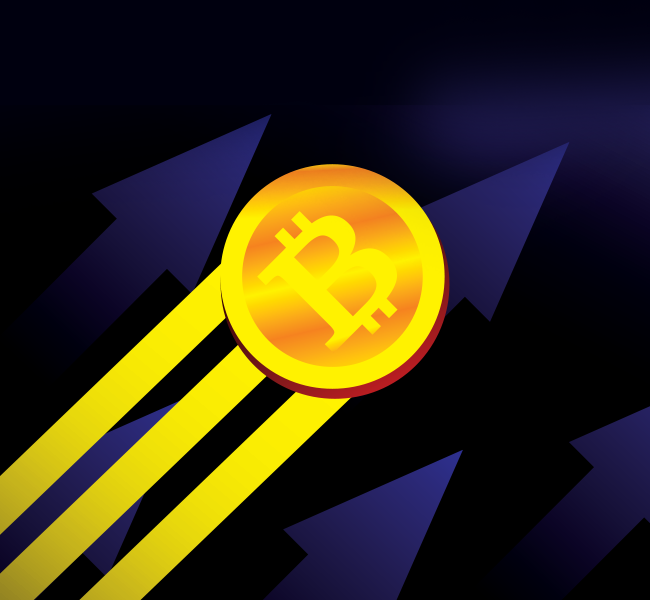 The first week of October is proving highly profitable for Bitcoin (BTC) traders; the world's most popular cryptocurrency passes the $50,000 mark for the first time in a month.  
Many analysts believe it could retest its all-time high of $65 000 as mounting institutional interest sends Bitcoin's price soaring.  
 Today, we look at Bitcoin's performance, the crypto market and share advice for all traders.  
Trading made easy – Sign up today! 
The king of cryptocurrency  
In early September, Bitcoin fell below $50,000 due to a larger sell-off of cryptocurrency, hitting a low of $40,596 on September 21. On October 6, it breached $50,000, and at the time of writing, it is up 5% at $54,594. This equates to a 32.5% increase in the first week of October 2021.  
The entire crypto market saw experienced a boost; Ethereum is trading at $3,603.09 (+5.08%), XRP $1.0656 (+3.96%) and Cardano $2.30 (+5.98%).  
Trade Bitcoin in South Africa – Sign-up today 
Bitcoin 5-day chart: 
Bitcoin YTD: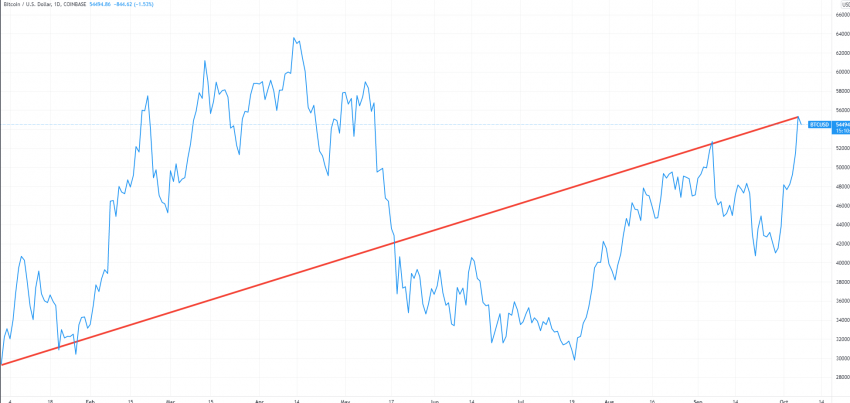 Bitcoin's recent surge pushes its value to more than $1 trillion (more than Facebook's market cap). with the total market cap of crypto reaching $2.3 trillion, matching that of Apple, one of the world's most valuable stocks. 
What's behind the surge?  
From major financial institutions to retail investors, many business entities are increasing their investment in BTC to cope with rising investor demand. Investment into crypto has been steadily picking up since July 2021.  
Best way to trade Bitcoin online 
On October 6, US Bancorp, one of the world's largest banks, launched a cryptocurrency service for clients who have private funds in the US and Cayman Islands.  
Specialist crypto tracker CoinDesk revealed a 25% gain for Bitcoin and a 32% gain for ether during its third-quarter market review.  
NFT boom reaches billions  
Another reason for the surge is the popularity of non-fungible tokens (NFTs), which use blockchain technology to record the ownership of digital items. Images, videos, collectibles, and even land in virtual worlds are being turned into NFTs. How much is this market worth? According to CoinDesk NFT sales surged to $10.7 billion in the third quarter.  
Crypto surges in popularity  
The cryptocurrency market has exploded in 2021, with many new coins launched this year.  
One reason for this is the major steps the market has made to legitimacy in 2021. Major companies are adopting crypto for transactions and even the Central American nation of El Salvador is using crypto as legal tender.  
Want to take advantage of crypto? Trade the easy way 
South Africa too placed itself on the crypto map with Safcoin being listed on HotBit, one of the world's major cryptocurrency trading platforms.  
In August 2021, payment giant PayPal introduced its cryptocurrency service in the UK, a year after introducing a similar service in the US back in 2020. Major institutions, including banks and investment firms, are increasingly supporting the use of cryptocurrency and blockchain tech, adding much-needed legitimacy to the market.  
Should you invest in crypto?  
In short, there has never been a better time to buy crypto. The profit potential is staggering, and its growth has attracted many mainstream retail and institutional investors.  
It should be noted however that crypto, such as Bitcoin, is one of the most volatile assets in the financial markets. As its performance in 2021 has shown, it can just as easily hit $60,000 in days as it could tumble back to $30,000.  
Fortunately, trading Bitcoin with a licensed broker, such as CMTrading, offers a wide range of unique advantages to both trading beginners and experienced investors.  
For example, one of the benefits offered to CMTrading clients is access to powerful leverage, allowing for high returns, even with a small initial investment.  
Discover more opportunities with an award-winning broker. Join CMTrading, the largest and best-performing broker in Africa.  
Follow CMTrading on Facebook, Twitter, and YouTube