Market winners: Amazon, Moderna, Coffee, and more! 
It has been a good week for investors in pharmaceutical specialists Moderna and coffee traders alike. We list market winners for the past week.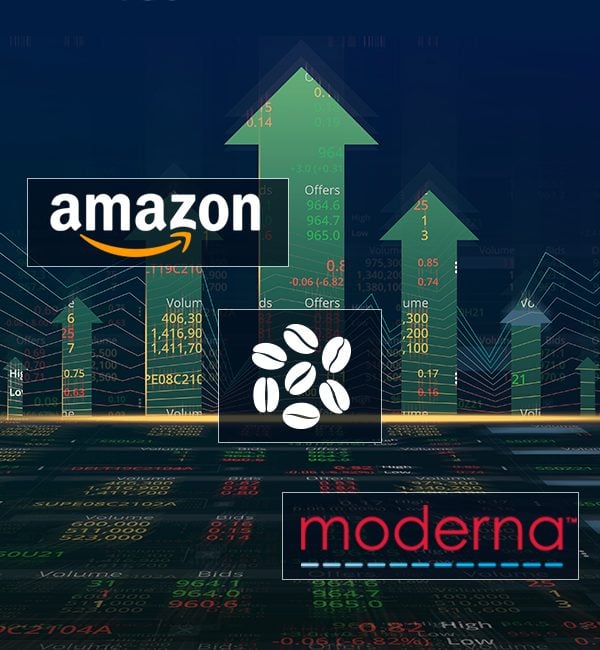 From commodities to crypto, it has been an interesting time for traders in November 2021.  
The cryptocurrency market has been on a tear in November, pushing beyond $3-trillion in value. One crypto that has steadily been increasing in popularity among our traders is Cardano.  
In commodities, logistic woes and poor weather have severely affected the global prices of coffee. The rise has been great for traders of coffee experiencing the highest prices yet for the popular beverage.   
Today, we look at some market winners for the past week on CMTrading's platform.  
Most tradeable instruments weekly:  
XAU/USD 
Gold (XAU/USD) is receiving help from a plunge in US Treasury yields, due to the new COVID19 variant woes. The fall in the Treasury yields has also negatively affected the US dollar. If COVID cases continue to climb in the US, it could propel gold prices beyond the persistent $1,800 hurdle.  
ADA/USD 
Cardano's (ADA) price has seen a huge decline in November forced by a mass sell-off of tokens and major news affecting the crypto; eToro has limited trading on Cardano, causing a further drop in its price. Even though traders can use other platforms, the news was enough to sour investor confidence. It's worth noting that despite the recent pullback, Cardano's price has surged 900% in 2021; the token has a market capitalization of roughly $54.5 billion and ranks as the sixth-largest cryptocurrency.  
AMAZON
Shares of Amazon (AMZN) have been rising and since October is up more than 10%. The ecommerce giant's price is back above $3,570 for the first time since July 2021. As the US moves towards the holiday season, the company is seeing strong momentum in its ecommerce sales and cloud-based services. The company, like others in the delivery space, will face increased pressure should global lockdowns come into effect for the December 2021 period.  
Biggest percentage move weekly:  
Stock: Moderna 11.04%  
Moderna (MRNA) isn't doing as well as it once was; its stock is up 170% YTD and yet it is 40% below its high set earlier in 2021. Rolling out vaccines granted the company short-term wealth but with a host of rivals and lower orders for stock, it was never going to be a sustainable business model. Moderna however is experiencing a rise in November; its share price is up 10% as the US Food and Drug Administration (FDA) ordered Moderna boosters for those aged 18 years and older.  
Commodities: Coffee 7%  
The global coffee industry has been hard hit by pandemic-related disruptions; container shortages, port congestion, extreme weather, and inflation are driving coffee prices high. The coffee price climbed a further 7% in November and overall, it has surged more than 85% so far in 2021. Coffee shops are being hit hard by poor harvests in Brazil; prices reached as high as $2.39 per pound on November 26, the highest level since the food crisis in 2012.  
Crypto: BCH/USD 6.52%  
On a day (November 26) of the entire crypto market dropping, Bitcoin Cash (BCH/USD) posted the only increase among the largest cryptos, rising 1.87% to $578.25. What's BCH? In August 2017, some crypto miners and developers launched the then-new currency BCH. While nowhere near the value of the king of cryptos, it should be noted that Bitcoin Cash can process transactions faster than Bitcoin, and processing fees are lower. The network can also handle many more transactions per second than Bitcoin.  
This Week's Best Performing Sectors: 
1 Utilities 0.72%   
2 Capital Goods 0.40%   
3 Energy 0.30%   
4 Financial -0.12%   
5 Retail -0.32%   
This Week's Best Performing Industries: 
1 Nonalcoholic Beverages – 4.13 %   
2 Print Media & Newspaper Publishing – 2.83 %   
3 Grocery Stores – 2.76 %   
4 Department & Discount Retail – 2.74 %   
5 Construction Services – 2.66 % 
Trade the easy way      
Join CMTrading, the largest and best-performing broker in Africa, and discover more opportunities with an award-winning broker. Register here to get started       
Follow CMTrading on Facebook, Instagram, LinkedIn, Twitter, and YouTube.