CMTrading gives back to the community: "Our local soccer boys made us proud!"
The talented U10 and U12 boys of the Accelerate Futbol Social Team, powered by CMTrading, made us proud at a soccer-filled weekend tournament of fun in Cape Town.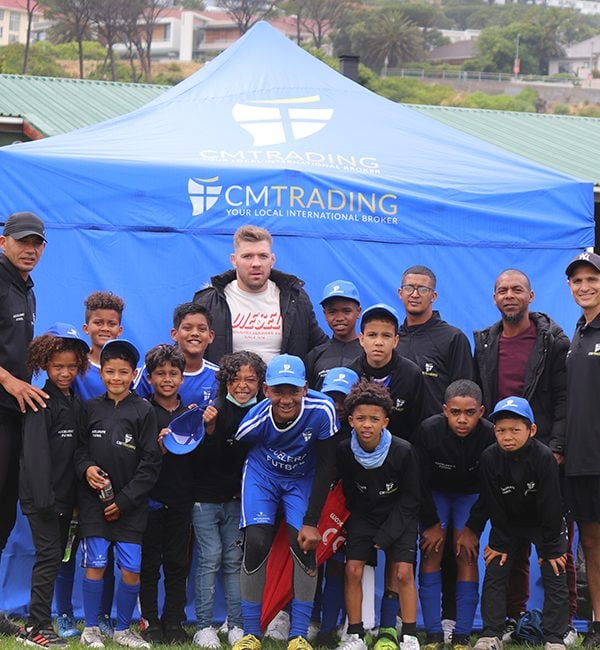 At CMTrading we believe in giving back to the community and what better way than to combine awesome soccer action and put smiles on the faces of some talented youngsters in South Africa. Our talented boys, part of CMTrading's Accelerate Futbol social soccer teams (U10 and U12), made us proud in picturesque Camps Bay this weekend (November 28 – 29), participating in the Legends 5v5 tournament.  
What's more, CMTrading Brand Ambassador and South Africa's highest-ranking UFC fighter, Dricus Du Plessis, kindly joined the boys and shared words of encouragement as well vital life sessions with the boys.  
It was a hard-fought weekend filled with soccer action but our boys made us proud winning the U10 age group and making it to the quarterfinals in the U12 division.    
SA UFC fighter backing the boys  
Du Plessis' attendance proved incredibly valuable for the boys as they were able to pick the South Africa's EFC Champion's brain and receive words of encouragement.  
Du Plessis said: "I'm here supporting Accelerate Footbol, powered by CMTrading. Well done to the U10, you made us all proud. To the U12s you guys played your hearts out and win or lose, we support you all the way. Go Accelerate Futbol! 
U10s – Big talent, bigger hearts  
The weekend kicked off with them participating in the under-10 group. Spectators were amazed by the sheer level of talent and professionalism these boys displayed on the pitch. Our Accelerate Futbol lads easily defeated rivals during the knockout rounds and went on to win their first tournament spectacularly, dominating rivals SuperSport United and winning 6 –2.  
Matches:  
Accelerate Futbol vs Icon School – 0-0  
Accelerate Futbol vs Ballers – 4-1  
Accelerate Futbol vs Nitros FC – 7-0  
Accelerate Futbol vs Legends 2 – 7-0  
Accelerate Futbol vs Marvel – 6-0  
Accelerate Futbol vs Ballers – 5-2  
Accelerate Futbol vs SSUSS – 6-2  
"We had a lot of fun"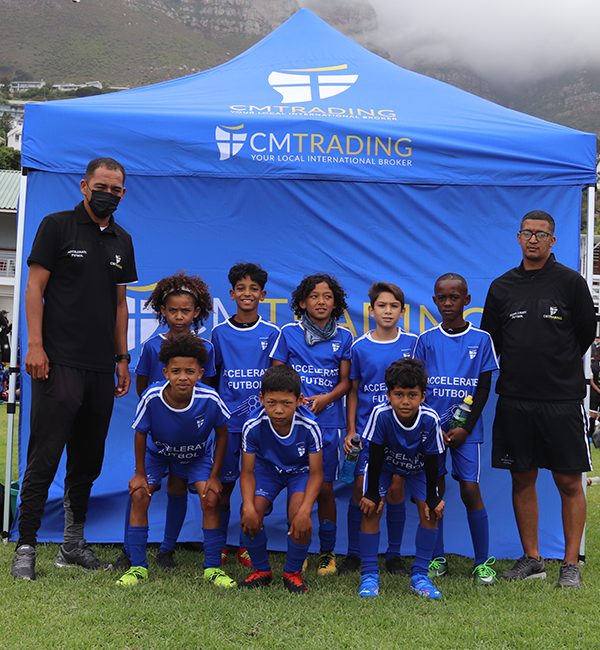 Zack, one of the talented under 10s, said: "It was so cool that we won. We beat them all and we had a lot of fun. Thank you to the coaches and CMTrading!"  
Qiyam Watson, Head Coach at Accelerate Futbol, said: "We started the tournament a bit slow, drew 0-0 in our first match. As the tournament went on, we did incredibly well – 6-0, 7-1, and 8-0.  
"We progressed to the quarter-finals 6-0, semis were 5-2, and the finals 6-2. We are very proud of our boys. We had a lot of other parents come up to us and congratulate us for our behavior both on and off the field.   
"They conducted themselves well. It was commended by the tournament organizers. Huge thank to CMTrading for backing our boys."  
Donate their winnings  
In an extremely generous and touching gesture, the team elected to donate their price of R3630 to a less fortunate team.   
Like CMTrading, they too are giving back to their community.  
U12s – Courage under fire 
Our U12 equally made us proud, displaying great talent and sportsmanship throughout a tough weekend. From calling shots to pulling off high-level tactics that wouldn't have been out of place at Old Trafford or Barcelona, the boys entertained crowds with their performances. The initial matches were hard-fought but the Accelerate Futbol triumphed over rivals.  
Sadly, the boys faced an incredibly difficult opponent during their 4th match which ended their hopes of winning the tournament. Regardless of the loss, they remain winners in our eyes.   
Matches: 
Accelerate Futbol vs YHW Green – 1-0  
Accelerate Futbol vs Legends 3 – 2-0  
Accelerate Futbol vs SSUSS – 0-0  
Accelerate Futbol vs Salt River 2 – 4-0  
Accelerate Futbol vs Island Warriors – 2-0  
Sabrie, one of the U12s, said: "We, unfortunately, lost in the quarter-finals. We were very excited to play and even though we lost we had a lot of fun. Thank you CMTrading."  
Giving back to the community  
CMTrading is on a mission to give back to the community and started this initiative to afford kids the opportunity to play in football tournaments that they might not otherwise be able to participate in.   
It's all about giving these kids this opportunity to play, develop their skills, and ultimately grow to become leaders in South Africa, having fun doing so!  
Another incredibly touching moment was the stylish black tracksuit tops our boys sported on the pitch; these were made at the last minute by a small business comprising a group of local women, working tirelessly from their home in Mitchells Plain. We offered these enterprising women the opportunity to create these uniforms for the boys while supporting small businesses in South Africa. 
Trading is for everyone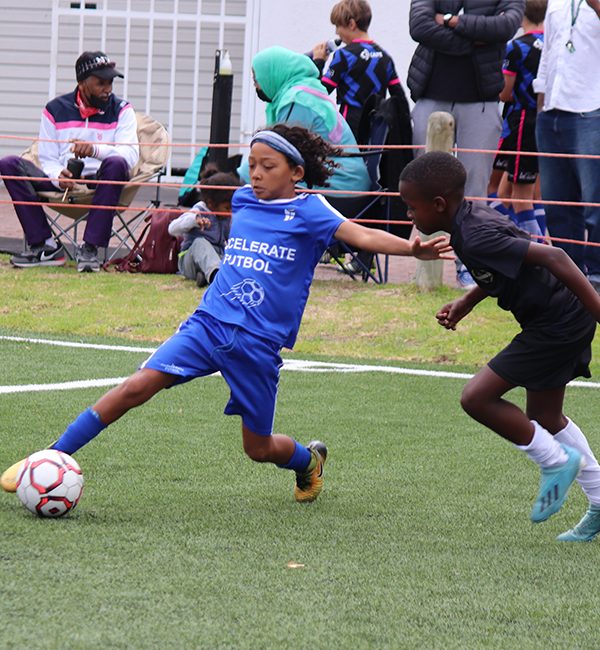 Zihaad Israel, CMTrading's South Africa Regional Manager, shares his thoughts on Accelerate Futbol's performance and more:  
'CMTrading is about helping others achieve excellence'  
Zihaad Israel: "Well done boys! Our Accelerate Futbol social soccer teams, powered by CMTrading, were fantastic in Cape Town. They displayed amazing sportsmanship both on and off the pitch.  
"We'd like to thank Legends for hosting us, Dricus for inspiring the boys, and the amazing ladies who created the stylish black tracksuits for these children.   
 "CMTrading is about helping others achieve excellence and we hope our boys will continue to display the incredible talent and sportsmanship going forward."  
Q: Why choose CMTrading over other brokers?   
"To make a success in the financial markets you need to partner with the right broker. One that is established and has a longstanding reputation of trust. When you are investing money, you want to ensure that your funds are safe. You need peace of mind knowing that you're with a broker who isn't going to disappear with your hard-earned funds.    
"We've been around since 2012 and have a great relationship of being a trusted broker in Africa. We ensure that our clients are paid on time. We provide excellent service and never trade against clients by any means or form. Your success is our success. Most importantly, we are fully regulated by the FSA and FSCA. We have a physical office in Johannesburg as well as other countries throughout the world."    
Advice for traders  
"Given the current global economic climate, many people have lost their jobs and are continuing to suffer economic hardships. People are struggling; the inflation rate is high and earnings are not matching escalating inflation. The middle class is struggling, and it's gotten to the point where millions are seeking a source of additional income. Online trading allows you to earn extra and provide for your family.    
"You don't need much startup capital. You do not need to rent premises. You won't have the headaches of employing staff. Unlike other businesses, you don't need capital for resources such as advertising. You only need time, a good internet connection and or PC/laptop and your mobile phone. You're also able to trade 24/7; if you make a profit, you're allowed to withdraw your funds within 48 hours. Given the vast potential of the financial markets, it beats all other income-generation opportunities out there. What's more, we'll be there to guide you every step of the way. Start your trading journey today with a trusted, regulated broker."   
Trade the easy way      
Join CMTrading, the largest and best-performing broker in Africa, and discover more opportunities with an award-winning broker. Register here to get started       
Follow CMTrading on Facebook, Instagram, LinkedIn, Twitter, and YouTube.