Oil – BP's profits soar in billions
The global economy is still reeling from the ongoing conflict in Eastern Europe. As Russia's invasion of Ukraine enters its third month, many countries are reporting escalating fuel prices curbing economic growth.  
One sector, however, is thriving – oil companies are reporting record profits in Q1 2022.  
Today, we look at Big Oil, the companies that are thriving, and what the future holds for the oil industry.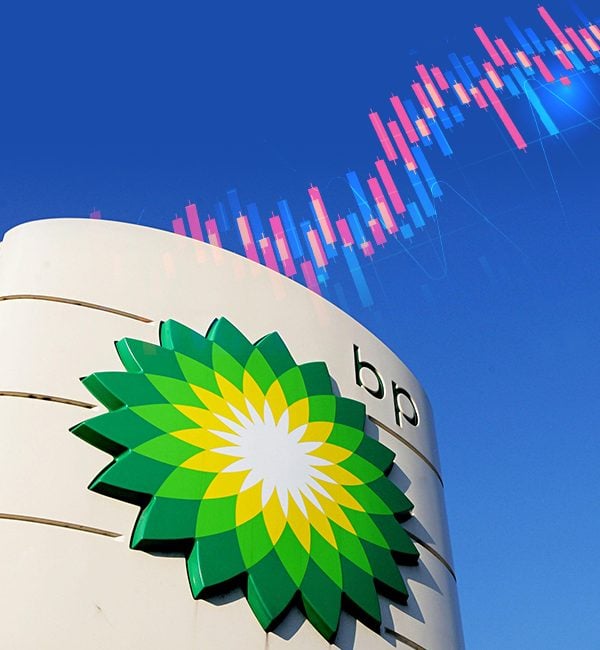 Oil – BP's record profits  
BP's net profit soared to its highest in more than a decade on strong oil and gas results, reports Bloomberg.  
BP's strong results have offset losses it incurred from abandoning in stake in Russia; the energy company took a $24 billion hit after exiting its operations in Russia.  
How to become an online trader in 2022 
BP said Russia contributed 3% of the company's cash flow last year and yet would not impact its plan to shift operations towards renewables.  
The company's underlying replacement cost profit, its definition of net earnings, reached $6.2 billion in the first quarter of 2022, far exceeding expectations of a $4.49 billion profit.
The company made $4.1 billion in profit in the fourth quarter of 2021 and $2.63 billion during the same quarter in 2020.   
Its 2021 profit was the highest in eight years.  
Record high oil prices  
Like its rivals, BP's oil and gas trading division is benefiting from higher oil and gas prices, driving record profits.  
Oil prices are hovering above $100 a barrel after climbing to multi-year highs earlier in 2022. Brent crude is traded at $106.95 while US West Texas Intermediate is $104.62.   
Stay up to date on the latest market news 
Oil prices skyrocketed during the start of the Russian invasion and global sanctions-hit one of the world's biggest oil producers. Unfortunately, many consumers are bearing the brunt of the high fuel prices; South Africa is reporting its highest fuel price, at more than R20/litre of petrol, in decades.  
ExxonMobil is another oil producer that back in March was already predicted record profits for Q1 2022.   
Despite reporting $3.4 billion for ending operations in Russia it still posted higher profits on high oil prices.  
ExxonMobil revenue soared 53% to $90.5 billion, with net income doubling to $5.4 billion. Its income more than tripled to $8.8 billion from $2.7 billion in 2021.  
Achieve financial freedom today 
In March, BP, ExxonMobil, and Shell announced they would discontinue operations in Russia. The US, European Union, and other allies announced they would end purchases of Russian oil.  
ExxonMobil's 2021 annual report put the value of its Russian assets at $4.1 billion, which is less than 2% of those assets worldwide.  
ExxonMobil announced it's increasing its share repurchases, and it plans to buy back $30 billion of its stock.   
Two other major US oil companies Chevron and Phillips 66 also reported soaring sales and earnings thanks to the sharply high oil prices.  
Chevron's revenue increases 70% to $54.4 billion, while its profit tripled to $6.5 billion from $1.7 billion in 2021. Phillips 66 (PSX) saw its revenue rise 67% to $36.7 billion.  
Shareholders push back   
Many have criticized oil companies for investing in share purchases and dividends, rather than in new oil exploration and increased production. New oil fields and extra production could decrease oil prices.  
Don't miss out – Get daily Trading Signals 
Saudi GDP grows 10% in Q1  
Saudi Arabia reported its fastest economic growth rate in a decade. The booming oil sector fuelled a 9.6% rise in Q1 compared to the same period in 2021.  
The world's biggest oil exporter resisted calls to raise output in an attempt to rein in prices.   
The Saudi statistics authority said: "Oil activities led the real Gross Domestic Product (GDP) of Saudi Arabia to achieve the highest growth rate in [the] last 10 years."   
Growth in the oil sector reached 20.4% year-on-year in Q1 2022.  
The Ukraine conflict and subsequent rise in crude prices have been a boon to oil-producing countries such as Saudi Arabia. The International Monetary Fund reported that Saudi Arabia's GDP is expected to grow by 7.6% in 2022.  
Pain at the pumps  
High fuel prices are great for oil companies but are proving extremely damaging to consumers.   
Many countries are reporting record-high fuel prices which has the knock-on effect of increasing the price of all goods in the supply chain.   
High fuel prices are translating into higher costs for all goods and services.   
US Congress grills 'Big Oil' execs   
Earlier in April, six oil company executives were summoned to a special hearing by members of the US House Energy and Commerce Subcommittee on Oversight and Investigations.   
Executives from BP America, Chevron, and ExxonMobil were among the CEOs who were grilled on skyrocketing fuel prices.   
Americans are paying an average of $4 for gas/fuel, nearly double since January 2021.  
Trading CFDs    
One of the most advantageous methods of benefiting from oil price movements is to trade CFDs online. CFDs or Contracts for Difference are financial derivatives that allow investors to speculate on the price fluctuations of an underlying financial asset without buying it beforehand.     
Trade the best stocks in the world   
Moreover, CFD traders can profit both when prices are rising as well as when they are falling. This is because CFD trading allows traders to open a buy or sell position, which means they can buy when prices are moving up or sell when the prices are dropping to generate profits.      
Also, CFDs are traded on margin, which means that traders only need a small amount of capital to open a position on the market and enjoy increased returns at the cost of higher risk exposure.      
Please note that trading CFDs is considered a high-risk investment, which can result in the loss of your invested capital. Always get in touch with your account manager to discuss profit targets and how you can minimize your exposure to downside risk.     
Ready to start trading? Open an account today      
Join CMTrading, the largest and best-performing broker in Africa, and discover more opportunities with an award-winning broker. Register here to get started                    
Follow CMTrading on Facebook, Instagram, LinkedIn, Twitter, and YouTube