Achieve Financial Freedom with Our New Website! 
The financial markets are a gateway to profits for savvy traders. It's constantly evolving, and traders can achieve high profitability, provided they're able to adapt to an ever-changing environment.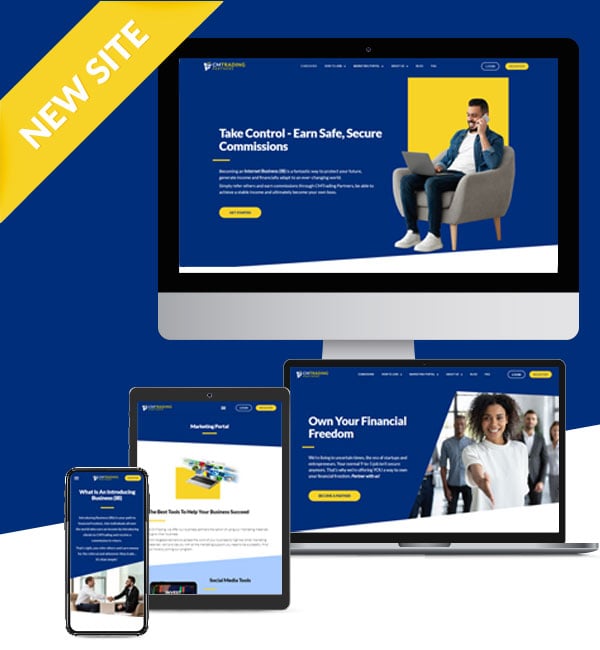 Even if you're not a trader you can benefit from global markets by simply starting an Introducing Business (IB) and partnering with CMTrading.    
At CMTrading Partners, our mission is to assist those out there seeking an alternative income stream by giving them the skills and the platform to build and grow a successful business.    
Sleek design, improved website   
By starting your own Introducing Business, you'll be able to earn additional income and secure your financial future. What's more, you're partnering with an award-winning broker with a 10-year legacy in the business.  
To help us deliver the best possible experience for all our IBs, we've created an all-new, enhanced website. Our fresh platform exemplifies our values of transparency, accountability, and support. Some of our unique features include an interactive calculator, intuitive design, and enhanced expert articles.  
New IBs can use our interactive calculator and view how much potential income they can earn. IBs will receive a dedicated business developer and our full suite of marketing support to build their brand.  
What's new:   
Modern, eye-catching design  

 

100% mobile friendly – enjoy the site wherever you are/go.  

 

Speedy navigation – easily scan what you need in seconds.  

 

Conveniently access a wealth of content with our expert articles.  

 
Extensive FAQ section – get all your questions answered.  

 

Become an IB in three simple steps.  

 

Our interactive calculator – slide to find out how much you can earn.  

 

Advanced marketing tools – we'll help spread the word about your business.  

 

Can't find what you need? Contact us, we're only a few clicks away… 

 
Visit the new website for CMTrading Partners 

Become an IB in 3 simple steps:      
Sign up     

 
Complete our fast and secure application form.      
Refer     

 
Receive your unique tracking link to get started.      
Earn     

 
Track your referrals in real-time and begin earning rebates.       
What is an Introducing Business?   
Even the best brokerage needs assistance in attracting clients. An IB acts as a middleman by identifying potential clients who are seeking access to the financial markets and referring them to a broker such as CMTrading who can meet their needs and demands.   
An IB aims to engage and develop a working relationship with clients but does not execute trades on their behalf. The actual trading is handled by the client or the broker. To put it simply – the IB Broker refers clients, provides consultation services, and receives a commission for every trade the brokerage makes on behalf of these referred clients.   
There are millions of potential traders out there who require a more personal touch to start trading. If you're someone who loves networking and is capable of building strong relationships, you have two of the greatest traits needed to be a successful IB.   
How does it work    
Becoming an IB is an easy and exciting way to increase your income, as there's no cost to sign up. As an IB you can work from anywhere, anytime, and promote us in any way you want.    
We provide very competitive commission plans for client referrals. Our partner portal tracks client activity, on-boarding, and revenue generation in real-time. When you get started, you receive access to all our reporting tools and statistics, and all commissions are automatically paid on each closed trade.   
You benefit from an unlimited number of referral campaigns, and you immediately get access to our marketing tools, completely customized for your target audience.  
What's in it for you   
Take advantage of our exclusive conditions   
Unlimited number of referral campaigns  

 

Partner with an award-winning broker 

 

Great rates and commissions 

 
Full marketing support 

 

Dedicated Account Manager

 

And much more…  

 
Register and start an Introducing Business (IB) with CMTrading   

Becoming an IB is an easy and exciting way to earn money – simply refer traders to CMTrading and let us do all the work! In return for referring clients to CMTrading, our IBs will receive a favorable commission.   
So go ahead, start referring clients and earn money when they trade. It's that simple!