Bitcoin surges ahead: Is there a crypto rally? 
Cryptocurrency suffered a disastrous 2022, plunging to record lows.     
In 2023 however, there appears to be a resurgence with Bitcoin, the world's biggest cryptocurrency, climbing above $20 0000.    
Today, we take a look at the crypto markets and find out whether a recent spike signals a major rally for the struggling digital currency.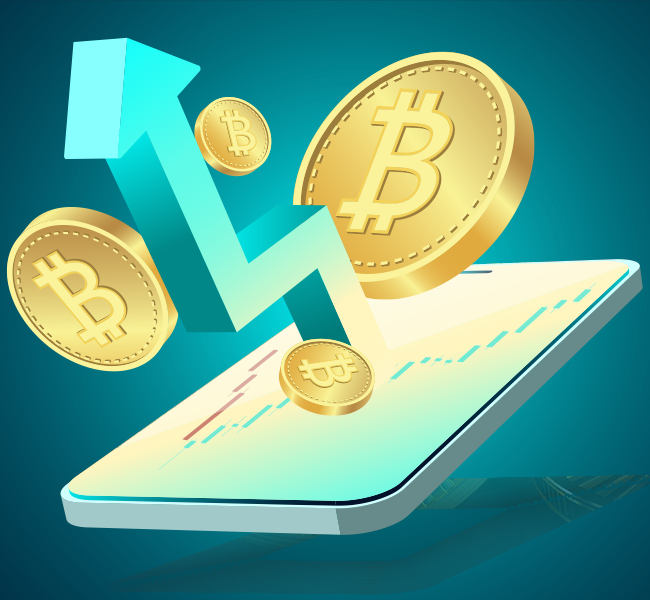 Crypto market rally  
The global crypto market rallied on February 15/16 despite tougher regulations implemented by the US Securities and Exchange Commission (SEC).    
Bitcoin surged 11% to $24,655.94 while Ethereum was up more than 8% at $1,684.59. The entire cryptocurrency market rose by more than $84.8 billion.  
Become a better trader – join our webinars   
The negativity around crypto seems to be lifting at least compared to its performance in 2022. Many analysts believe the worst to be over.    
Bitcoin's price is at its highest level since mid-August 2022. 
 In 2022, nearly $1.4 trillion was wiped from the crypto market following a series of financial disasters including the bankruptcies of companies. The disastrous year was capped by the collapse of major crypto exchange FTX, the fallout of which could still affect the market in 2023.  
Increased, regulation from the US has shifted attention from "alternative coins" (altcoins) to Bitcoin as a "safer" asset to trade.  
_____________________________________________________________________________________ 
This February only, you can get 30% cashback and access to our Trading Central professional package with a deposit of just $1,000!  
_____________________________________________________________________________________ 
Many longtime crypto miners were turned away from the increasing number of scams, failed projects, and companies crashing out. The current regulatory environment sees Bitcoin now labeled as a "commodity" by the SEC. This is a huge boon for the legitimacy of the digital currency and consequently, bitcoin's market dominance will continue.    
Gary Gensler, chair of the SEC, stated in 2022 that the regulatory body views Bitcoin as a commodity rather than tradeable security.     
Bitcoin outperforms Nasdaq  
Rising interest rates from the US Federal Reserve, designed to combat rampant inflation, have weighed on all markets including crypto markets. Bitcoin is informally tied to equity markets such as the tech-heavy Nasdaq. While the Nasdaq is up about 16% year-to-date, Bitcoin is outperforming the index at 49% in 2023 so far.    
The bullish sentiment in risk-heavy assets such as crypto is being fuelled by the optimistic view on the global economy; Many analysts believe we will skirt a recession and that the Fed could slow down its pace of rate hikes.    
The markets are responding positively to news that inflation will drop and interest rate hikes could ease.   
Check out our latest financial podcasts    
Tougher stance on crypto  
Many crypto exchanges braced themselves for volatility following increased regulatory scrutiny by the SEC on digital currencies from February 13.    
On February 13, the New York State Department of Financial Services instructed Paxos, a major blockchain institution, to halt the production of new Binance USD (BUSD) stablecoins. The SEC has not yet formally leveled any charges against Paxos.  
Bitcoin rally to continue?    
Bitcoin has rallied nearly 50% since the start of 2023, reaching a six-month high of $24,900.    
Given its meteoric rise in 2021, it isn't hard to see Bitcoin more than doubling in value in the coming months.    
Any asset is prone to market sentiment but crypto has seen extreme negativity in the past year. The disastrous number of scams, a huge heist, and the criminal collapse of FTX drove many investors away. Not to mention those who were willing to get into crypto were also put off by the combination of high-interest rates and inflation.    
Bitcoin's recent bull push follows a long period of sideways trading at a bear market of around $18,000 and below.     
The widely-tracked asset momentum indicator Relative Strength Index (RSI), reveals an end of the downtrend.  
Stay up to date on the latest market news     
Short traders losing millions  
You only need to look at how crypto traders performed to see the rise of digital currency in action. Bearish traders betting on a market-wide drop saw $185 million in shorts or bets against price rises. This resulted in more than $200 million in overall liquidation losses.     
Bitcoin-tracked futures saw over $85 million in liquidations while Ether futures logged $58 million in liquidation.  
That's a tough loss for short traders but it shows that the bulls are in charge for the time being.   
The crypto market cap increased by 8.8% reaching its highest level since November 2022.    
Overall market rises  
Stocks rose on February 16 as economic data from around the world revealed that the economy would avoid total recession.    
The pan-European STOXX 600 index (.STOXX) rose 0.5%, while London's FTSE 100 (.FTSE) continued to rise due to an influx of share buybacks from major banks. France's CAC 40 (.FCHI) rose 0.8% slightly missing out on a record high for the index.    
MSCI's all-country world price index (.MIWD00000PUS) rose 0.3% though US stock futures were marginally higher.    
Data revealed US retail sales increased in January 2023, the most in nearly two years. The US FED also revealed lower inflation and stronger consumer spending. The eurozone and the UK, similarly, gave investors more confidence in the economic outlook.    
Benchmark 10-year US Treasury yields hit the highest level since early January but retreated to show a 3-basis point decline to 3.78%.    
Equities with the Nasdaq (.IXIC) are up 15% so far in 2023. 
_____________________________________________________________________________________ 
Special offer 
Take advantage of market movements with our special February offer and start trading today!  
How to get your bonus:    
1 Deposit $250 – get a $200 bonus  
2 Use promo code EXTRA200 
3 Trade with our bonus 
T&C Apply | Min. deposit $250 | Max reward $200 | New clients | Promo code: EXTRA200 
____________________________________________________________________________________ 
Ready to start trading? Open an account today        
Join CMTrading, the largest and best-performing broker in Africa, and discover more opportunities with an award-winning broker. Register here to get started            
Follow us on Facebook, Instagram, LinkedIn, Twitter, and YouTube