Nigeria's elections:High stakes for traders
Voters in Nigeria will head to the polls on February 25.
It's an incredibly important election as international investors and traders hope the next president of Africa's largest and most populous economy will be more market-friendly than the current regime.
What can traders expect? Why is this election so important for Nigeria and the African continent? We answer these questions and more in this article. We also have a great offer for all traders at the end of this piece, so stay tuned!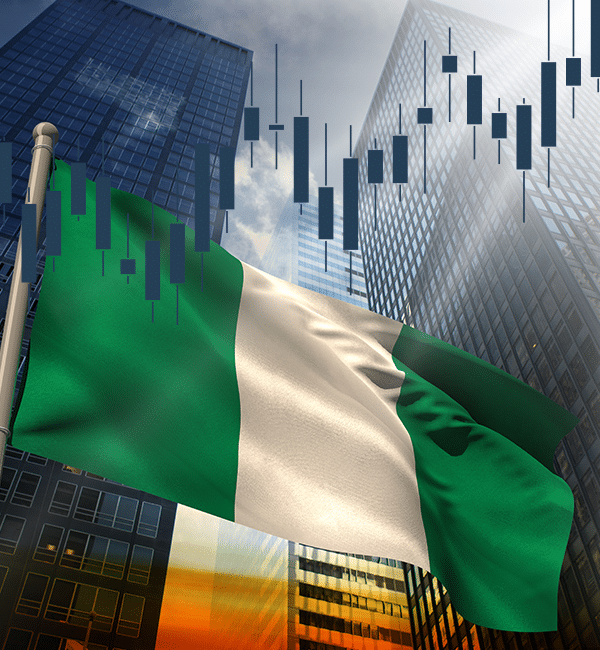 Africa's biggest economy at stake
The focus of the upcoming election is on the presidency. Incumbent president Muhammadu Buhari is not on the ballot, so it falls to the main contenders to duke it out of the presidency. They are the ruling party veteran Bola Tinubu, former vice president Atiku Abubakar, and third-party candidate Peter Obi.
Whoever takes the top seat in Nigeria will have a plethora of issues to tackle. Multiple exchange rates, high crime, and low oil production due to widespread theft are some of the major problems plaguing citizens and foreign investors alike.
Like many countries, Nigeria has been affected by high fuel prices and inflation. Soaring fuel subsidy costs are depleting government revenues and racking-up debt.
Major reforms of the foreign exchange market will be a high priority for international investors and traders. Currently, uncertainty over how long it takes to get funds out of Nigeria is a big deterrent. After all, few traders will want to buy into a market where you can't simply sell stocks and get your money out.
In 2022, foreign investors comprised 16% of shares on Nigeria's stock exchange, this is a huge decrease from 58% in 2014, according to the Nigerian Exchange Group.
Petrol subsidies have cost the country $10 billion in 2022. Clear regulation and a reduction in corruption are critical for international oil and gas companies.
A nation in debt
Nigeria's huge economy has kept its debt-to-GDP ratio low compared to countries with similar credit ratings. However, the country's debt-servicing burden is among the highest globally, reports ratings agency Fitch. In 2022, the Nigerian government spent 96.3% of its revenues generated that year on paying interest.
Many businesses are calling for "debt forgiveness" and creditors should be engaged in debt restructuring.
Whoever becomes the next president will need to grow the economy and do so quickly. None of the major candidates had pledged to raise taxes, a sigh of relief for debt-saddled citizens.
Ironically, many investors are optimistic that Nigeria would see improvements, regardless of who takes power after Feb. 25. Controversial president Buhari set such a low bar for performance so anyone filling his shoes will have a hard time not putting the nation back on track.
A trio of candidates to drive Nigeria forward
The elections could come down to the wire as all three candidates have a good chance of winning. All candidates have proposed variations of similar policies including Forex reform, fuel subsidy changes, and boosting the economy.
Whether the country is on the right track will be decided by a peaceful outcome. Nigeria has suffered from intense periods of violence around elections in recent decades.
If Tinubu emerges as the winner, there would likely be a smoother transition.
A victory for challenger Atiku could mean uncertainty as power shifts.
Newcomer Peter Obi is the most radical yet progressive of the three candidates.
Nigerian election – What you need to know
CMTrading's Oluwaseun Adeniyi, Team Leader in Sales Nigeria, shares her views on the upcoming elections.
1 How important is the election for Nigerians?
This election is important for Nigerians because, after the emergency of the current president, Nigerians have a hard time simply surviving. The election used to be between just two parties but right now, there is an emergence of a 3rd force.
This is very important as if this 3rd force emerges as the winner, it will mean a revolution is here for Nigerians.
2 How will it affect markets?
If the election ends up peaceful and the predicted 3rd force wins, this will give foreign investors renewed confidence, while stabilizing and boosting Nigeria's stock market.
If not, however, there is a risk of protests, and public outrage against the government, and the price of stocks will crash.
3 What should traders be aware of?
Trading Forex in Nigeria is one of the most stable things you can do right now, especially with the new currency redesign and scarcity of currency. This has led to protests across cities in Nigeria, down to the burning of banks, some people have their money stuck in banks, as some banks have already shut down.
4 Why trade Forex in Nigeria?
Now is the time to split your money and invest in Forex, where your money is not only safe and secure, but you can make potential profits from it.
5 What advice do you have for traders?
My advice to traders is not to sleep or wait till anything drastic happens. The USD has gained strength against the Naira since currency scarcity and chaos started happening. This could be because some people could not deposit their old notes in the bank, they resorted to purchasing dollars.
Also, regardless of who wins, this will greatly affect the economy and you having your funds in dollars is the safest way.
_____________________________________________________________________________________
Special offer
Take advantage of market movements with our special February offer and start trading today!
How to get your bonus:
1 Deposit $250 – get a $200 bonus
2 Use promo code EXTRA200
3 Trade with our bonus
👉Go to the trading room
T&C Apply | Min. deposit $250 | Max reward $200 | New clients | Promo code: EXTRA200
____________________________________________________________________________________
Ready to start trading? Open an account today
Join CMTrading, the largest and best-performing broker in Africa, and discover more opportunities with an award-winning broker. Register here to get started
Follow us on Facebook, Instagram, LinkedIn, Twitter, and YouTube