World cup prize money, sponsors, and more!
 The 2022 FIFA world cup is heating up as we head toward the final group stages in early December. The games, hosted in Qatar, have already seen their fair share of dramatic victories and upsets on the pitch, attracting billions of eyeballs on various platforms.  
The games also represent a huge investment by many companies, teams, and countries; host nation Qatar has invested an incredible $200 billion in the world cup.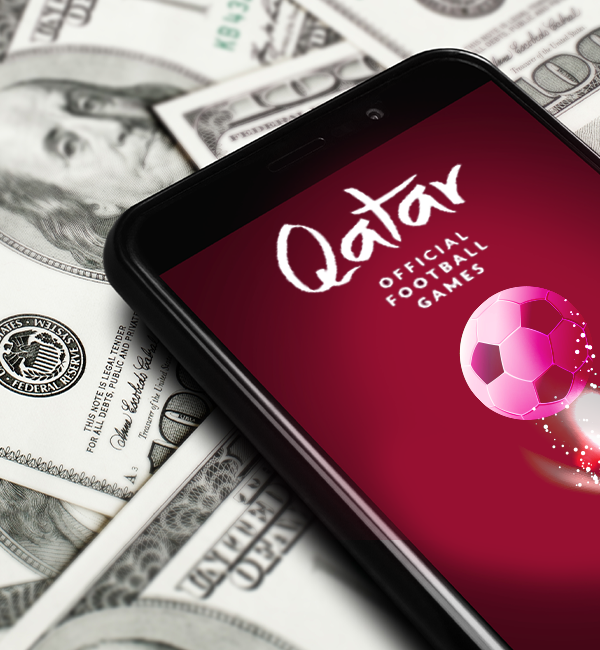 That's a staggering amount when you consider that Russia, the previous host of the global soccer tournament, only spent $11 billion back in 2018.    
As the football action continues to intensify, we take a look at the business behind the World Cup, the many sponsors, and the mind-boggling investment that goes into hosting the games.  
Who sponsors the Fifa World Cup 2022?
The Fifa World Cup is the world's biggest sporting event and naturally, companies are eager to associate their brands with such a global competition. Fifa uses sponsorship tiers for brands – Fifa Partners, Fifa World Cup Sponsors, and Regional Sponsors.   
In the future, we'll see a new format with four tiers by unbundling the women's and eSports branches from the men's branches. The new system will increase overall sponsorship income as it attracts an even wider audience.    
Fifa Partners  
These companies have global rights and can use Fifa's branding during the entire tournament (i.e every game played will feature these brands). This presents a staggering amount of brand awareness unmatched by other sporting events. Naturally, the host nation has its own companies featured such as Qatar Airways and Qatar Energy.   
Ready to start trading? Open an account today         
There are seven primary Fifa Partners:  
Adidas (sportswear)  
Coca-Cola (beverage)  
Wanda Group (conglomerate)  
Hyundai/Kia Motors (automotive)  
Qatar Airways (airline)  
Qatar Energy (oil & gas)  
Visa (financial services)  
FIFA World Cup sponsors
The second tier of sponsorship comprises also global rights but has certain restrictions placed on them. The mix of second-tier sponsors includes the likes of Crypto.com and McDonalds. It's a major step towards the legitimacy of Cryptocurrency to be featured so prominently in a global sporting event.  
FIFA World Cup Sponsors:  
Budweiser (alcoholic beverage and part of Anheuser-Busch InBev)  
Byju's (educational technology)  
Crypto.com (cryptocurrency platform)  
Hisense (electronics & home appliances)  
McDonald's (restaurants & real estate)  
Mengniu Dairy (dairy products)  
Vivo (consumer electronics)  
How much revenue will be generated?   
The World Cup is a huge driver of income for Fifa and its sponsors. Though not anywhere near traditional sales, the world cup represents a unique windfall for companies. According to Fifa, the total revenue predicted for the 2022 World Cup is $4.6 billion, comprised of five primary revenue streams.   
The sale of television broadcasting rights contributes 56% of the total income at $2.6bn, followed by   
sponsorship income (marketing rights) at $1.3 billion (29%) and hospitality rights including ticket sales, licensing rights, and other revenue amounting to $673 million.  
By comparison, the total investment for Fifa for the 2022 Qatar World Cup is $1.6 billion. This represents a decrease compared to the $1.8 billion in expenses incurred for the 2018 Russian World Cup.  
National team sponsors  
What international sporting brand wouldn't want to see their product worn by some of the world's top soccer players? The tournament features nine different kit sponsors of the 32 World Cup teams. Nike supplies the majority of nations with 13 team hits. They are followed by Adidas, which sponsors seven nations.  
 The deals will also result in lucrative opportunities as supported purchase world-cup memorabilia including authentic kits.  
Nearly half a billion in prize money  
Apart from their salary deals, teams will also receive millions depending on their performance in the tournament. Fifa has set total prize money at $440 million, with tournament champions set to take home a victory purse of $42 million.   
2022 Fifa World Cup prize money:   
Winners – $42 million  
Runner-up – $30 million  
3rd place – $27 million  
4th place – $25 million  
5th – 8th place – $17 million  
9th – 16th place – $13 million  
17th – 32nd place – $9 million  
In addition to $440 million prize money, Fifa has set aside a substantial $48 million ($1.5 million per participating country). This means that each participating nation will earn at least $10.5 million.  
For comparison, the 2018 Russian World Cup featured an overall prize pot of $400 million.  
World Cup to boost GCC economies  
The world cup will also benefit neighboring middle east nations.   
The Gulf Cooperation Council (GCC) economies are predicting a boost from the Qatar event, reports Standard and Poor's (S&P) Global Ratings report.   
In a report, the S&P said: "We also foresee a post-World Cup slowdown in economic activity in Qatar. Oversupply in the hospitality and real estate sectors could somewhat moderate their performance, although we don't expect this to materially affect banking sector asset quality.   
"We estimate real GDP growth of 4.8% in 2022, a sharp increase on 2021 (1.5 percent), partly due to the additional economic activity associated with the World Cup, but also reflecting the ongoing recovery following the removal of COVID-19-related restrictions. We estimate non-oil GDP growth in 2022 at 8 percent, compared with close to 3 % in 2021." 
Trading opportunity – Trade top Arab stocks!   
The world cup presents unique trading opportunities, especially for the GCC sector. From Forex to construction stocks, traders of all levels will be seeking opportunities  
How can you take advantage of the upcoming FIFA world cup? By trading 20 of the top stocks featured on the Saudi Exchange available on our platform  
These represent some of the most valuable companies in the world and offer a unique opportunity to diversify your portfolio.   
How to trade the top Arab stocks  
1 Login (sign-up) to your CMTrading account  
2 Check out the new stocks on the trading dashboard  
3 Enjoy new trading opportunities  
Largest Saudi Arabian companies: by market cap    
1 Saudi Aramco – $1.933 Trillion  
2 Al Rajhi Bank – $95.11 Billion   
4 SABIC – $67.21 B   
3 The Saudi National Bank – $63.06 B   
5 Saudi Telecom Company – $50.08 B 
Below are the new stocks on our platform: 
Instrument

 

MT4 Description

 

Size of 1 lot

 

AAYAN.KW

 

A'ayan Leasing and Investment Company K.S.C.P

 

10

 

AHLIBANK.KW

 

Ahli United Bank Kuwait

 

20

 

FINHOUSE.KW

 

Kuwait Finance House

 

10

 

MOBTELEC.KW

 

Mobile Telecommunications Kuwait

 

10

 

NAKUBANK.KW

 

National Bank of Kuwait

 

10

 

QAREEN.KW

 

Boursa Kuwait Premier Market Price Return Index

 

1

 

WARB.KW

 

Warba Bank

 

20

 

GPI.KW

 

Gulf Petroleum Investment

 

100

 

ADCB.UAE

 

Abu Dhabi Commercial Bank

 

100

 

ADNOC.UAE

 

Abu Dhabi National Oil Co for Distribution

 

100

 

ALDAR.UAE

 

Aldar Properties

 

100

 

DEWA.UAE

 

Dubai Electricity & Water Authority

 

100

 

EMIRNBD.UAE

 

Emirates NBD Bank

 

100

 

ESHRAQ.UAE

 

Eshraq Investments

 

100

 

MAADEN.SA

 

Saudi Arabian Mining Company SJSC

 

100

 

NCB.SA

 

Saudi National Bank

 

100

 

RIBL.SA

 

Riyad Bank

 

100

 

SABIC.SA

 

Agri-Nutrients Company

 

100

 

SEC.SA

 

Saudi Electricity Company SJSC

 

100

 

STC.SA

 

Saudi Telecom Company SJSC

 

100

 

TADAWUL.SA

 

Tadawul All Shares Index

 

1

 

ALINMA.SA

 

Alinma Bank

 

100

 

ALRAHJI.SA

 

Al Rajhi Banking & Investment Corp SJSC 

 

100

 

ARAMCO.SA

 

Aramco

 

100

 

BSFR.SA

 

Banque Saudi Fransi 

 

100

 

BUPA.SA

 

Bupa Arabia for Cooperative Insu Co SJSC

 

100

 
Want expert trading tips?  
CMTrading offers all the latest trading tips, news, and information in real-time. Simply sign-up for an account and access your trading dashboard. What's more, it's completely FREE!  
 Gain access to the following powerful features:  
Trending stocks 

 

Analyst ratings 

 

Insider activity 

 

TipRanks smart score 

 
What's more, it's completely FREE!  
Ready to start trading? Open an account today        
Join CMTrading, the largest and best-performing broker in Africa, and discover more opportunities with an award-winning broker. Register here to get started            
Follow us on Facebook, Instagram, LinkedIn, Twitter, and YouTube