Upskilling during lockdown – 5 simple steps to becoming a trader
Learning a skill during lockdown is the best way to adapt to challenging circumstances. Anyone can become a trader, today we reveal how.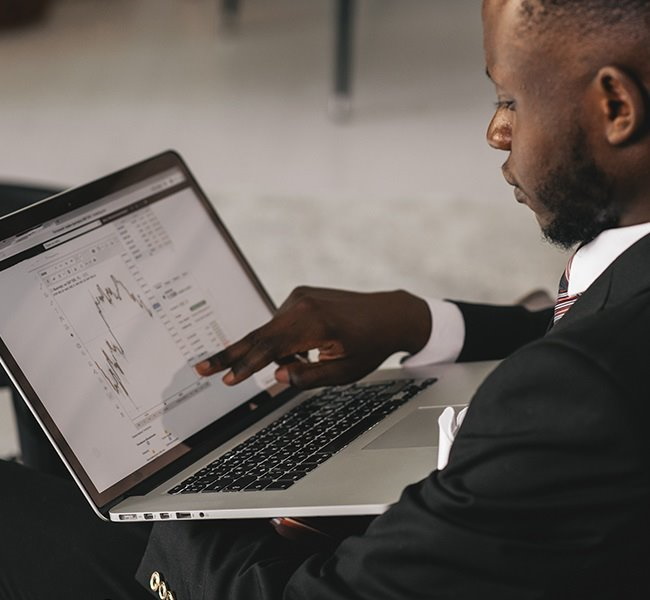 Despite herculean efforts to develop and roll out vaccines, the world remains in the grip of COVID19. The Delta variant is ravaging the US and Europe, stalling economic recovery, and negatively affecting the markets. 
South Africa is in its second-highest level of lockdown to curb the "3rd wave" of the virus, devastating an already reeling economy. 
All this serves as a cautionary tale that, like the markets, it's crucial to be adaptable. One of the ways you can adapt to an ever-changing economy is to upskill yourself. In this article, we'll highlight the importance of developing new skills and how you can benefit from becoming a trader. 
The office exodus 
The pandemic saw millions of offices around the globe left abandoned and remoting working and freelancing became the new normal. In 2021, remote working persists and there's never been a better time to be freelance and start your own business. 
While vaccines have opened the door for a gradual return to normalcy, the third wave experienced globally has stunted growth. A Pew survey reveals that 50% of US employees prefer to work from home. Upwork, one of the biggest freelancing networks, revealed that 60% of those who turned to self-employment during the pandemic have no desire to return to full-time employment.
Ironically, freelancing is more secure now than the stability usually sought after by having a permanent job. Upwork reports that freelancers could make up nearly 50% of the US workforce within the next 5 years.
This means that having a skill, such as trading, is not only a viable path to financial freedom but you'll be giving yourself the security of an additional revenue stream. 
Anyone can become a trader 
Trading used to be the exclusive purview of major firms and Wall Street floor traders. Today, however, there's never been a better time to become a trader. With easy access to trading courses, brokers and partnering with professionals online, everyone has the best opportunity to become a successful trader. 
Through dedicated courses, you can not only learn the basics of trading but become a true player in the marketplace. 
Zihaad Israel, CMTrading Head of Business Development South Africa, says: "Although the pandemic has changed many aspects of our lives, being stuck in lockdown doesn't have to be a completely negative experience. With access to the internet and online courses, you can turn your home into an educational hub. By improving yourself during quarantine, you will become indispensable during these challenging times.
"We're living in a digital world, and you can learn anything you want from the comfort of your own home at a time of your choosing. Use this time to learn something new."
Learning and working from home
Working from home used to be reserved for the more fortunate among us. Today, especially in countries hard hit by the pandemic, it's become so commonplace that many are loathe to return to a conventional office. 
Zihaad said: "Working from home was only possible for the lucky few yet now it is a reality for nearly everyone globally. Life during the pandemic can take a toll on your skills. Upskilling is one of the most efficient ways to overcome this challenge. 
"You can even use this opportunity to pick up a new skillset, such as learning to trade. Online trading has been easily accessible to everyone for some time now, and with enough dedication, you can soon find yourself with an extra revenue stream."
Here are 5 simple steps to becoming a trader: 
Gain sufficient knowledge 
Never stop learning; Participate in webinars, complete courses, and conduct research and you'll be on the path to understanding the markets in no time. 
     2. Understand the markets 
The difference between a good trader and a bad one is simply their understanding of the underlying markets and how to get the best of them. You might not win every trade but the better your understanding of the markets, the higher your chance of success in the long term. 
     3. Ensure you have sufficient capital
You'll need an initial investment to begin trading. Fortunately, you can open a CMTrading account and start trading with just $250, and by utilizing leverage, you can magnify your potential profits. 
     4. Develop a trading strategy 
Whether you're trading currency pairs, oil or gold or even Bitcoin, you need to have your own trading strategy. Without this, you'll be merely gambling and that's not how you become consistently successful. 
     5. Partner with a proven broker 
If you're a trading beginner, it's crucial to partner with a trusted and licensed broker to make the most out of your trading career. 
Earning a passive income
As many businesses closed doors permanently throughout 2020 and 2021, many have turned to upskilling and searching for a change of career path to provide for their families. Trading is an area where with enough dedication, you can start earning a second income.
Like any discipline, this will require putting in the effort to learn skills, understanding the tools available to you and dedication. Interest in online trading has skyrocketed during the pandemic.
There are potentially more opportunities now to refer people to reputable brokers and earn a passive income that will grow exponentially.
Refer clients and earn money when they trade!
Achieving success 
Trading like any other discipline requires investment to make the most of it. What you put in, you get out. If you're disciplined about understanding the markets and regularly practice your craft, you'll be on the path to success in no time.
Zihaad said: "It's quite simple to become an independent trader but being consistently profitable is what most traders struggle with. You won't win every trade. Trading is like any other craft as it requires experience, knowledge, and dedication. 
"Sadly, they don't teach the fundamentals of trading at school. This means you need to do the research yourself from the ground up. You need to learn as much as possible about market fundamentals and risk management before you're able to be successful as a trader. However, online trading courses can help you fast-track your progress.
"From my experience, it can take about 2 to 3 years for most traders to become consistently profitable in the markets."
Is trading for everyone?
 There are millions of active traders around the world, more so than there have ever been in the history of financial trading. While some of them use it as a secondary income stream, many become full-time and can make a fortune in the markets.
Zihaad: "Anyone can open a trading account in a matter of minutes. As an independent trader, you make the rules for yourself. You manage your own time, you choose which markets to trade and ultimately it's up to you to decide how much you want to invest."
Overall
Zihaad said: "If you're looking for financial freedom and a skill that nobody can take away from you, then trading could be for you.
"Trading can unlock many doors and be a path to financial independence. All you need is a phone, a stable internet connection and a reliable broker. The hard part is putting in the work to learn and be dedicated enough to make the best of the markets."
Discover more opportunities with CMTrading
CMTrading offers more than 150 tradable assets including the top-performing stocks available in the markets. CMTrading clients get access to global brands, exceptional trading conditions and robust safety and security under the auspices of the Financial Sector Conduct Authority (FSCA) in South Africa.
Being a retail brokerage that specializes in CFDs (Contracts for Difference), CMTrading provides clients with unique advantages such as powerful leverage, which allows traders with smaller accounts to gain exposure to much larger positions. This translates to higher profit potential; however, it should be noted that leverage also increases your exposure to downside risk.
While leverage typically adds a certain degree of risk to any investment, CMTrading also offers negative balance protection, thereby guaranteeing that potential losses will never exceed your invested capital. If you are interested in learning more about how you can take advantage of price movements in stocks, currency exchange rates, commodities, or cryptocurrencies, you will find that CMTrading's unique offering of innovative services and diverse account types are suitable for both beginner and experienced traders.