The key to good economies is energy 
Uttering the words load shedding will be greeted by groans and "colorful phrases" from South Africans, yet many nations suffer from energy instability. In 2023, England faces power outages in many regions and in the USA, Texans are left in the dark due to lack of electricity.  
Global energy production was thrown into chaos following Russia's invasion of Ukraine in 2022. Since then, the "global grid" has stabilised somewhat, but many countries and regions are affected by energy instability.   
Become a better trader – join our webinars    
What's more, the war and subsequent sanctions have led to a drastically different energy outlook for Europe and the USA in 2023 and beyond.  
Today, we will discuss the importance of energy stability and its effect on global economies. We'll also share a special promotion for all traders at the end of this article.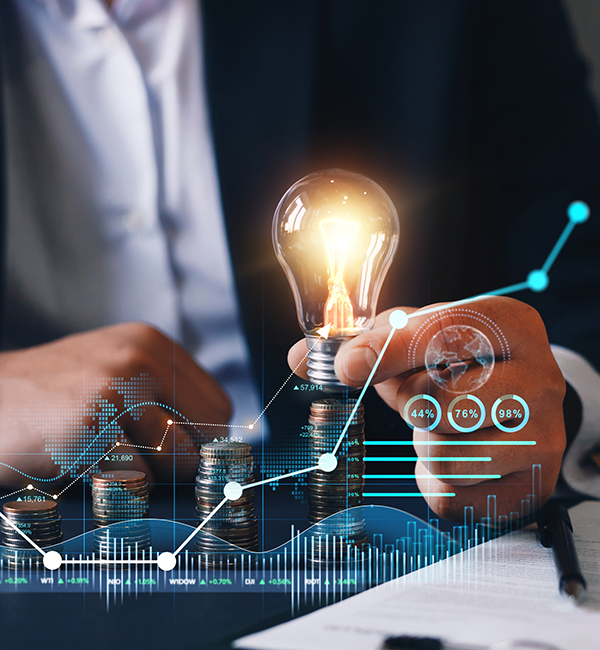 Expert on load-shedding and more  
Fred Razak, Senior Trading Strategist at CMTrading, discussed the issue of load-shedding in South Africa with a popular radio station, HOT 1027, in February:  
Razak: "I visited South Africa for the first time in 2022 and I enjoyed my short time there. Coming from a global perspective, I don't know of another country in the world that is blessed with so many resources and has the available money yet deals with a poor economy and high unemployment like South Africa.  
"It's such a tremendous inconvenience to locals that it's almost self-sabotage on South Africans.   
"One of the most negligent things any government in the world can do is to not have a standard of electricity that runs 24/7. It's just unheard of in the modern era and untenable. It's unacceptable from any modern state perspective.     
"Many countries around the world are trying to improve themselves. South Africa is such a beautiful country with such amazing people yet it's just sabotaging itself to a certain degree. If a store owner can't open until twelve o'clock because he doesn't have electricity to put on his coffee machines, how can anybody make money?   
"So how is load shedding understood in countries abroad? Many people don't even understand what I'm talking about with regards to load shedding, yet it will affect any form of international investment." 
Check out our latest financial podcasts  
Power – the lifeblood of any economy 
Electricity is the lifeblood of any economy and a necessity for running a successful business.  
From damaged equipment to poor investment sentiment, power outages can have a significant effect on productivity and can cost a business thousands of dollars.   
Stay up to date on the latest market news   
Damaged equipment   
Industrial equipment is expensive and unfortunately, outages can cause severe damage. This can be incredibly costly as not only does a business need to repurchase new equipment, but there's also no guarantee newer machinery won't suffer the same fate. Many companies that are reliant on refrigeration will need to purchase generators that consume costly diesel to fuel.  
Decreasing in productivity   
Many businesses are completely digital, so any loss of electricity will affect a company's bottom line. Production will be halted, data loss, and overall cost the business another important resource – time. This is a death knell for companies that have high demands and tight schedules. The Astral (JSE: ARL) food group in South Africa is reportedly selling its chicken at increased prices due to load-shedding. Similarly, KFC has shut down certain locations in the region due to outages. 
Loss of investor sentiment  
Investment is built on trust, and few factors make investors more nervous than a failure to consistently deliver on production targets. Would you want to invest in a company or region that has power instability? No, and many countries such as South Africa are feeling the brunt of poor investor sentiment due to load shedding.  
Loadshedding in South Africa  
South Africa has experienced widespread national blackouts of electricity supply since 2007. Though the frequency of these load-shedding periods can be erratic, the country has been consistently faced with power instability for 16 years.  
A combination of poor infrastructure, corruption, and unwillingness to seek alternative sources of energy has led to an ongoing crisis that affects every facet of life in the country.  
My companies are reporting increased costs due to load-shedding; The Shoprite (JSE code SHP) Group, spent $31-million on diesel in 2022 to keep its operations running across South Africa during power outages.  
Global energy outlook  
Energy commodity prices, specifically for liquefied natural gas (LNG), inched ahead at an annual rate of 0.4% in December 2022. Prices soared more than 10% during the first quarter of 2022 when both oil and gas demand surged. Natural gas futures approached $10/MMBtu at the time, a record 14-year high.   
In 2023, dramatic swings in forecasts for European gas prices have left companies and governments struggling to plan. From the ongoing effects of the war in Ukraine to keeping pace with China's economic recovery, there are many factors to consider creating market instability.   
Analysts are having to guess the scale of fuel subsidy allocations and production costs. Energy-intensive industries, such as carmakers, face tough choices; Do they restart production they halted due to 2022's price spike or continue to hold back production?  
Forecasts for 2023 from the average European gas benchmark price, the Dutch TTF gas price, had ranged from €64 to €125/MWh in January. In February, the range has narrowed to €60 to €95 /MWh.  
What does this mean for traders?  
Even at the lower end of the range, the gas price is still about three times higher than in 2020, before prices skyrocketed in 2022, driven up by a post-pandemic surge in global demand and dwindling Russian-derived supplies.  
The European benchmark, which moved above €300/MWh in 2022, is now below €60/MWh, helped by an unusually warm Northern Hemisphere winter.   
China economy  
In 2023, analysts say the outlook will largely depend on whether Russian supply falls further, the weather forecast, and how much gas China absorbs as its economy rebounds.  
Chinese and Asian demand for LNG has a direct effect on Europe as the EU shifts away from piped Russian supplies of LNG. This has increased the focus on China's economic recovery following its "zero COVID" policy U-turn at the end of 2022.  
Euro subsidies  
The EU spent billions of euros in subsidies to help companies and households cope with crippling energy bills in 2022. Now, they are struggling to plan.  
Germany has stated that spending on gas and electricity price caps, part of a €200 billion package to help consumers, will be lower than expected.  Britain said it would scale back its energy subsidy.    
Europe's efforts to expand infrastructure to import more LNG could help avoid another huge price hike. 
_____________________________________________________________________________________ 
Special offer 
Take advantage of market movements with our special February offer and start trading today!  
How to get your bonus:    
1 Deposit $250 – get a $200 bonus  
2 Use promo code EXTRA200 
3 Trade with our bonus 
T&C Apply | Min. deposit $250 | Max reward $200 | New clients | Promo code: EXTRA200 
____________________________________________________________________________________ 
Ready to start trading? Open an account today        
Join CMTrading, the largest and best-performing broker in Africa, and discover more opportunities with an award-winning broker. Register here to get started            
Follow us on Facebook, Instagram, LinkedIn, Twitter, and YouTube