Stock of the week: Netflix shares hit all-time highs 
 Netflix has been Wall Street's favorite streaming stock for a while now. Will the popular streaming service end the year on a high note?  
It's hard to believe that Netflix, a company that started as a home movie-rental business, has become the definitive online streaming choice for millions. The company has soared in value over the past years as the pandemic-induced lockdown forced millions to "Netflix and Chill" at their homes.  
Trade the easy way – sign-up today 
Stock hits all-time high and continues to rise  
The company's rally, which has continued for months, seems to show no signs of abating; Its stock is up 2% last week, 16% for the month, and 15% for the past six. Its price is currently hovering near $600 on September 13 and reached a record high of $616 on September 8.  
Netflix 5-day results: September 6-10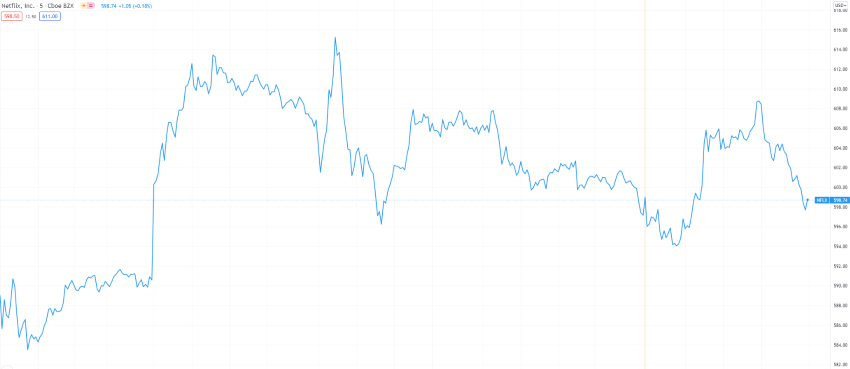 Netflix YTD results: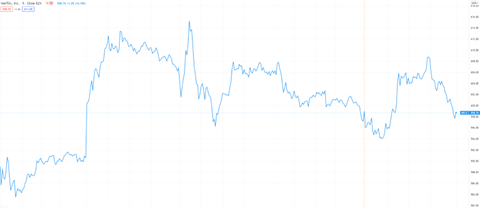 Despite a broader market sell-off during the second week of September, Netflix stock is by far the best component of the major FAANG stock group (Facebook, Apple, Amazon, Netflix, and Google), beating the 7% gained by Apple.  
Great Q2, boost from a major firm  
According to Netflix's second-quarter earnings report, the company earned $2.97 per share, compared with analysts' expectations of $3.15. Revenues also came in at $7.34 billion, exceeding analysts' expectations by 0.6%.  
Take advantage of price movements – trade today! 
Shares of the streaming service were heavily boosted after a major investment firm, Atlantic Equities, raised its price target from $690 to $780. The firm also raised its subscriber projections to 311 million subscribers by 2025.  
What's driving the growth?  
Netflix has many rivals to contend with, but analysts believe it will remain the dominant force in the streaming market at least for a few more years. The company has been pumping billions into content creation and acquisitions, outspending rivals by a large margin. For example, Apple started investing about $1 billion into content for Apple TV and has increased this to $6 billion. Netflix by comparison is set to spend $17 billion on content by the end of 2021. 
Want to get your share of the stock market? Trade the easy way! 
Pivoting to video games   
Earlier in August, Netflix announced plans to venture into the world of video games as part of its subscription service.  
In a letter to shareholders, Netflix said: "We're also in the early stages of further expanding into games, building on our earlier efforts around interactivity (e.g., Black Mirror Bandersnatch) and our Stranger Things games. We view gaming as another new content category for us, similar to our expansion into original films, animation, and unscripted TV."   
 "Games will be included in members' Netflix subscription at no additional cost similar to films and series. Initially, we'll be primarily focused on games for mobile devices…"    
Want to become a better trader? Attend our expert Webinars 
Plans and red flags  
Netflix faces its fair share of issues within the streaming sphere; high content costs, negative operating cash flow, and the slow wind-down of stay-at-home living are affecting its bottom line.  
There is also the additional stress of competitors boosting their existing offerings and newcomers entering the marketing. In the past few years, we have seen a major push from companies to enter the streaming market; Disney+, HBO MAX, Apple TV are just a few of the top streaming products competing with Netflix.  
To stay competitive Netflix has funneled billions into original content, has acquired exclusive rights for the popular show "Seinfeld" and has a goal of reaching 260 million subscribers globally by 2024.  
Invest in the brands you love  
Discover more opportunities with an award-winning broker. Join CMTrading, the largest and best-performing broker in Africa.  
Follow CMTrading on Facebook, Twitter, and YouTube