Major milestone for crypto: El Salvador accepts Bitcoin as national currency 
 Cryptocurrency takes a huge leap towards legitimacy as Bitcoin becomes legal tender in El Salvador.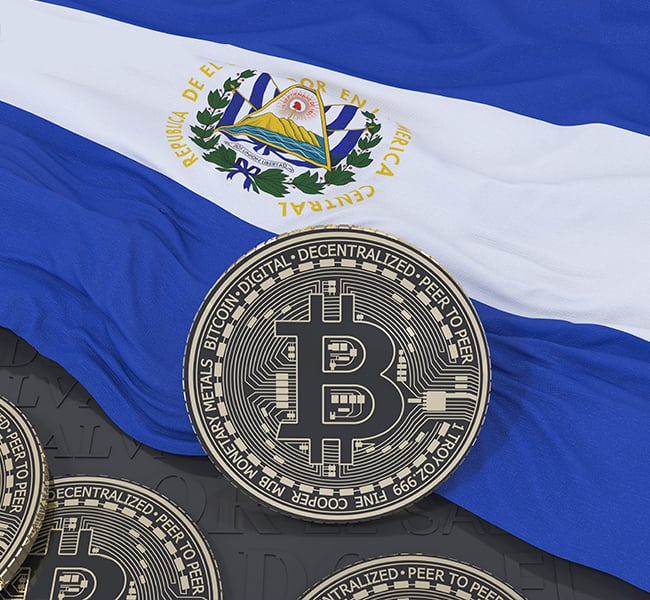 Cryptocurrency took a huge leap towards legitimacy as Bitcoin becomes legal tender in El Salvador. The move follows the passage of legislation in El Salvador, three months after the Central American country first made the announcement.   
Today we look at Bitcoin, its performance in 2021, and share advice for Bitcoin trading in South Africa.   
"Bitcoin day"   
El Salvador marks a world-first for cryptocurrency. The government has said that all goods, services, and even taxes, can now be paid using the world's oldest crypto.  
Trade Bitcoin the easy way – sign-up today  
To commemorate the momentous occasion, crypto traders supported the move by purchasing $30 worth of bitcoin each, coinciding with Salvadorans receiving the same amount preloaded onto a government-sanctioned digital wallet. Crypto traders are calling it 'Bitcoin Day' in celebration, pushing the price of the world's largest crypto up more than 2.3% in 24 hours.   
The country is already reporting that major food and drink franchises, such as Starbucks and Pizza Hut, are receiving payments in Bitcoin.  
Bitcoin price spikes, then stumbles  
Bitcoin has seen a major rally throughout August, breaching key resistance levels to close well above $52,000. On September 7, its price was $52,288 significantly higher than its $30,000 low seen during the April-June mass sell-off period experienced earlier in 2021. The cryptocurrency is now up 74% year-to-date and 369% in the past year.   
Bitcoin is riding a month-long high; its price has risen from a low of $43 000 in August to highs of $54 000. It is still a far cry from its all-time high of $64,888 seen earlier in 2021. Its current market cap is $983 billion, with the total crypto market valued at more than $2 trillion.   
Want to take advantage of crypto? Trade the easy way 
Unfortunately for traders, Bitcoin's volatility struck once again plunging its price by 16% on September 8 to a low of $44,535. As of September 9, it is experiencing a minor rally at $46,299 (+2%).   
Gaining legitimacy, outperforming other assets  
How has Bitcoin performed compared to other tradable assets? Bitcoin is up about 74% YTD compared to a 20% increase in the S&P 500 during the same period. Gold has produced negative returns in 2021 as the dollar increased in strength since August 2020.   
In August 2021, payment giant PayPal introduced its cryptocurrency service in the UK, a year after introducing a similar service in the US back in 2020. Major institutions, including banks and investment firms, are increasingly backing cryptocurrency, adding much-needed legitimacy to the market.  
Red Flags – Binance Group   
Singapore and South Africa join a growing list of countries warning against Crypto exchange Binance. Some regulators state that Binance is operating illegally in their jurisdictions.   
Binance, the world's largest cryptocurrency exchange, sees between $20 billion and $30 billion in transactions per day.   
South Africa's Financial Sector Conduct Authority (FSCA) issued the following statement: "The FSCA warns the public to be cautious and vigilant when dealing with Binance Group as they are not authorized to give any financial advice…"   
Binance replied that it does not provide financial advice or render any intermediary services. The company added that "This community is moderated by admins and Binance angels."   
Following a warning by the Singapore government, Binance announced it will stop trading cryptocurrency pairs and payment options denominated in Singapore dollars and end all online communication for that country.   
Should you invest in Bitcoin?   
In short, there has never been a better time to buy Bitcoin. The profit potential is staggering, and its growth has attracted many mainstream retail and institutional investors.   
It should be noted however that crypto is one of the most volatile assets in the financial markets. As its performance in 2021 has shown, it can just as easily hit $60,000 in days as it could tumble back to $30,000.   
Fortunately, trading Bitcoin with a licensed broker, such as CMTrading, offers a wide range of unique advantages to both trading beginners and experienced investors.   
For example, one of the benefits offered to CMTrading clients is access to powerful leverage, allowing for high returns, even with a small initial investment.   
To sweeten the pot, traders can magnify their trading profits by 500% with a leverage ratio of up to 5:1 on all cryptocurrency pairs.