Stock of the week: Moderna stock keeps soaring 
Global vaccine rollouts have seen biotech company Moderna earning billions this year. Here's how you can take advantage of stock price movements!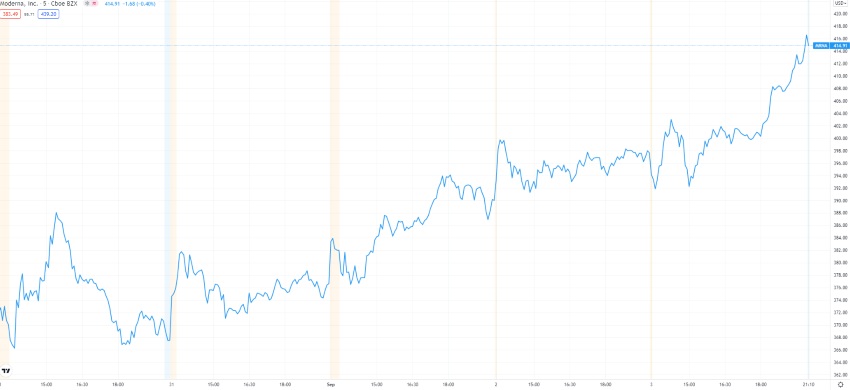 As the COVID-19 pandemic persists, companies pursuing vaccines have become the stars of the stock market. The global rollout of vaccines has created a market worth tens of billions of dollars in annual sales for pharmaceutical companies.  
Moderna is one such company that has been able to capitalize on pandemic-induced market conditions by rolling out millions of effective doses. We look at the biotech giant and find out whether it's a good stock pick.  
 Trade the easy way – sign-up today 
Price continues to soar    
Moderna was founded 11 years ago, and pre-pandemic was running at a loss. In 2021, it expects to make billions from its mRNA vaccine and upcoming booster shot.  
Despite hitting a minor slump earlier in August 2021, Moderna's stock has shot up during the first week of September; a 13% increase to $416,70 at the time of publishing.  
Profiting from the pandemic  
In September 2020, Moderna's stock has rocketed to more than 325% since September 2021 and the company has even announced a $1 billion stock buyback.  
Its Q2 sales at $4.35 billion were 6,200% higher than the year before, beating expectations by about $250 million.  
Take advantage of price movements – trade today! 
Booster shots to add billions in revenue  
Moderna, like its biggest rivals Pfizer, is pushing for people to receive a booster shot before the 2021 European winter sets in. It's a curious move as Moderna states its vaccines are still "92% effective" after four months.  
Moderna is convinced that booster shots targeting more contagious variants, such as Delta, could provide additional anti-body protection for users and prevent a "fourth wave of the virus." Given the ongoing economic devastation of the virus and the incredible loss of life, it's hard to argue with Moderna's sales pitch.  
Moderna has been lagging Pfizer in securing large-scale orders of its booster shots which, if ordered, could amount to a huge upside in revenue.  
Want to get your share of the stock market? Trade the easy way! 
Moderna's future revenues look promising  
Moderna's current revenue potential looks strong due to orders for its COVID-19 vaccine. However, as we move closer to a pandemic-free world can the company sustain its momentum?  
Moderna is contracted to deliver $12 billion worth of vaccines in 2022 with options to sell $8 billion more doses. The company is also reportedly signing agreements for 2023 as countries prepare for an endemic phase of the virus.  
What's next for the company?  
The company said it would explore a combination vaccine that aims to offer protection against the common flu and COVID-19.  
Stéphane Bancel, Chief Executive Officer of Moderna: "We have begun preparing late-stage studies for our flu vaccine and RSV vaccine, which received fast track designation from the FDA a few days ago and are looking forward towards our vision of a single dose annual booster that protects against COVID-19, flu, and RSV for adults."  
This could be a huge windfall for Moderna if it can secure long-term contracts with global governments.  
Want to become a better trader? Attend our expert Webinars 
Red flags – new variants could spell a repeat of 2020  
New variants of the virus are sadly poised to start the pandemic all over again in 2022. The World Health Organization is concerned about a variant found in Colombia and another detected in South Africa.  
The new variants could be resistant to current vaccines, which will have horrifying implications for people and businesses alike.  
While nobody can predict the future, the impressive development and rollout of current vaccines mean we have the tools to combat COVID-19. And where there are new variants, there will be biotech companies eager to capitalize on growing needs.  
Discover more opportunities with an award-winning broker. Join CMTrading, the largest and best-performing broker in Africa.  
Follow CMTrading on Facebook, Twitter, and YouTube