South Africa's lowered lockdown: Good news for SA means opportunity for traders
 South Africa has moved to a lower level of lockdown. We look at what this means for the country's economic prospects.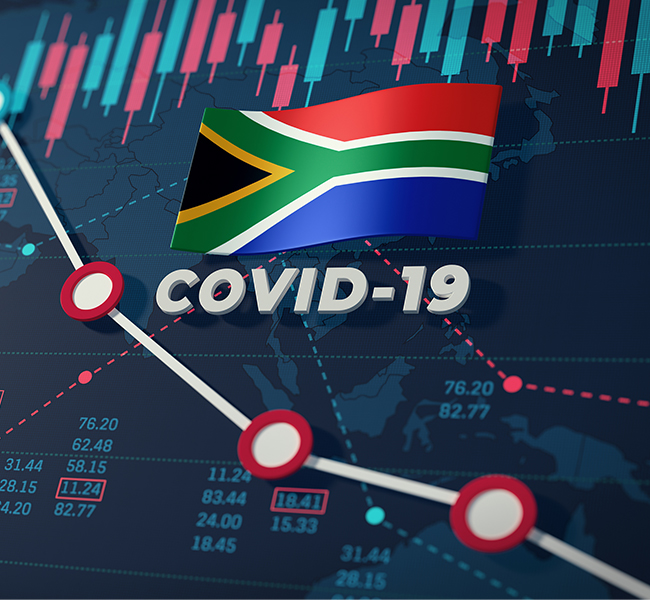 South Africa's vaccine rollout has been sluggish compared to other countries, but it has since rapidly increased the number of citizens vaccinated against COVID-19.  
The country's efforts to combat the pandemic have proved fruitful; As of September 12, the country has moved to a Level 2 lockdown (of five).  
The lifting of harsh lockdowns has been a boon to the country's struggling economy, with the Rand already hitting its highest level against the US Dollar in years.  
Trading made easy – Sign up today!  
Today, we look at what this means for the country and the opportunities a lower level of lockdown presents for traders.  
Top trading questions answered     
From financial market trends to factors affecting the economy, Zihaad Israel, CMTrading's Regional Manager for South Africa, provides advice for all traders.  
  Get the best Forex Trading App 
Q: How will the current vaccine rollout affect South Africa?  
"The World Health Organization (WHO) reports that the availability of COVID vaccines in African countries has increased over the past two weeks, following a period of shortages. Wealthy countries have increased their supply through direct donations to African countries or through a vaccine-sharing program, COVAX.  
Vaccines acquired through the African Union have also begun to reach countries. However, compared to the rest of the world, vaccination rates are still low; less than 2% of the continent's population is fully vaccinated.  
Trade the easy way – sign-up today 
Unfortunately, vaccine apprehension is an issue and is caused by several factors in South Africa. Safety, side effects, and efficacy are all issues that some are concerned about. In Uganda, Sierra Leone, Rwanda, Mozambique, Burkina Faso, and Cameroon, respondents viewed COVID-19 vaccines as less safe and effective than other vaccines, according to the Africa CDC survey.  
Misinformation and conspiracy theories have circulated more easily thanks to social media. People with elevated levels of apprehension were more likely to use social media and be exposed to misinformation, according to the Africa CDC study. In South Africa, half of those polled felt the virus was related to 5G technology. A third of those who refuse the vaccination cited social media as the main source of information. Vaccination uptake is influenced by one's trust in the government."  
Take advantage of price movements – trade today! 
Q: Will South Africa move to a lower level of lockdown?  
"President Cyril Ramaphosa reduced limitations to an amended "Level 3" in a five-level system in August to boost the economy. In September, the country was moved to Level 2, a huge boost for the alcohol and travel industries.  
There is however a looming fourth wave of the pandemic, with many countries bracing for a spike in infections as seen in December 2020.  
Nicholas Crisp, South Africa's acting director-general of the National Health Department said the country intends to vaccinate 28 million adults, or 70%, by the end of December 2021.  
'We have no doubt there will be a fourth wave,' he said. " 
Want to get your share of the stock market? Trade the easy way! 
Q: What are some sectors and markets that are thriving?  
"With its mobile-enabled payment platforms, the financial technology industry (fintech), is undoubtedly one of South Africa's most resilient sectors to the current crisis.  
Fintech has been providential in ensuring that large volumes of transactions can still be processed, thus supporting vital economic activity from isolated farmers, small businesses, and self-employed individuals. Fintech was already booming in South Africa before the epidemic; it accounted for more than half of the $1.34 billion funded by African start-ups in 2019, according to WeeTracker.  
Want to become a better trader? Attend our expert Webinars 
COVID-19 had a significant impact not just on locally manufactured items, but also on international trade. The desire to guarantee food security will be much stronger. This is likely to spur investment throughout the whole agricultural and food-processing value chain. South Africa, like the rest of the world, awoke from the epidemic with the realization that its economic growth is based primarily on its people's health. Many African nations were near the bottom of the Global Health Security Index at the start of the coronavirus pandemic."  
Q: Consumer confidence among SA households is down, how does this affect the markets?  
"Consumer confidence in South Africa was hurt by stringent lockdown levels in the second quarter of 2021 and the significant increase in COVID-19 cases during the third wave in early June.  
In the preceding months of this year, South Africa imposed one of the world's toughest lockdowns, requiring mining, factories, shops, and services to either shut down entirely or operate under stringent regulations.  
With the lower lockdown, consumer expectations regarding the economy and their household finances will be interesting to watch and hopefully increase. This will all depend on whether the country can maintain its vaccine rollout and combat the pandemic effectively."  
Q: Are there any companies or individuals that have thrived during the pandemic?  
"Digital applications effectively launched under COVID-19 are unlikely to be cut back after the crisis abates. These apps span many industries including financial services, education, health, or other technology-enabled industries. These industries may be crucial for investors attempting to build a recession-resistant portfolio in South Africa due to the stability they provide. COVID-19 has shown South Africa's potential for technology-driven creative ventures more clearly than ever before.  
This coronavirus outbreak is similar to the paradigm shift that many industries, government, and civil society organizations hope to lead to a stable, inclusive, and green society. The Global Economic Forum has called on Africa and the world to use 'participatory capitalism' to combat the current economic crisis, arguing that the new rules of public participation will help businesses recover faster. As indicated by 180 or more Ocorian-owned firms, South African companies have already made significant investments in many African countries.  
For example, Shoprite Holdings Ltd.'s second-half sales increased as the company gained market share, even though its core lower-income consumers are feeling the effects of the country's economic recession.  
The Cape Town-based supermarket operator said in a statement on Monday that sales in its core South African business increased 9.4% in the last three months of the fiscal year through June. Despite this, the supermarket spent a total of 327.2 million rands ($19 million) on Covid-19-related expenses."  
Q: How can South Africans get into trading?  
"Crypto trading may be done in several methods in South Africa.  
Purchasing cryptocurrency using a debit or credit card is now possible in South Africa, but you will still need to visit a trustworthy Bitcoin exchange. Simply enter your card information into the system network, and the funds will be transferred automatically. Once the transaction details have been validated, your cryptocurrency will be waiting for you in your account. Please bear in mind that credit card fees might increase the cost of purchasing cryptocurrency."  
Advice for traders  
"Before any trader can begin their trading journey, they must have a clear picture of where they want to go and how they want to get there along with considering all potential obstacles.  
Before starting one must set defined objectives ensuring that the trading strategy can assist in achieving all the goals.  
The choice of an online broker is one of the most important decisions that new traders must make when it comes to trading.  
And then learning a trading strategy that fits in with one's personality and time is crucial in making trading a successful career, be that full or part-time."  
Take advantage of price movements  
Discover more opportunities with an award-winning broker. Join CMTrading, the largest and best-performing broker in Africa.  
Follow CMTrading on Facebook, Twitter, and YouTube