Stock of the week: Apple up 2%, survives tough week in the market 
Apple stock has finally caught a break to push higher, breaching key resistance levels in the process.  
Despite Appl's record performance its stock has not seen similar spikes in recent months. In the week of June 14 – 18 however, the tech titan finally caught a break to push higher, breaching key resistance levels in the process.  
 In this article we take look at Apple, whether you should invest in the company and looming red flags. 
Good week for Apple  
The week started badly with the US Federal Reverse trying to convince the market that it will get a handle on the country's inflation woes. Many markets saw minor losses though AAPL saw a surge and the Nasdaq set a record high on June 17.  
 The stock has easily outperformed the S&P 500 since the Fed's meeting on June 16 sent shockwaves through the economy.  
 3 key facts to know about Apple:  
1.AAPL has beenrelatively flat for the year since a 12% drop in March 2021. 

 

2. Despite the recent spike, AAPL is down 8% from its January peak of $143. 

3.At$2.2 trillion, Apple is currently the most valuable stock in the world. 

 
 Apple dominates the mobile phone market, already selling 58-million iPhones so far in 2021.  
Apple stock: June 14 – 19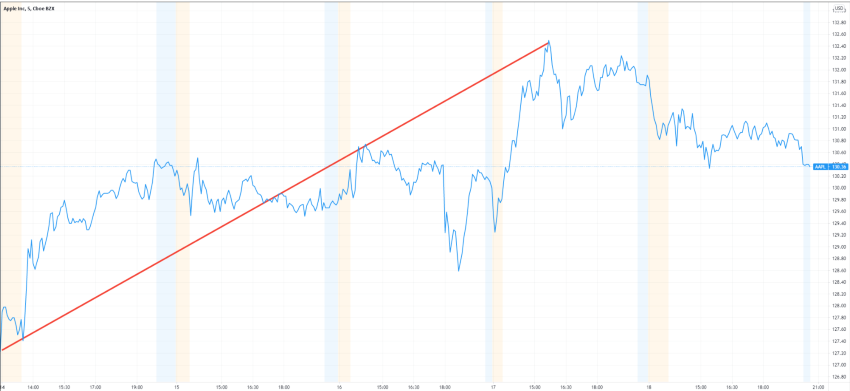 Apple stock: YTD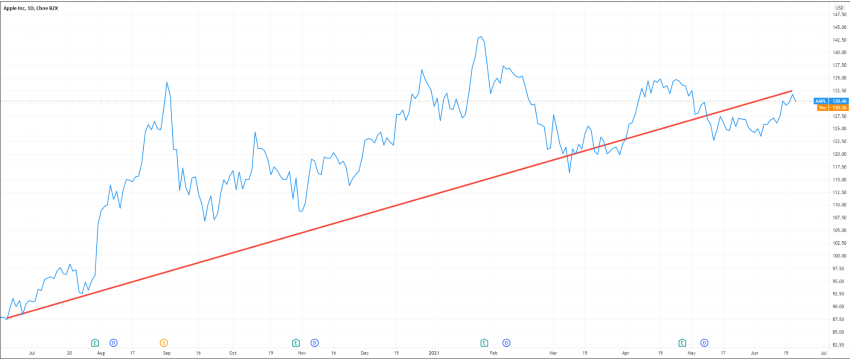 Company outlook  
Apple's stock has rallied an incredible 449% in the last five years, outperforming the 102% increase in the S&P 500 over the same period. The company has also diversified its revenue stream which includes Mac sales and its Apple services.  
A big test for apple will be how well it can grow its subscription base and new offerings which includes Apple TV+, Apple Arcade, Apple News+ and Apple car.  
Apple statistics:  
Apple generated $274 billion in revenue in 2020, 50% of which came from iPhone sales. 

 

Apple sold 194 million iPhones, 71 million iPads and 20 million Mac and MacBook units in 2020 

 

Apple's home and wearables division grew 25% in 2020. It sold over 110 million AirPods and 43 million Apple Watches 

 

Apple Music has 72 million subscribers, Apple TV+ has over 40 million 

 
Red Flag – Looming anti-trust laws 
The US is set to vote on a huge antitrust overhaul package targeting "Big Tech". If enacted it will have far-reaching consequences for some of America's biggest and most successful companies.  
There are five bills, due for a committee vote on June 23, and they could pave the way for a breakup of tech giants such as Apple and reduce the monopoly major companies have on the tech sector.  
 The looming bills will have major effects on the entire tech sector as well as the global economy.  
Discover more opportunities with CMTrading    
CMTrading offers more than 150 tradable assets including the top-performing stocks available in the markets. CMTrading clients get access to global brands, exceptional trading conditions and robust safety and security under the auspices of the Financial Sector Conduct Authority (FSCA) in South Africa.  
Being a retail brokerage that specializes in CFDs (Contract for Differences), CMTrading provides clients with unique advantages such as powerful leverage, which allows traders with smaller accounts to gain exposure to much larger positions. This translates to substantially higher profit potential; however, it should be noted that leverage also increases your exposure to downside risk.  
While leverage typically adds a certain degree of risk to any investment, CMTrading also offers negative balance protection, thereby guaranteeing that potential losses will never exceed your invested capital.  
If you are interested in learning more about how you can take advantage of price movements in stocks, currency exchange rates, commodities, or cryptocurrencies, you will find that CMTrading's unique offering of innovative services and diverse account types are suitable for both beginner and experienced traders.  
Start trading the financial markets today with an award-winning broker. Join CMTrading, the largest and best-performing broker in South Africa.