Oil benchmarks rally to record highs despite OPEC+ talks of production hikes
Oil prices may have tumbled in 2020 due to the demand crash, however, both oil benchmarks are now trading at two-year highs thanks to the global rollout of the COVID-19 vaccines and renewed recovery hopes amid global travel resurgence.  
With oil demand soaring in 2021, inflation fears and mounting calls for governments and oil producers to curb emissions there is a very high chance for oil prices to skyrocket within the next few years and forecasts of $100 oil are becoming more and more common.  
Today we are taking a look at the performance of the two major oil benchmarks, the catalysts behind their recent rally as well as what assets you should be watching in the near-term.  
WTI and Brent crude soar to multi-year highs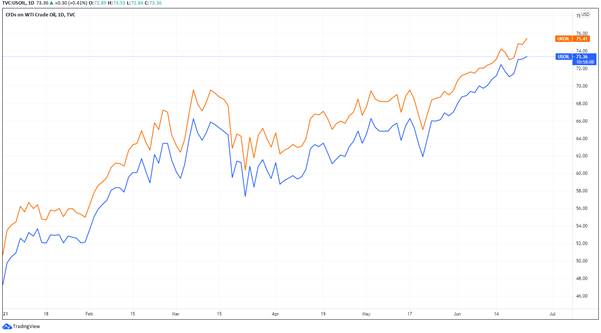 Both major oil benchmarks have recently hit a fresh peak with US West Texas Intermediate (WTI) trading at $73 per barrel while UK Brent is changing hands above $75 per barrel. 
These new records mark a 48% and 55% year-to-date increase for Brent and WTI respectively.  
Oil prices have been steadily rising the past few months due to the vaccination optimism, which is at an all-time high as well as the lifting of sanctions and travel bans.  
Analysts at major banks across the world are now estimating that oil prices could surge to $100 – with demand set to outpace supply – in what will be oil's final great rally as climate change concerns are also calling for a faster transition to more sustainable energies.  
The Organization of the Petroleum Exporting Countries and their allies, which is referred to as OPEC+ is now in talks regarding the gradual increase of oil production in order to meet the inevitable consumption and demand growth, however, the market remains bullish in oil and prices continue their upward march undeterred.  
5 stocks to trade or watch amid oil rally 
Beyond the WTI, Brent crude oil and Natural Gas contracts you can find on CMTrading's platform under the CL-AUG21, BRENT-AUG21 and NGAS-AUG21 symbol respectively, we've also compiled a list of stocks that are poised to skyrocket along with oil in the second half of 2021.  
Exxon Mobil Corp. (MT4 symbol: EXXM)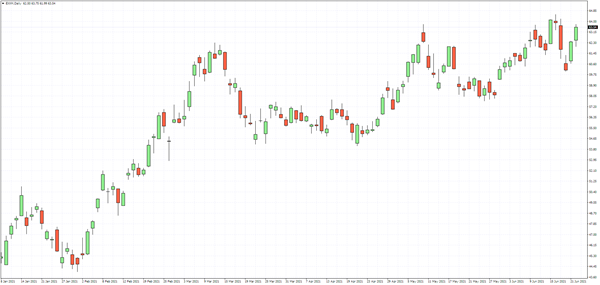 The oil giant, Exxon Mobil and its stock boast solid fundamentals, an incredible recent performance with a record gain of 46.64%, and a profitable first quarter in 2021, which turns a new chapter for the company as it ends a losing streak of four straight quarters.  
The company posted profits upwards of $2.7 billion in the first quarter of 2021 and has recently announced that it will bring its workforce down by 5% to 10% each year for the next three to five years as it continues its aggressive cost-cutting measures in response to the pandemic's fallout on oil prices.   
Chevron Corp. (MT4 symbol: CHEVRON)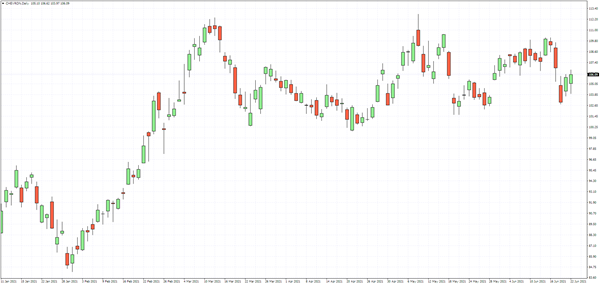 Chevron has also shown remarkable earnings in the first quarter of 2021 and is bound to demonstrate strong performance throughout the second half of 2021. 
The company announced its first quarter earnings on April 30, showing a $1.4 billion in 2021 compared to $3.6 billion in 2020.  
BOEING 

(MT4 symbol: BOEING)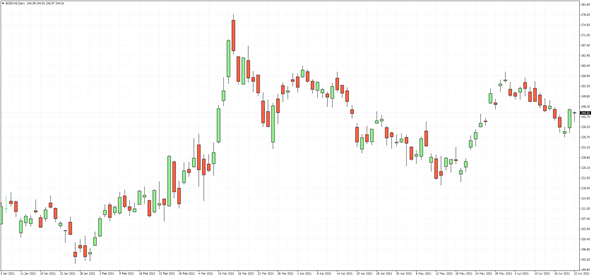 Boeing's Q1, 2021 revenues of $15.2 billion have recorded a net loss of $561 million.  
In fact, the aerospace company has been struggling the past two years with air travel demand plunging over the pandemic, however, the improved market outlook is promising a comeback in Boeing's performance in the near-term.  
CATERPILLAR

 

(MT4 symbol: CATER)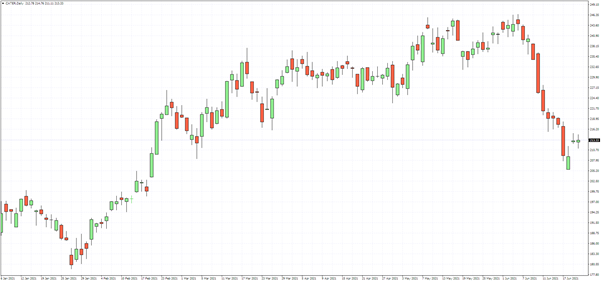 Caterpillar has managed to upend analysts forecasts with a much-stronger-than-expected earnings release in Q1, 2021 reporting revenues of $11.9 billion – a 12% increase compared to 2020's first quarter revenues of $10.6 billion.  
Caterpillar's stock is currently trading at 17% higher since the beginning of 2021 and it more than likely that the company's oil and gas sales should continue to soar amid higher oil prices. 
General Electric (MT4 symbol: GE)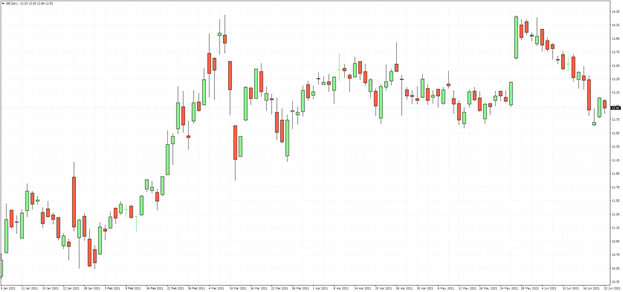 As a mainly industrial stock, General Electric relishes in higher oil prices, especially since it relies on aviation for most of its revenues, however, the company is also heavily invested in renewable energies as well. 
Therefore, General Electric also stands to benefit from Biden's $2.25 trillion infrastructure plan. 
General Electric's revenues for 2021 were slightly above analysts' estimates coming in at $17.1 billion and its stock has climbed by more than 24% in 2021.  
Discover more opportunities with CMTrading   
CMTrading offers more than 150 tradable assets including the top-performing stocks available in the markets. CMTrading clients get access to global brands, exceptional trading conditions and robust safety and security under the auspices of the Financial Sector Conduct Authority (FSCA) in South Africa.        
Being a retail brokerage that specializes in CFDs (Contracts for Difference), CMTrading provides clients with unique advantages such as powerful leverage, which allows traders with smaller accounts to gain exposure to much larger positions. This translates to substantially higher profit potential, however, it should be noted that leverage also increases your exposure to downside risk.       
While leverage typically adds a certain degree of risk to any investment, CMTrading also offers negative balance protection, thereby guaranteeing that potential losses will never exceed your invested capital.        
If you are interested in learning more about how you can take advantage of price movements in stocks, currency exchange rates, commodities or cryptocurrencies, you will find that CMTrading's unique offering of innovative services and diverse account types are suitable for both beginner and experienced traders.       
Start trading the financial markets today with an award-winning broker. Join CMTrading, the largest and best-performing broker in South Africa.