Stock of the Week: Amazon up 5%, shopping giant gearing up for huge Prime Day sales  
Amazon stock is up by 5% as the online shopping giant continues to dominate the market.  
Amazon stock is up by 5% as the online shopping giant continues to dominate the market. The company was the clear winner of 2020, becoming the definitive solution to online shopping needs during the pandemic.  
We look at Amazon's stock, what the future holds for the shopping titan as well as any potential red flags you should be aware of.  
The definitive online shopping destination  
In 2020, Amazon became the one-stop online shopping destination to many who were stuck at home during ongoing lockdowns. As traditional retailers were forced to board up their shops, Amazon's profits boomed, and billions turned to online shopping and eCommerce to fulfil their needs.   
Amazon's recent results have been remarkable. Its share price saw a shop spike in early June as is up 5%. 
Amazon performance 
June 7-11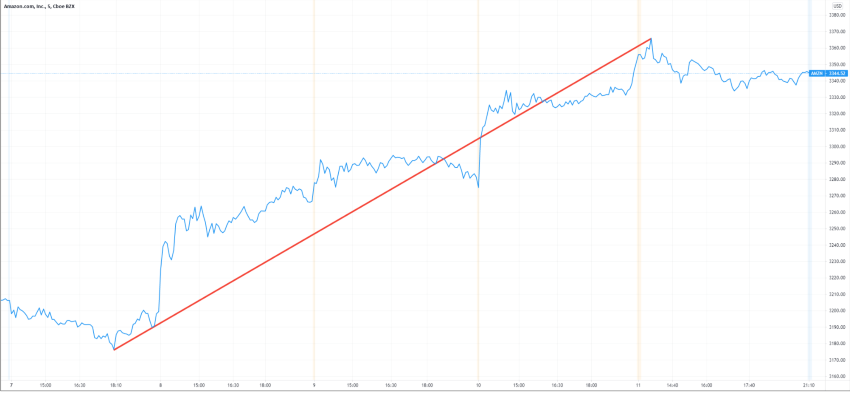 YTD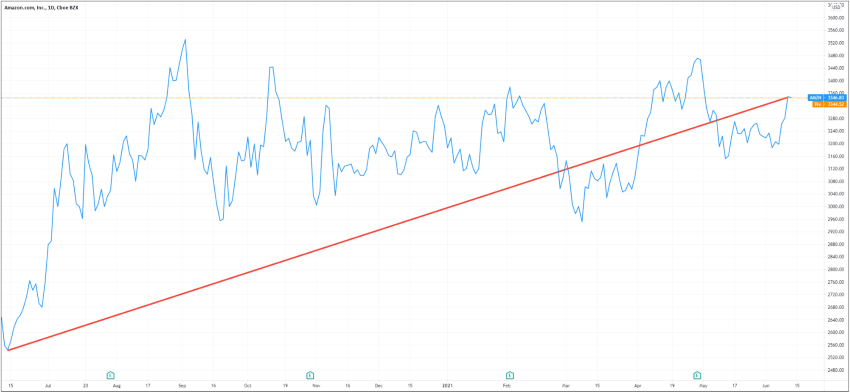 Its shareholders have been benefiting from its market performance; In its most recent quarter, the company delivered $15.79 in earnings per share (EPS) for a 215% total increase. From March 2020 to March 2021, Amazon's EPS was $52.61, a 151% increase. During the same full-year period its revenue grew 41% to $419 billion.   
Should you buy Amazon stock?  
The shares of Amazon are rebounding, nearly beating the $3,270 mark previously reached in May. Its shares however haven't been able to top the all-time high of $3,554 in April. It's currently contending with its year-to-date breakeven level. Amazon's share price rose by 76% in 2020, though so far in 2021 the stock is up 3%.  
2 major factors affecting Amazon stock:  
Its online market share is unrivalled 

 
Amazon controls an estimated 40.4% of all online sales in the US, according to an April 2021 report from eMarketer. As more consumers turn to online shopping, especially in the developing world, the market will similarly grow.  
Amazon is gearing up for its massive Prime Day sales later in June 2021. The sales event will be a big test for US inflation and consumer confidence.  
 Amazon Web Services are booming 

 
Cloud services are the new digital battleground, as tech companies are eager to grab their share of the online market. Cloud revenue spending in Q1 2021 totaled $41.8 billion; AWS accounts for 32% market share, compared to Google Cloud's 7%!  
AWS revenue climbed 32% in Q1 2021 to contribute $13.5 billion to the company's $108.5 billion in net sales.  
Red Flags  
The biggest factor which could negatively affect Amazon are renewed calls for Anti-Trust laws in the US affecting the world's biggest tech companies.   
Earlier in June, US lawmakers revealed five antitrust bills aimed at reining in the power of giants such as Amazon, Apple, Facebook, and Google.   
If passed, these will severely shake up the tech industry and drastically affect markets.  
Discover more opportunities with CMTrading    
CMTrading offers more than 150 tradable assets including the top-performing stocks available in the markets. CMTrading clients get access to global brands, exceptional trading conditions and robust safety and security under the auspices of the Financial Sector Conduct Authority (FSCA) in South Africa.      
Being a retail brokerage that specializes in CFDs (Contracts for Difference), CMTrading provides clients with unique advantages such as powerful leverage, which allows traders with smaller accounts to gain exposure to much larger positions. This translates to substantially higher profit potential; however, it should be noted that leverage also increases your exposure to downside risk.    
While leverage typically adds a certain degree of risk to any investment, CMTrading also offers negative balance protection, thereby guaranteeing that potential losses will never exceed your invested capital.    
If you are interested in learning more about how you can take advantage of price movements in stocks, currency exchange rates, commodities, or cryptocurrencies, you will find that CMTrading's unique offering of innovative services and diverse account types are suitable for both beginner and experienced traders.    
Start trading the financial markets today with an award-winning broker. Join CMTrading, the largest and best-performing broker in South Africa.    
Register here to get started today!