Huge boost for Crypto: El Salvador becomes first country to accept Bitcoin as legal tender
Cryptocurrency took a huge step towards legitimacy as El Salvador becomes the first country to adopt Bitcoin as legal tender.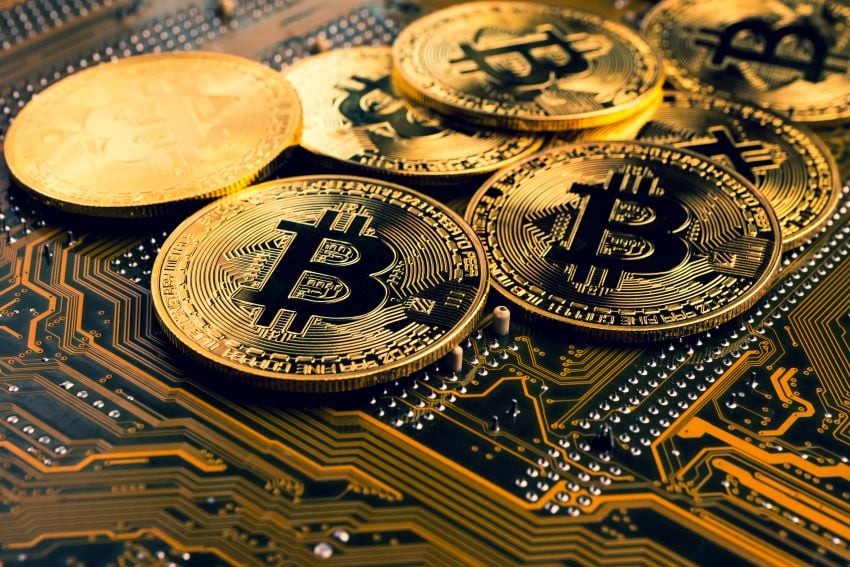 The Cryptocurrency market took a huge step towards legitimacy as El Salvador becomes the first country to adopt Bitcoin as legal tender.
The Central American country has passed a law to allow prices for goods to be shown in bitcoin and tax contributions can now be paid using the digital currency as well. What is of great interest to investors is that the law states that exchanges in bitcoin will not be subject to capital gains tax.
In terms of forex, the new USD/Bitcoin exchange rate "will be freely established by the market", states the new law. El Salvador's official currency is the US dollar and given Bitcoin's radical price swings many countries have been against this move.
Financial inclusion
Given how volatile Bitcoin and the crypto market can be, it's difficult to see how the developed world could similarly adopt the digital currency. El Salvador is a largely cash-based economy; 70% of its citizens do not have bank accounts and the "Bitcoin Law" would provide much needed financial inclusion.
The law also includes a provision for training and mechanisms by which citizens can perform Bitcoin transactions. Earlier in June, the country announced a partnership with digital wallet company, Strike, to build the country's new crypto infrastructure.
The new law is a boon for the cryptomarket and a crucial step towards the legitimacy of digital currency. Unfortunately, however, crypto enthusiasts do not share the positive sentiment.
Get into Crypto the right way – start trading now
Millions trading crypto in South Africa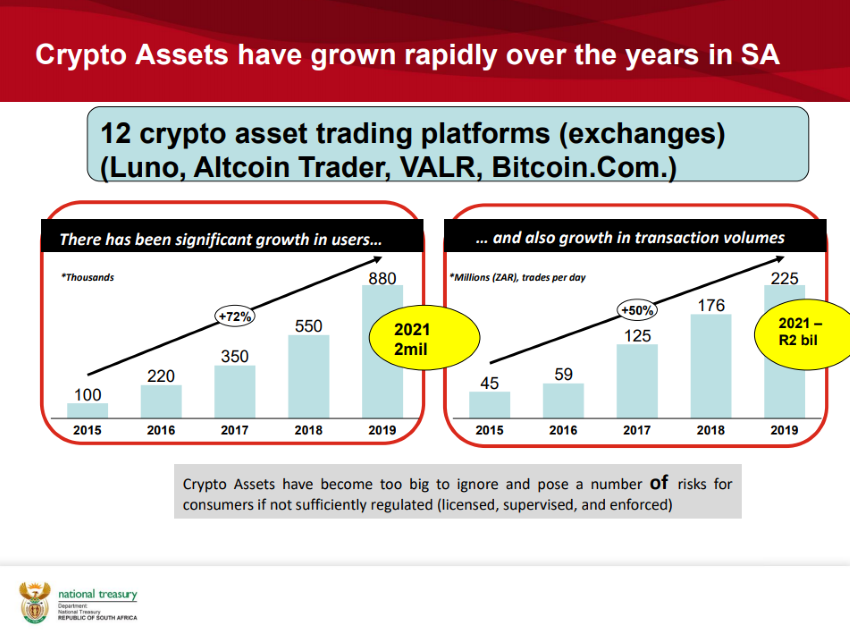 Much like El Salvador, South Africa has shown a growing interest in digital currency.
The South African revealed in June that there are at least two million crypto retail investors in the country, with R2 billion in transaction volumes recorded each day. It is an incredible revelation that shows the prevalence of cryptocurrencies in one of Africa's biggest economies.
In the coming months, the country could see changes in regulations to target crypto assets.
State of the cryptocurrency market
Bitcoin and many digital coins have suffered a huge decline in the past month with Bitcoin plunging from a record $65,000 to $34,200 – its current level at the time of writing. Bitcoin's crash has prompted lawmakers and global regulatory bodies to call for tighter restrictions and regulations for all crypto transactions.
Rival cryptos similarly dropped; Ethereum dove 8% to trade below $2,500 while Dogecoin is currently trading at $0.31. Ripple (XRP) and Litecoin also fell by more than 4% in the last 24 hours (June 9).
Analysts believe that the crypto cratering is part of a wider consolidation, coming off highs from a month ago. It should also be noted that Bitcoin has been particularly vulnerable to statements made by trendsetters such as Tesla CEO, Elon Musk, who – with a single tweet – can just as easily send the market skywards as he can cause it to crash.
Bitcoin price – May-June 2021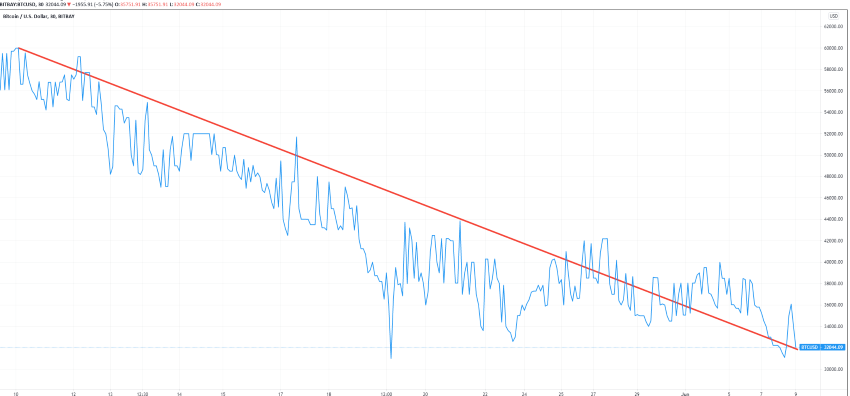 Bitcoin price – YTD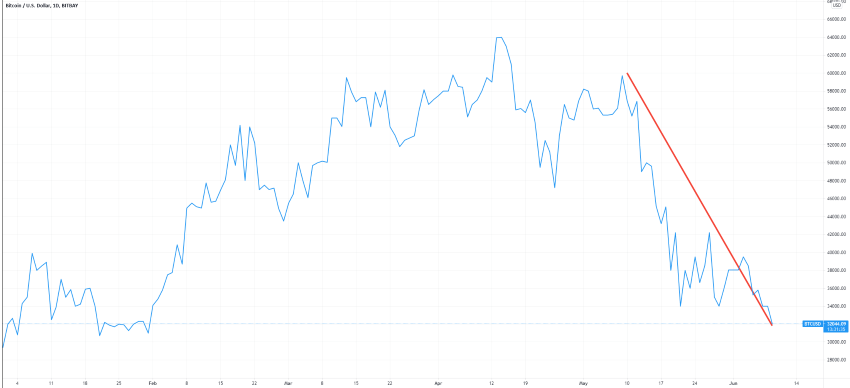 Calls for tighter regulations
IRS chief, Charles Rettig, called on the US Congress to provide authority for the tax agency to collect information on cryptocurrency transfers valued at $10,000 or more. Rettig said that the cryptocurrency market capitalization is over $2 trillion, with more than 8,600 exchanges worldwide.
Since the beginning of 2021, Bitcoin's price has skyrocketed by more than 88% and its market capitalization is above $1 trillion.
The performance of the seminal digital currency is nothing short of meteoric; In April 2020, it was trading at about $7,000, which is an incredible price jump.
Crypto going mainstream
Much like El Salvador, a growing list of companies and institutions are embracing Bitcoin. The biggest sign of Wall Street's growing acceptance was Coinbase's official listing on the Nasdaq in April.
Coinbase's debut marked the first official acceptance of the crypto market in mainstream markets.
Goldman Sachs, Morgan Stanley, Telsa and PayPal are just some of the major companies and institutions that have backed cryptocurrencies in 2021.
Should you invest in Crypto?
The profit potential of the cryptomarket is staggering, and its growth has attracted many mainstream retail and institutional investors.
Crypto is one of the most volatile assets in the financial markets and as its performance in 2021 has shown, it can just as easily hit $70,000 after a rally as it could tumble to $20 000.
Fortunately, trading crypto with a licensed broker, such as CMTrading, offers a wide range of unique advantages to both trading beginners and experienced investors.
For example, one of the benefits offered to CMTrading clients is access to powerful leverage which allows for high returns even with a small initial investment.
Traders will be happy to know that with a leverage ratio of up to 5:1 on all cryptocurrency pairs, they can magnify their trading performance by 500%.
More reasons to start trading Bitcoin with CMTrading: 
Low initial investment: Start trading your favourite cryptocurrencies with just $250.
Buy or sell: You can open a buy trade to profit when prices are going up, or simply open a sell trade instead, profiting when its price falls.
Negative balance protection: Even if you overleverage a position to take advantage of increased profits, you will never lose more than your initial investment.
Your personal trading specialist: Each CMTrading client is assigned with a personal trading specialist who can provide educational materials, trading tips, insights, and advice around the clock.
How to get your share of the action 
You can join a community of 1 million registered clients that utilize the multi-award-winning platform of CMTrading to access more than 150 tradable assets.
CMTrading clients benefit from buying or selling the top-performing cryptocurrencies including Bitcoin, Ethereum, Ripple and Litecoin via their desktop or mobile throughout the day.
Here's how you can join them today: 
Open a trading account
Download the trading platform
Start trading!
If you have any questions, please do not hesitate to get in touch with one of our customer support representatives or your personal trading specialist!