Stock of the Week: Exxon soars 49% this year, Oil prices could hit $75 and beyond  
It has been an incredible week for the oil markets as prices rose to record highs, generating huge profits for oil producers. Oil giant Exxon has soared 49% so far this year!  
After suffering a disastrous global collapse in 2020, oil and fuel stocks are making a comeback. As energy demand increases, some of the world's biggest oil companies are regaining lost ground.   
One of the biggest beneficiaries of this latest market boom is oil giant, Exxon Mobil Corporation.   
Exxon cashes in on rising oil demand  
Closing at $61.45 on June 4, Exxon is up 5% for the first week of June and overall has soared 49% in 2021. Exxon, the world's sixth-largest oil producer, has seen its earnings rise 11% on revenue of $59.15 billion in Q1 2021. It reportedly produces 3.8 million oil-equivalent barrels per day, down 6.4% since a year ago, but up 3% compared to Q4 2020. Exxon's annual dividend yield at 5.7% is four times bigger than the average yield of the S&P 500.  
Take advantage of rising oil prices. Sign up today!  
Exxon's share price – June 1 – 4 2021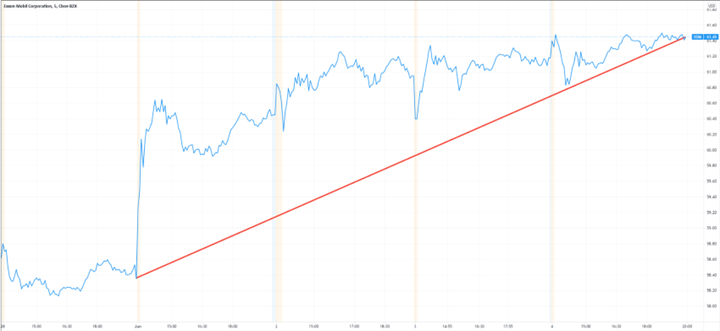 Exxon's share price YTD: 2020 –  2021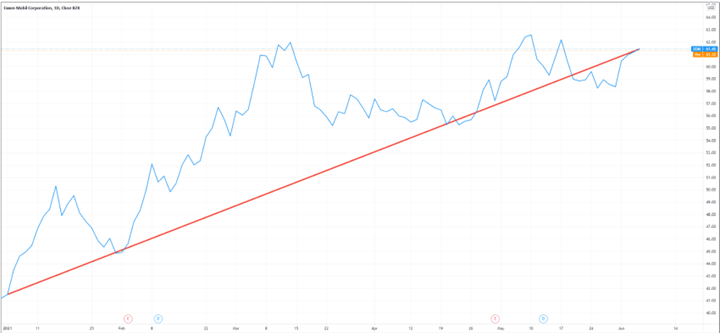 Plans for the future  
Exxon has maintained its 2021 capital spending program at $16 billion to $19 billion. The oil producer is continuing to cut costs; it made $3 billion in cost cuts in 2020 and is set to achieve $3 billion cost-cutting measures through 2023.  
Climate change activist now on the board  
An activist investor has won three seats on Exxon Mobil's (EXXM) board in June 2021. The shakeup could change the major oil producers' approach to climate change.  
As with other oil stocks, Exxon will rise and fall with crude oil prices. So even when Exxon looks good on paper crude oil prices may suddenly collapse as was the case in 2020, taking oil producers down too.  
Slow road to recovery  
With easing lockdowns and global demand escalating, one of the worst sectors of the market last year is rebounding. Brent crude closed on June 4 at a two-year high, while West Texas Intermediate (WTI) crude rose to levels not seen since October of 2018.  
As global lockdowns are lifted and the economy recovers, oil demand is likely to soar in 2021.  
With robust demand, a red flag could be demand exceeding supply. To stabilize crashing oil prices in 2020, oil regulatory body OPEC+ set policies in place to severely reduce oil production.   
In 2021, oil producers are having to ramp up production to meet the ever-escalating demand.  
Shift to renewables   
The pandemic not only highlighted the fragility of oil reliance, but that a major shift was needed in the oil and gas markets. For example, energy giant Shell has shut down many of its refineries and shifting billions into renewable energy.    
Discover more opportunities with CMTrading   
CMTrading offers more than 150 tradable assets including the top-performing currency pairs, stocks and commodities available in the markets. CMTrading clients get access to global brands, exceptional trading conditions and robust safety and security under the auspices of the Financial Sector Conduct Authority (FSCA) in South Africa.       
Being a retail brokerage that specializes in CFDs (Contracts for Difference), CMTrading provides clients with unique advantages such as powerful leverage, which allows traders with smaller accounts to gain exposure to much larger positions. This translates to substantially higher profit potential; however, it should be noted that leverage also increases your exposure to downside risk.       
While leverage typically adds a certain degree of risk to any investment, CMTrading also offers negative balance protection, thereby guaranteeing that potential losses will never exceed your invested capital.    
If you are interested in learning more about how you can take advantage of price movements in currency exchange rates, commodities or cryptocurrencies, you will find that CMTrading's unique offering of innovative services and diverse account types are suitable for both beginner and experienced traders.