Rev up your portfolio: Top car brands & 11 new powerful assets 
The markets are filled with opportunities for savvy traders to earn huge profits.   
From the world's biggest stocks to rare and profitable commodities, billions are being made on the financial markets every day.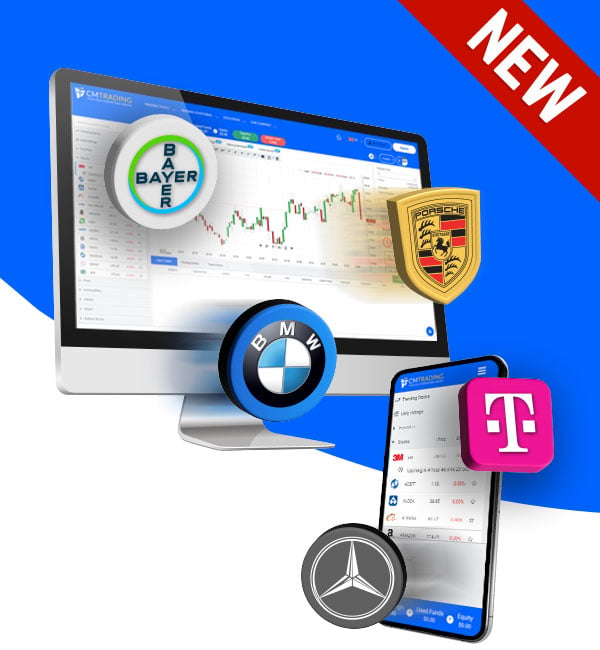 In August, we helped expand our client portfolios with some of the world's biggest GGC stocks, including Aramco, the world's second most valuable company behind Apple.  
8 top stocks you shouldn't miss      
At CMTrading we're always looking for ways to give our traders more value and more opportunities in the market. That's why in November we added 14 new European stocks and indices to our list of 150+ tradable assets.  
Today, we'll highlight some of the latest assets you can trade which include some of the world's top luxury carmakers.  
14+ fresh assets you can trade  
Whether you're searching for a new stock to trade or want to grab your share of your favorite German car brands, we've expanded our considerable list of assets from November 2.  
Porsche, BMW, Mercedes-Benz… these are some of the incredible carmakers you can now trade on our platform. Now is the perfect time to expand your portfolio with these unique European brands.   
Top new European assets added: Description and trading hours. 
Symbol

 

Description

 

Trading Hours (GMT+3)

 

IBB-NASDAQ

 

iShares Nasdaq Biotechnology

 

Mon 16:31-Fri 22:59

 

IXC-NYSE

 

iShares SP Global Energy

 

Mon 16:31-Fri 22:59

 

IYR-NYSE

 

iShares Dow Jones US Real Estate

 

Mon 16:31-Fri 22:59

 

QQQ.NASDAQ

 

Invesco QQQ Trust (QQQ)

 

Mon 16:31-Fri 22:59

 

BMW

 

Bayerische Motoren Werke AG 

 

Mon -Fri 10:00-14:00 & 14:02 -18:30

 

PORSCHE

 

Porsche Automobil Holding SE 

 

Mon -Fri 10:00-14:00 & 14:02 -18:30

 

VW

 

Volkswagen AG

 

Mon -Fri 10:00-14:00 & 14:02 -18:30

 

DBK

 

Deutsche Bank AG

 

Mon -Fri 10:00-14:00 & 14:02 -18:30

 

BAYER

 

Bayer AG

 

Mon -Fri 10:00-14:00 & 14:02 -18:30

 

DTE

 

Deutsche Telekom

 

Mon -Fri 10:00-14:00 & 14:02 -18:30

 

ALLIANZ

 

Allianz AG

 

Mon -Fri 10:00-14:00 & 14:02 -18:30

 

SAP

 

SAP AG

 

Mon -Fri 10:00-14:00 & 14:02 -18:30

 

SIEMENS ENR

 

Siemens Energy AG

 

Mon 10:00- Fri 18:30

 

MERCEDES

 

Mercedes-Benz Group AG

 

Mon -Fri 10:00-14:00 & 14:02 -18:30

 
Top 3 Euro assets you should be adding to your portfolio  
While European markets have had to contend with the dual blow of high inflation and high-interest rates, many companies have weathered the storm and held their value.  
Below are some of the newly listed assets you should be considering:  
1 Porsche – Luxury sportscars in demand 
Luxury German automaker took a landmark $72 billion gamble that paid off with one of Europe's biggest IPOs in years. Now, fans of the brand can snap up shares of the once-private brand.  
In terms of earnings, Porsche reported a 40.6% rise in operating profit to more than $5 billion during the first nine months of 2022. What's more, the brand is predicting a strong 2023 despite rising inflation and supply chain issues.  
Porsche Chief Financial Officer, Lutz Meschke, said during a conference that he expects a "strong 2023" and was unfazed by macroeconomic uncertainty in Europe. Meschke said that the brand is unique in that it can Deliveries were up just 2% to 221 500 vehicles sold so far in 2022.  
Treat your trading like a business 
2 BMW – Long order books despite inflation 
BMW remains one of the most sought-after vehicles in the world. The carmaker, like most car brands focused on the mid to luxury market, has been dealing with rising cost and pricing pressures. These issues will most likely affect all carmakers into 2023   
 Consumer weakness poses a risk to BMW's volumes and margins which could affect its revenue in the new year  
BMW's production volume in the third quarter has been raised by an improving market in China. During the first half of 2022, China implemented severe lockdowns, hampering productivity. This situation has somewhat changed allowing more BMWs to roll out of production plants.   
BMW has maintained strong pricing and long order books, and overall there's huge pent-up demand for acquiring one of these excellent automobiles.  
Become a better trader – Join our webinars       
3 Mercedes-Benz – Demand remains high 
Mercedes-Benz, one of the world's oldest car brands, is incredibly popular, especially in Europe, Africa, and Asia. The company raised its full-year profit forecast as strong demand for luxury cars continues despite high inflation.  
The German carmaker said it now expected group earnings to rise at least 15% in 2022. Supply issues have limited sales in Europe yet demand remains high.  
This pent-up demand coupled with a high order backlog should sustain the company into 2023. Mercedes-Benz Chief Financial Officer Harald Wilhelm said the company would prioritize reducing inventory in the fourth quarter and predicts a slight increase in fourth-quarter sales from the same period in 2021.  
Group earnings reached 5.2 billion euros from July to September, up 83% from 2021 and revenue is 37.7 billion euros.  
Incredibly, its high-end luxury models lifted revenues, comprising 15% of overall Mercedes-Benz car sales in the third quarter.  
Overall  
If car brands don't tickle your fancy, don't stress. Our list of new assets also includes financial powerhouse Deutsche Bank AG and major pharmaceutical company Bayer AG. If you want to diversify your portfolio you can also dip into the tech sector with Deutsche Telekom and Siemens Energy.  
There are loads of opportunities with our new assets and there's no reason you can't get your share of these incredible stocks and indices.  
All you need to do is register and start trading! 
Want expert trading tips?  
CMTrading offers all the latest trading tips, news, and information in real-time. Simply sign-up for an account and access your trading dashboard. What's more, it's completely FREE!  
 Gain access to the following powerful features:  
Trending stocks 

 

Analyst ratings 

 

Insider activity 

 
What's more, it's completely FREE!  
Ready to start trading? Open an account today        
Join CMTrading, the largest and best-performing broker in Africa, and discover more opportunities with an award-winning broker. Register here to get started            
Follow us on Facebook, Instagram, LinkedIn, Twitter, and YouTube