Recession fears hit global markets 
 Global markets took another drop on June 22 as traders and investors are concerned about further rises in interest rates.   
The US Federal Reserve has hiked rates earlier in 2022 to curb decades-high inflation.   
Stay up to date on the latest market news 
If rates continue and investors continue to lose faith, the global economy will tip back into a recession.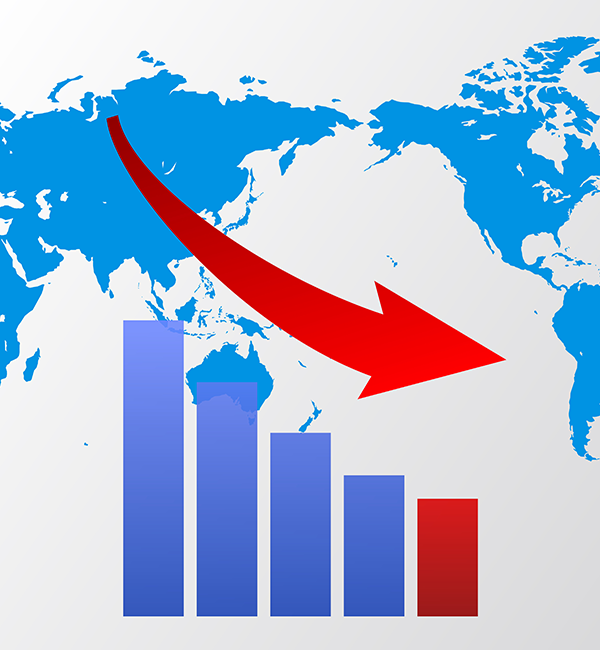 Cutting inflation  
 US Federal Reserve Chair Jerome Powell gave testimony to the US Senate Banking Committee in June regarding the current state of the economy. US Treasury yields eased after Powell underlined the central bank's commitment to reducing inflation at all costs.   
Don't miss out – Get daily Trading Signals 
Alarmingly, he acknowledged that a global recession was a possibility in 2022.  
Experts believe the Fed is expected to deliver yet another 75-basis-point interest rate hike in July. This could be followed by a 0.5%-point rise in September, in line with its three planned rate hikes for 2022. The Fed won't scale back rates until at least November 2022.  
What this means is more market uncertainty as the global economy edges closer to a full-blown recession.  
Global markets down  
 The MSCI all-country share index was down 0.35%, a slide of more than 20% for the year. Both Nasdaq futures and S&P500 futures dropped by 0.4%.  
Germany, Europe's largest economy, reported a huge loss during the second quarter of 2022, reports the latest Purchasing Managers' Index. France reported similarly weaker economic activity.   
How to become an online trader in 2022 
Overall, Europe is reporting a decrease in economic activity; the STOXX share index, comprising 600 top European companies, dropped 1.3% to set a new low for 2022 so far.  
In Asia, Japan's factory activity growth slowed to a four-month low in June. China's ongoing COVID-19 crisis has disrupted supply chains across Asia. A potential US recession however could provide some headwinds for Asian markets.  
Bucking the trend in Australia, which reported steady manufacturing activity in June.   
Don't miss out – Get Daily Trading Signals   
The European and US purchasing managers' index (PMI) report will reveal more details about the economic activity of these two major players.  
The PMI will be closely watched as financial markets a rattled by sharp interest rises and aggressive Fed tightening planned for the rest of 2022.  
The economic benchmark, Fitch Ratings, has slashed this year's global growth outlook from 3.5% in March to 2.9% in June.  
A Fitch Ratings report said: "The global macroeconomic outlook has deteriorated materially since end-2021. Stagflation, which is characterized by persistent high inflation, high unemployment, and weak demand, has become the dominant risk theme since late 1Q22 and a plausible potential risk scenario."  
A growing number of financial firms and investors are warning of a recession as central banks across the globe tighten monetary policy.  
Policymakers and governments are trying to defuse inflation pressures without plunging their respective economies into a steep recession last seen in 2020.  
A global issue  
US retail sales dropped to a two-year low as consumer spending is slashed considering escalating prices of goods and fuel. It's a major sign that high inflation and rising borrowing costs are starting to damage demand for goods and services.  
Britain's economy declined in April as companies felt the brunt of the rising cost of production.   
Covid still lingers 
Despite many countries all but eliminating COVID-19 restrictions, the scourge of the virus persists. Toyota Motor Corp (7203.T) cut its July global production outlook by 50,000 vehicles as semiconductor shortages, first reported in 2021, and supply disruptions persist.  
China has been fighting a resurgent virus since the start of 2022. This has resulted in longer delivery times and slowing economic growth throughout Asia.  
 '50% of recession'  
 Citigroup analysts are forecasting a near 50% probability of a global recession.   
A recession is an "increasingly palpable risk" for the economy, reports Citigroup as it assesses the trajectory for global growth over the next year.  
Citigroup said: "The experience of history indicates that disinflation often carries meaningful costs for growth, and we see the aggregate probability of recession as now approaching 50%."   
 Several central banks, including the US Federal Reserve, have raised borrowing rates as the cost of living has increased to record levels.  
Citigroup said: "The global economy is flashing several yellow lights at present, which flow from the persistent supply shocks but also increasingly from central bank tightening and the effects of tighter financial conditions and higher inflation on the behavior of consumers."  
Safe way to trade – Why you should trade CFDs?    
One of the most advantageous methods of benefiting from market price movements is to trade CFDs online. CFDs or Contracts for Difference are financial derivatives that allow investors to speculate on the price fluctuations of an underlying financial asset (I.e. Google or Amazon) without buying it beforehand.     
Don't miss out – Get Daily Trading Signals    
Moreover, CFD traders can profit both when prices are rising as well as when they are falling. This is because CFD trading allows traders to open a buy or sell position, which means they can buy when prices are moving up or sell when the prices are dropping to generate profits.     
Also, CFDs are traded on margin, which means that traders only need a small amount of capital to open a position on the market and enjoy increased returns at the cost of higher risk exposure.     
Please note that trading CFDs is considered a high-risk investment, which can result in the loss of your invested capital. Always get in touch with your account manager to discuss profit targets and how you can minimize your exposure to downside risk.     
Ready to start trading? Open an account today     
Join CMTrading, the largest and best-performing broker in Africa, and discover more opportunities with an award-winning broker. Register here to get started         
Follow CMTrading on Facebook, Instagram, LinkedIn, Twitter, and YouTube