Bitcoin holds above $20,000 after crypto crisis  
 The cryptocurrency industry has been on edge for the past week as Bitcoin continued to plunge to its lowest levels in years.    
Bitcoin, the world's biggest cryptocurrency, dropped to as low as $17,592.78 on June 18, falling below the key $20,000 level for the first time since December 2020.   
Here's how to trade the crypto sector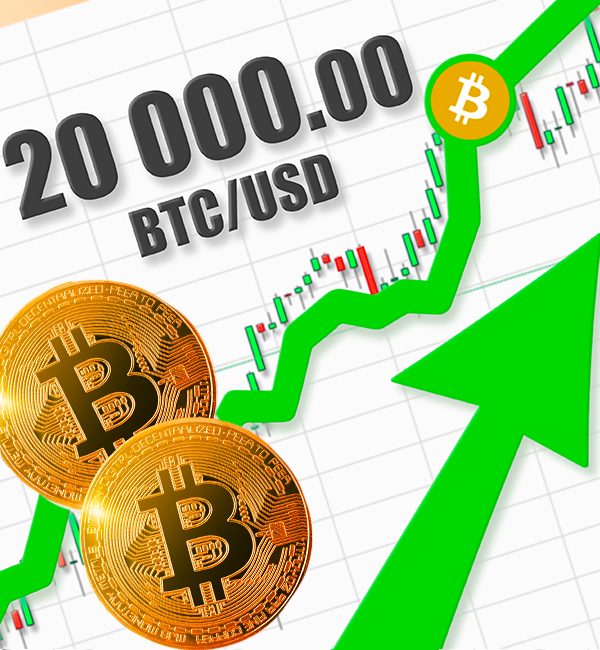 Fortunately, as Bitcoin traders held their breath on June 21, the king of crypto is back above $20,000. Investors still fear that problems at major crypto platforms could unleash a wider market shakeup in the weeks to come.   
Today, we look at the cryptocurrency market and share valuable advice for all traders.   
Ongoing crash    
Cryptocurrencies started 2022 poorly as by June has seen a major collapse across the board. This is due in part to rising interest rates and surging inflation as traders are less likely to invest in riskier assets such as cryptocurrency.    
Earlier in May saw the collapse of TerraUSD and Luna, which shook the crypto industry. On June 15, Major cryptocurrency lending firm, Celsius Network, froze withdrawals and transfers. This tanked Bitcoin's price to an 18-month low of $23,375, dragging with it the entire crypto market.   
Become a better trader – Join our webinars   
Bitcoin has plummeted around 60% in 2022 and the overall crypto market has dropped to approximately $900 billion from a record $3 trillion recorded in November 2021.   
The crash has left millions of traders bewildered and with no recourse to recoup lost earnings, especially when companies such as Celsius Network, freeze transactions.    
It's important to remember that while the crypto market is low it's also capable of incredible highs. Bitcoin reached an all-time high of more than $68,000 in November 2021 and started that year just below $30,000. The entire crypto industry as a whole grew to a total market cap of more than $2 trillion in 2021.  
The market, however, is showing a slight recovery.   
Stay up to date on the latest market news 
Will Bitcoin recover? 
Bitcoin prices stabilized on June 20 and traders are treating $20,000 as a support level for the digital coin.   
The bulk of the crash was driven by Bitcoin miners offloading their holdings; in fact, data from Coingape shows a record amount of Bitcoin moved onto exchanges, which resulted in a price drop.   
But after a massive sell-off in the second week of June, selling pressure on the world's biggest cryptocurrency appears to ease. At the time of publishing, Bitcoin is trading $21 278, a $4000 increase over its disastrous low of $17 000.   
Don't miss out – Get daily Trading Signals 
While reduced selling by crypto miners may offer some relief, the token still faces many other issues in the weeks to come.   
Crypto firms such as Celsius and Three Arrows Capital are expecting to see a huge amount of crypto selling which will put more pressure on the market. Currently, fears of yet another drop are keeping most traders out of the market even when Bitcoin is at its lowest price in years.   
Rising inflation and higher interest rates are affecting the global economy, with no reprieve in sight.   
How to become an online trader in 2022 
'Boom and bust'    
Fred Razak, CMTrading's senior trading specialist, shares his thoughts on Bitcoin:   
Q: What's happening with Bitcoin?   
Razak said: "Well, Bitcoin was a Coronavirus phenomenon, very similar to Zoom. Bitcoin became the go-to median in non-physical currency during the past two years. So, as we're exiting this period, it seems like people are going back to traditional money.   
Bitcoin has recoiled to where it's at a record low. It's important to remember that Bitcoin is like a dot com, subject to 'boom and bust'. The actual physical value of Bitcoin is yet to be seen. It's all speculative at this stage until we start as consumers making major transactions with Bitcoin. I think we have bigger hurdles ahead with regulatory practices, industry expectations of it, and the actual application of it moving forward.   
Q: Is this the end of Bitcoin?  
Razak said: "Some are touting that 'it's the end of Bitcoin?' I don't think so. I just think that this is just part of the cycle of Bitcoin's involvement in the world. I think you know, it's still a very young currency, even though it's been around for 10 years. It's still something that will take time for people to start using on a practical basis."  
Q: Advice for crypto traders?  
Razak said: "Just keep on riding the volatility. I think that it's a fantastic opportunity to be involved in the markets right now. I mean we were trading at these levels two years ago. So it could be that it's cyclical, as in the market is still trying to figure itself out at this stage."  
Safe way to trade – Why you should trade CFDs?      
One of the most advantageous methods of benefiting from crypto price movements is to trade CFDs online. CFDs or Contracts for Difference are financial derivatives that allow investors to speculate on the price fluctuations of an underlying financial asset (I.e., Bitcoin) without buying it beforehand.      
Don't miss out – Get Daily Trading Signals   
Moreover, CFD traders can profit both when prices are rising as well as when they are falling. This is because CFD trading allows traders to open a buy or sell position, which means they can buy when prices are moving up or sell when the prices are dropping to generate profits.      
Also, CFDs are traded on margin, which means that traders only need a small amount of capital to open a position on the market and enjoy increased returns at the cost of higher risk exposure.      
Please note that trading CFDs is considered a high-risk investment, which can result in the loss of your invested capital. Always get in touch with your account manager to discuss profit targets and how you can minimize your exposure to downside risk.      
Ready to start trading? Open an account today      
Join CMTrading, the largest and best-performing broker in Africa, and discover more opportunities with an award-winning broker. Register here to get started             
Follow CMTrading on Facebook, Instagram, LinkedIn, Twitter, and YouTube