Crypto crisis: Bitcoin crashes below $25 000
 Bitcoin crashed on June 13, dropping below $25 000 for the first time since 2021. 
The reason for the drop? Celsius Network, a huge US cryptocurrency lending company, froze withdrawals and transfers. The company cites "extreme" conditions as the reason for freezing transactions as financial market turbulence continues to disrupt the crypto sphere.  
Here's how to trade the crypto sector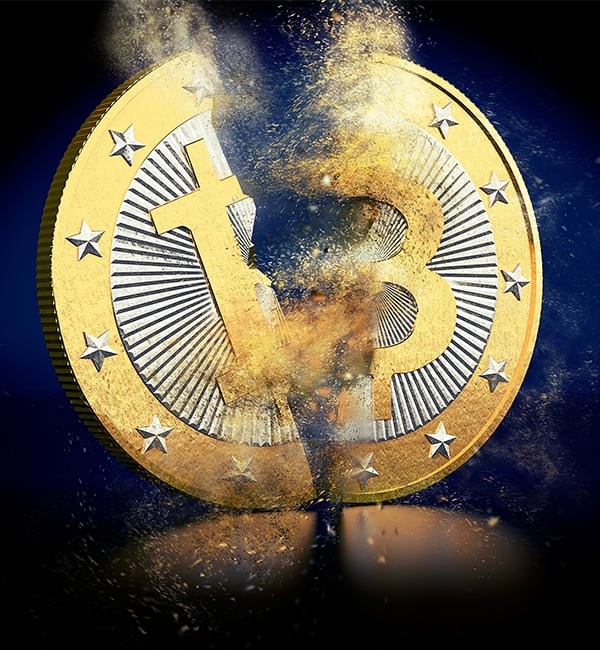 Celsius said in a blog post that it had frozen withdrawals and transfers "to stabilize liquidity and operations while we take steps to preserve and protect assets. 
"We are taking this action today to put Celsius in a better position to honour, over time, its withdrawal obligations." 
Become a better trader – Join our webinars   
Bitcoin crash drags crypto down 
Following Celsius's announcement, Bitcoin hit an 18-month low of $23,375, its value plunging by 11%, dragging with it the entire crypto market. Rival token Etherium saw a similar collapse to $1,177 (-16%), its lowest price drop since January 2021. 
How to become an online trader in 2022 
It's an incredible loss for Bitcoin and the entire crypto market; crypto has dropped below the $1 trillion in value, for the first time since January 2021.  
Ongoing crash 
Cryptocurrencies started 2022 poorly though saw a minor recovery in May. In June however major markets have dived as rising interest rates and surging inflation continue to hurt investor sentiment.  
This has been especially grueling for crypto as the market is turning away from riskier financial assets. Earlier in May saw the collapse of TerraUSD and Luna, which shook the crypto industry. 
Stay up to date on the latest market news 
Safe way to trade – Why you should trade CFDs?      
One of the most advantageous methods of benefiting from crypto price movements is to trade CFDs online. CFDs or Contracts for Difference are financial derivatives that allow investors to speculate on the price fluctuations of an underlying financial asset (I.e. Bitcoin) without buying it beforehand.      
Don't miss out – Get daily Trading Signals 
Moreover, CFD traders can profit both when prices are rising as well as when they are falling. This is because CFD trading allows traders to open a buy or sell position, which means they can buy when prices are moving up or sell when the prices are dropping to generate profits.       
Also, CFDs are traded on margin, which means that traders only need a small amount of capital to open a position on the market and enjoy increased returns at the cost of higher risk exposure.       
Please note that trading CFDs is considered a high-risk investment, which can result in the loss of your invested capital. Always get in touch with your account manager to discuss profit targets and how you can minimize your exposure to downside risk.      
Ready to start trading? Open an account today       
Join CMTrading, the largest and best-performing broker in Africa, and discover more opportunities with an award-winning broker. Register here to get started                     
Follow CMTrading on Facebook, Instagram, LinkedIn, Twitter, and YouTube