Major markets tumble as recession fears build 
 Equities, oil prices, and Bitcoin all plunged on June 14 due to heightened recession fears triggered by rising inflation.  
The US dollar, however, gained over major rivals, benefiting from its status as a "safe haven" ahead of another planned aggressive interest-rate hike from the Federal Reserve.   
Bond yields rose, with 10-year US Treasuries above 3.3%.  
Become a better trader – Join our webinars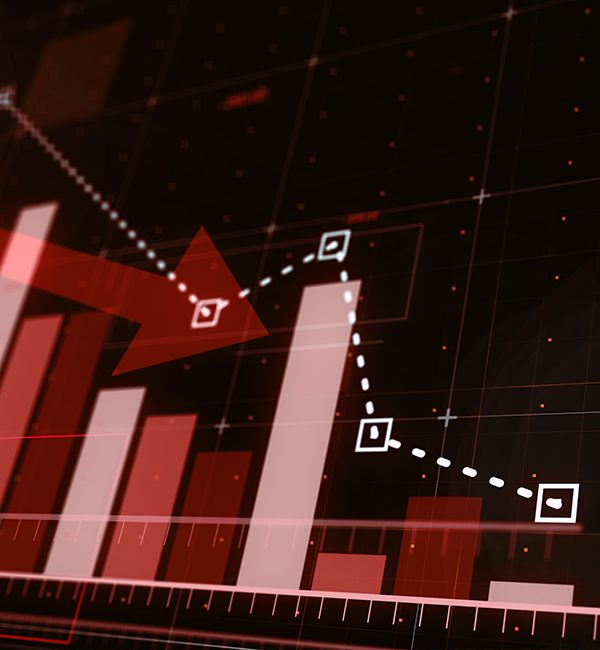 Markets continue to drop 
The market continued to perform poorly on June 14. Equity markets tumbled again on Tuesday, extending a global market rout.  
Panic has swept through markets since data released earlier in June showed US consumer prices rising at their fastest rate in a decade. The rise in consumer prices can be attributed to a spike in energy and food costs caused by the ongoing Russia-Ukraine war and China's Covid lockdowns.   
The Bear market is being felt across all assets. Bitcoin suffered a huge decline, dropping below $24000 for the first time since December 2020. Traders are moving away from risky assets such as cryptocurrencies.  
US dollar climbs  
The US dollar reignited its "safe-haven" status as it rose to a fresh two-decade high against major rival currencies. The USD's climb has been supported by fears of a global economic recession and proposed steep interest rate hikes by the US Federal Reserve.  
The US Dollar Currency Index, which compares the USD against six other major currencies, was reportedly up 0.6% at 105.04, the Greenback's highest rating since December 2002.  
Don't miss out – Get daily Trading Signals 
Abroad, the British pound fell to a one-month low against the dollar. The pound is facing selling pressure after data showed Britain's economy had contracted during April and May.   
The South African JSE reportedly lost 2.1% suffering its worst day in over a month. The JSE has spent the last five sessions trending lower.  
All eyes are on the Fed  
Traders have a lot to consider during the second week of June 2022; Policy meetings by the Fed, the Bank of England, and the Swiss National Bank are all set to take place from June 15 – 17.  
The US Federal Reserve is expected to raise its key interest rate by 50 basis points on June 15. Some experts and institutions, such as Barclays, are predicting the Fed to implement a 75-basis point move.  
Stay up to date on the latest market news 
On June 14, traders will be looking at US producer inflation data for May. This data is crucial as it will determine which way the market is moving. Economists expect producer inflation to rise.  
Overall, it will all come down to Wednesday's Fed interest rate decision. It's a tough call for the Fed to make as it battles escalating inflation and balancing the US economy.  
Covid is still a factor  
In Asia, many are concerned by the ongoing lockdowns in China. A flare-up of Covid-19 cases in China has sent the country into lockdowns since the start of 2022. Further lockdowns will curb global growth due to supply issues.  
Bitcoin crashed on June 13, dropping below $25 000 for the first time since 2021. 
The reason for the drop? Celsius Network, a huge US cryptocurrency lending company, froze withdrawals and transfers. The company cites "extreme" conditions as the reason for freezing transactions as financial market turbulence continues to disrupt the crypto sphere. 
Here's how to trade the crypto sector 
'This is a crazy market'  
Fred Razak, CMTrading's senior trading specialist, shares his thoughts on the markets:  
Q: What's happening in the markets?  
Razak said: "I mean it's quite clear over the past three days markets have sold off quite aggressively and everything else is falling tandem. Bitcoin dropped off the face of the earth to below $25,000 from $30,000. That's a big deal. The Dow Jones is hitting 30,000, down 6000 points – that's a bona fide recession. So everything else is following suit.   
"The NASDAQ is down. Gold is spiking as a result going from $1828 to $1878. Lastly, looking at symbols, the US Dollar is getting stronger as the Dow Jones gets weaker. Everything is trading in tandem."  
How to become an online trader in 2022 
Q: What does this mean for traders?  
Razak: "When this type of market happens, it becomes 'real market' activity. As there's no bluffing or speculating, we're watching it happen in real-time. And this is the type of bear market that puts us in a situation where it gives us a very little latitude in terms of our ability to ever recover from it. If we go down 25,000 on the Dow Jones, it's going to take a long time for us to be able to rebound.  
"Altogether, the markets are just digesting and adjusting to current conditions. The Fed is keeping a close tab on inflation as it's out of control. So it just seems like the very government that we look to keep us stable is not doing a good job."  
Take advantage of volatile price movements – trade today 
Q: Are we headed for a recession?  
Razak: "Whether or not we're recession is yet to be seen. We haven't seen a negative consecutive quarter yet. So it remains to be seen whether the economy will completely tank.   
Q: Advice for traders?   
Razak said: "Take profits as this is a crazy market. This is an unbelievable time both on the upside. and the downside. We're leaning more towards the downside right now. Traders should look forward to this type of volatility."  
Trade the best stocks in the world         
Moreover, CFD traders can profit both when prices are rising as well as when they are falling. This is because CFD trading allows traders to open a buy or sell position, which means they can buy when prices are moving up or sell when the prices are dropping to generate profits.            
Also, CFDs are traded on margin, which means that traders only need a small amount of capital to open a position on the market and enjoy increased returns at the cost of higher risk exposure.            
Please note that trading CFDs is considered a high-risk investment, which can result in the loss of your invested capital. Always get in touch with your account manager to discuss profit targets and how you can minimize your exposure to downside risk.           
Ready to start trading? Open an account today            
Join CMTrading, the largest and best-performing broker in Africa, and discover more opportunities with an award-winning broker. Register here to get started                          
Follow CMTrading on Facebook, Instagram, LinkedIn, Twitter, and YouTube