Equity market boom generates trillions in company deals
The global economy may be headed for recession but one sector that has seen incredible growth is the private equity market. Since the advent of the pandemic in 2020, the equity market has proven resilient and attracted many new investors.  
Earlier in June, we reported on the world's richest families pouring their wealth into the equity market.  
Today, we take a look at this interesting financial sector and share valuable advice for all traders.  
Become a better trader – Join our webinars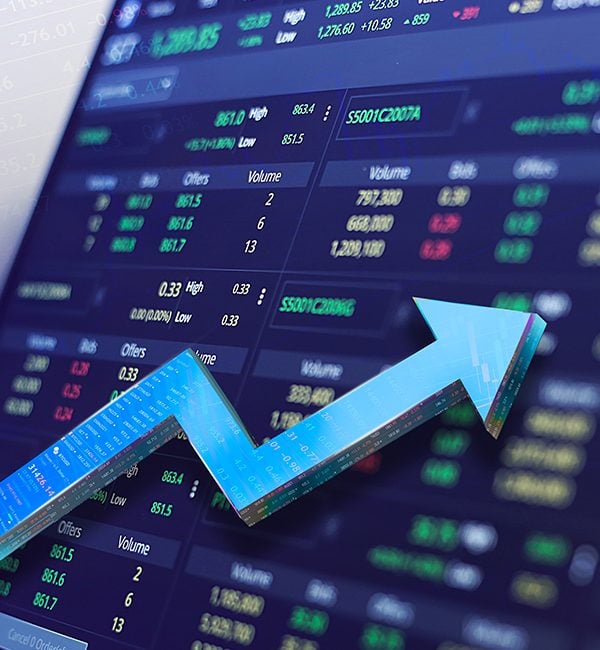 Big business needs capital  
Traditionally, when a company needs to grow, especially if it's a startup, it would debut an Initial Public Offering (IPO) on the stock market. More established firms turn to the bond market. These company expansions still occur but to raise truly staggering amounts of capital, businesses turn to the private market.  
Today, the major capital needed for corporate growth is derived from private markets. These markets provided huge amounts of cash to make deals directly.   
Don't miss out – Get daily Trading Signals 
How big are private markets?  
Assets in global private markets totaled $10 trillion in September 2021, reports financial data provider Preqin. For scale, 10 years ago the private equity market was $2 trillion, showing its tremendous growth, according to a Mckinsey report.  
Despite public stock markets being far larger, companies that have stayed private have been able to raise more funding than publicly traded securities, according to Morgan Stanley.   
How to become an online trader in 2022 
What's driving the market boom  
For traders and investors, private markets have offered higher yields during the past three years due to a period of historically low-interest rates.   
Pension funds, endowments, and large asset man­agers have moved assets into private equity.   
Staying private is an attractive proposition for new companies. It allows for growth without regular dis­closure requirements (i.e. quarterly earnings) and being beholding to share­holders. For those investing in these markets, there's great appeal in working with private lenders and dealing directly with companies. Take advantage of volatile price movements – trade today 
Private vs public 
Fred Razak, CMTrading's senior trading specialist, shares his thoughts on private equity:  
Q: So, what are the equity markets?  
Razak said: "So anytime a company like a startup wants to raise money, the process usually starts with friends and family. Once you've tapped that out, you need to consider where you could go next. You could try small equity markets, small investors, or maybe even a bank to raise money. When you need to build or raise large kind of money then you need to start thinking bigger.   
"If you're a big enough company, you can start listing yourself publicly and people could invest in your company. Alternatively, you can stay private and deal with investment firms or private lenders. " 
Q: How does it work?  
Razak said: "Traditionally, to raise capital to fund your capital growth you can turn to public or private institutions. What has been happening lately is that people have been setting up private institutional money that they've been lending out to different causes or corporations. This is to raise capital without the need to make the business public.   
"Usually, there's a venture capitalist who recruits people that are looking to invest. They also recruit people that need capital for funding. High-tech businesses are traditional ones that, you know, people look to raise capital. You could see it trades as a private health company, but it raised funds via a private investor who has a profile outside of the company itself but is still investing in the company as well. This has been happening for quite some time. So, these are things that go hand in hand when you're looking to raise capital. You'll usually turn to a capital venture capitalist or investor as opposed to going to raise capital the traditional way through financial institutions (banks) or investment houses.  
Q: What's the appeal of investing in equity?  
Razak said: "Public markets are governed by a lot of red tape. There's a lot of hassle when going public. You feel very violated and exposed because your company's details are now public information. There's a lot of bureaucracy to becoming publicly listed. Whereas if you're dealing with one individual or small equity firm, it's more intimate. Sometimes you're seeking advice and guidance from an investor. These passive investors can become your consultants as well, which ends up working out well for everybody.   
"The TV program Shark Tank is a great example of a private equity investor"   
Q: Advice for traders 
Razak said: "Regardless of the market performance, my advice is always the same – buy low, sell high. The money doesn't disappear from the market, it just reorganizes and relocates itself. You just have to be there at the right time, in the right place, and doing the right trades.  
"Many business owners will tell you that the secret to their success what just being in the right market at the right time. This happens to be the case probably nine times out of 10.   
"If Thomas Edison, who invented the light bulb as we know it today, lived, either 100 years before or 100 years, he probably would not have been known, right? I think that the secret to business and learning how to do that consistently. 
Trade the best stocks in the world         
Moreover, CFD traders can profit both when prices are rising as well as when they are falling. This is because CFD trading allows traders to open a buy or sell position, which means they can buy when prices are moving up or sell when the prices are dropping to generate profits.            
Also, CFDs are traded on margin, which means that traders only need a small amount of capital to open a position on the market and enjoy increased returns at the cost of higher risk exposure.            
Please note that trading CFDs is considered a high-risk investment, which can result in the loss of your invested capital. Always get in touch with your account manager to discuss profit targets and how you can minimize your exposure to downside risk.           
Ready to start trading? Open an account today            
Join CMTrading, the largest and best-performing broker in Africa, and discover more opportunities with an award-winning broker. Register here to get started                          
Follow CMTrading on Facebook, Instagram, LinkedIn, Twitter, and YouTube