PayPal share price soars as it explores new stock trading venture
Financial giant PayPal has seen a spike in share price as it reveals plans for a potential stock trading platform.  
Financial giant PayPal (PYPL.O) has seen a spike in its share price as it reveals plans for a potential stock trading platform.   
 PayPal's share price saw an increase of nearly 4% on August 30 and continues to rise; its price increased by 3.64% from $279 to $287 on August 31. At the time of publishing its price was $288,47. Its stock also outperformed its biggest competitors; Visa Inc dropped -0.63% to $231.23 and Mastercard fell -0.75% to $353.05.  
Trade the easy way – sign-up today 
The company said its plans could enable US customers to trade individual stocks on its platform. Who will host PayPal's trading venture? The company is considering bids from many platforms including Apex Fintech Solutions and DriveWealth.  
PayPal has more than 400 million accounts, making it an enticing prospect for any trading platform and its revenues have increased by 64% from $13.1 billion in 2017 to $21.5 billion in 2020.  
PayPal share price August 31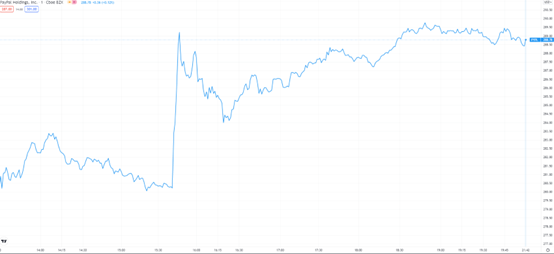 PayPal share price – 5 Day report (Aug 23 – 27)  
Earlier in 2021, PayPal launched its cryptocurrency platform and in August it sent Bitcoin price soaring by announcing it would allow UK customers to use crypto as payment on transactions.  
Trading boom  
 PayPal's move follows a trend in retail trading; More than 10 million new investors have entered the market in the first half of 2021, reports JMP Securities.   
US government stimulus, remote working, and viral events such as GameStop have enticed individuals to take up trading. Many companies are similarly interested in getting their share of the trading boom.  
 Take advantage of price movements – trade today!  
Robinhood became publicly listed earlier in 2021 and now boasts more than 22.5million customers. PayPal rival Square already offers stock and cryptocurrency trading through the Square Cash App, and its CFO has said the app drives engagement and revenue per user.  
Advice for Fintech stocks      
Buying into any financial tech company such as PayPal can be incredibly appealing. However, technology's biggest strength is also its biggest weakness – it is forever changing and not always for the better. The fintech sector can offer huge booms as seen with the rise in eCommerce that persists in 2021.  
Want to get your share of the stock market? Trade the easy way!  
However, as circumstances change and new systems are developed, fintech companies are prone to radical change in the market. As such, the more adaptable a company is the better chance it has at succeeding, especially in a highly competitive space such as the fintech market.   
If you are interested in investing in a company, you need to ask yourself the following:      
Do you understand how the company works? (i.e., how do they make a profit?) 

 

Does it have a competitive advantage over rivals? (Mastercard, Square, etc.) 

 

Can you trust the management or parent company? (Bad press leads to poor profits) 

 

Is it growing? (i.e., PayPal expands into stock trading) 

 
If you have answered YES to all these questions, you might have spotted a great company to buy some shares in.   
Discover more opportunities with an award-winning broker. Join CMTrading, the largest and best-performing broker in Africa.   
More from CMTrading: