Netflix stock loses $54 billion: Can the streaming giant recover?
Whenever a member of the Facebook Amazon Alphabet Netflix Google (FAANG) stock club takes a hit, it's bound to cause market upheaval.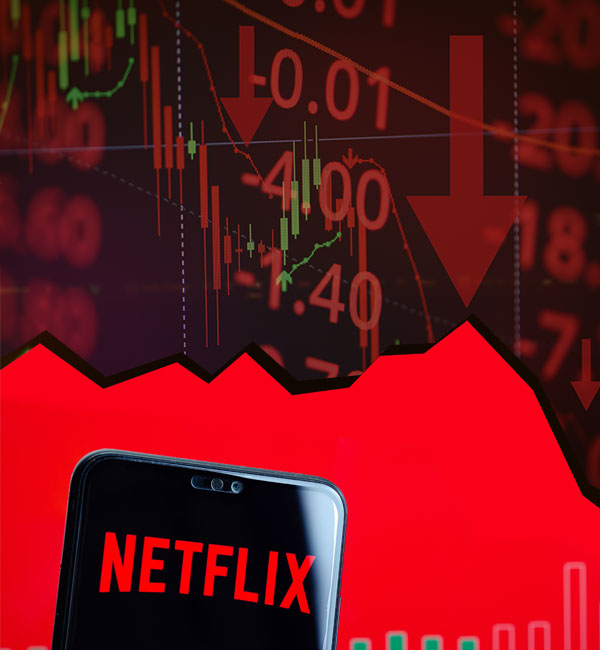 Streaming giant Netflix saw a disastrous 35% drop in its stock value, equating to about $54 billion in market capitalization. The reason? Netflix reportedly lost 200 000 subscribers in the previous quarter, its first decrease in subs in a decade.  
Become a better trader – join our webinars 
Today, we take a look at the streaming service, analyzed what happened, and shared valuable advice for all traders.  
The crash that grabbed headlines  
Netflix lost subscribers for the first time in 10 years at the start of 2022, sending its share price crashing from April 19 to 21. The crash persisted as the company said it expects to lose even subs in the next quarter.  
The streaming giant's share price fell by 20% on April 19. Wall Street had been expecting the company to add at least 2.5 million subscribers, yet Netflix expects to lose 2 million global subscribers in the current quarter.  
Here's how to trade different sectors 
Its shares fell by 35% on April 20, wiping more than $54bn off its market value.   
The decline brings Netflix's paid subscriber base to 221.6 million. Despite the drop, the company reportedly made $1.6 billion in profit over the quarter on $7.8 billion in sales.  
Netflix missed analysts' revenue estimates, hitting a 52-week low of about $351 on January 26. This first blunder was its lowest level since the first half of 2020.   
Take advantage of Netflix price movements 
Netflix said: "Our revenue growth has slowed considerably. Our relatively high household penetration – when including the large number of households sharing accounts – combined with competition, is creating revenue growth headwinds.  
"The big COVID boost to streaming obscured the picture until recently."  
Don't miss out – Get daily Trading Signals 
The drop is the company's second consecutive disappointing result. In January, the company reported a drop in subs and lost $45bn in market cap on the news.  
Is Russia to blame?  
So, what does the streaming video giant attribute to its dwindling subs? Tops the list are rival streaming services and reportedly exiting Russia following the conflict in Ukraine caused a drop.  
Netflix was a clear winner during the onset of the COVID-19 pandemic, adding millions of subscribers from 2020 – to 2021. In 2022 however, the streaming landscape is very different, and consumers have plenty of other options.  
Netflix has to face up to Disney, Amazon, HBO, Paramount, and Apple to name a few.   
Stay up to date on the latest market news 
Cheaper options, a crackdown on sharing accounts  
So, how will Netflix combat its myriad of challenges in 2022? The company said it could introduce a lower-priced subscription option. Sounds good for budget-strapped consumers, however, this option would include video ads within content.   
In an extremely unpopular move, the company said it will crack down on "sharing accounts". Netflix has often been a popular choice for having this feature.   
Netflix Co-chief Executive, Reed Hastings, said: "Those are over 100 million households (that) already are choosing to view Netflix. We've just got to get paid at some degree for them."  
Already, there are grumblings on the internet regarding the latter proposal. This could have dire consequences for the company.  
Achieve financial freedom today 
An ever-increasing pool of competitors may be the real threat to Netflix. With only so many hours a day to watch streaming video and ever-expanding list options, streaming services will have to fight all the harder to retain customers.  
Major competition from Apple, Amazon and Disney 
Three of the biggest players snapping at the heels of Netflix are Apple, Amazon, and Disney.  
Apple has poured millions into its Apple+ venture, and it's paying off; Apple+ recently won an Oscar for Best Picture for Coda. The company has also started streaming baseball games and is set to broadcast the immensely popular NFL.  
Similarly, Amazon Prime Video is turning to national sports, reportedly adding "Thursday Night" Football to its streaming lineup.  
Disney+, owners of the hugely successful Marvel franchise, is releasing big-budget movies on its platform.  
Buying the dip  
There is however a saying in trading and that's "buying the dip"; for traders, whether a stock rises or falls always presents an opportunity. The trick is to figure out when you can buy low to sell high.    
 How to become an online trader in 2022  
Netflix has shown its reliance in 2022 and remains an attractive option for many at its now "discounted" price.   
Another avenue or Netflix might be through acquisitions and partnering with "smaller" platforms such as Hulu and Peacock. 
Trading Netflix CFDs   
One of the most advantageous methods of benefiting from Netflix price movements is to trade CFDs online. CFDs or Contracts for Difference are financial derivatives that allow investors to speculate on the price fluctuations of an underlying financial asset such as Netflix without buying it beforehand.   
Trade the best stocks in the world 
Moreover, CFD traders can profit both when prices are rising as well as when they are falling. This is because CFD trading allows traders to open a buy or sell position, which means they can buy when prices are moving up or sell when the prices are dropping to generate profits.    
Also, CFDs are traded on margin, which means that traders only need a small amount of capital to open a position on the market and enjoy increased returns at the cost of higher risk exposure.    
Please note that trading CFDs is considered a high-risk investment, which can result in the loss of your invested capital. Always get in touch with your account manager to discuss profit targets and how you can minimize your exposure to downside risk.   
Ready to start trading? Open an account today    
Join CMTrading, the largest and best-performing broker in Africa, and discover more opportunities with an award-winning broker. Register here to get started                  
Follow CMTrading on Facebook, Instagram, LinkedIn, Twitter, and YouTube