Elon Musk buys Twitter for $44 billion – What's next for the social platform? 
And sold to the Electric car billionaire at the back of the room! After weeks of back and forth, Tesla CEO Elon Musk has purchased Twitter for a cool $44 billion.  
It is pocket change for the world's richest man but the acquisition could have huge consequences for the massive social platform.  
How to become an online trader in 2022 
Today, we take a look at Musk's Twitter deal, highlight what's happening with the stock and share valuable insights for all traders.  
Twitter accepts Elon Musk's buyout deal  
Earlier in April, Musk became Twitter's biggest shareholder by purchasing a huge 9% stake in the social platform. He then went on to propose acquiring the platform outright, a deal Twitter initially dismissed. Discussions, however, ramped-up after Musk revealed financing details for Twitter shareholders.   
Twitter negotiated with Musk to purchase the company at a proposed $54.20 per share price.  On April 25, Twitter accepted the staggering $45 billion deal.  
Twitter stock rises  
Twitter shares rose 5.7% on April 25, hitting a high of $52.15. Twitter is up 32% in the past month and 21% Year-to-Date. Even with the initial boost, Twitter is well below the $70 range where it was trading in 2021. Twitter plans to release its 2022 first quarterly results on April 28. The acquisition is a seminal moment for the 16-year-old company. It remains one of the world's most influential social platforms and reaches all spheres of life including political discourse.   
Stay up to date on the latest market news 
 In recent years, however, Twitter has faced a series of challenges from revenue generation to anti-trust probes in the US.  
Parag Agrawal, Twitter's CEO, said: "Twitter has a purpose and relevance that impacts the entire world. Deeply proud of our teams and inspired by the work that has never been more important."  
Former Twitter CEO Jack Dorsey said: "Twitter as a company has always been my sole issue and my biggest regret. It has been owned by Wall Street and the ad model. Taking it back from Wall Street is the correct first step."   
 Achieve financial freedom today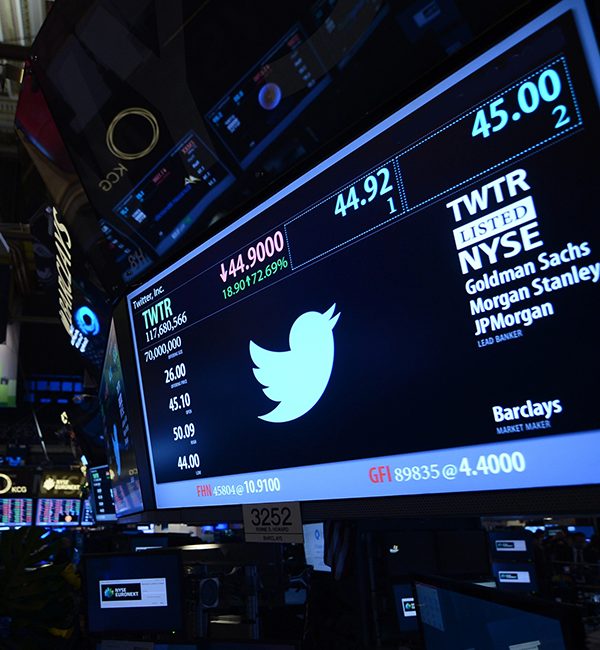 Bringing free speech back? 
So, why would the world's richest man purchase a social platform?   
Musk, a self-proclaimed free speech absolutist, has been highly critical of Twitter's moderation. He has been vocal about changing Twitter's algorithm for prioritizing tweets delivered to the public. He also wants to crack down on corporations that advertise on the platform.  
Musk's latest acquisition follows a tradition among billionaires of controlling influential media platforms. Previously, then the richest man in the world, Amazon CEO Jeff Bezos, acquired the Washington Post in 2013.  
Don't miss out – Get daily Trading Signals 
Musk said: Free speech is the bedrock of a functioning democracy, and Twitter is the digital town square where matters vital to the future of humanity are debated. 
"I also want to make Twitter better than ever by enhancing the product with new features, making the algorithms open-source to increase trust, defeating the spambots, and authenticating all humans.  
 "Twitter has tremendous potential – I look forward to working with the company and the community of users to unlock it"  
Changing the economics of Twitter 
As a feed-based social network, Twitter has been reliant on dwindling ad revenue. Ads are likely to stay as it makes sense for a platform that focuses on the "immediacy" of posts. This reliance on ad revenue however has made the platform unpopular as it gives power to companies that pay to promote their services on the network.  
Take advantage of Twitter price movements 
Going forward the company could focus on a new subscription model, either by expanding its $2.99 Twitter Blue service or creating a new product.   
Twitter could become a decentralized protocol, with customisation options. This could turn it into a software service instead of its current social model.  
The big question remains as to who will run Twitter. Musk has his hands full running Tesla, SpaceX, and Neuralink. Would he find time to run the day-to-day Twitter too?  
Agrawal said he intends to stay with the company.   
Unbanning bans 
Musk has been highly critical of Twitter bans leading many to ask: Will Musk allow former US President Donald Trump back on the platform?   
True to form Trump stated on April 26 that he would not return to Twitter even if he "was invited". Trump said he will use his social platform, Truth Social, which he ironically has ignored since his first and only post.   
Many on Twitter believe that if speech is unchecked the platform will be overtaken by trolls and harassers.  
Time will tell what the future holds for the company especially after its first quarter results later in April 2022. 
Trading Twitter CFDs   
One of the most advantageous methods of benefiting from Twitter price movements is to trade CFDs online. CFDs or Contracts for Difference are financial derivatives that allow investors to speculate on the price fluctuations of an underlying financial asset such as Twitter without buying it beforehand.    
Trade the best stocks in the world  
Moreover, CFD traders can profit both when prices are rising as well as when they are falling. This is because CFD trading allows traders to open a buy or sell position, which means they can buy when prices are moving up or sell when the prices are dropping to generate profits.     
Also, CFDs are traded on margin, which means that traders only need a small amount of capital to open a position on the market and enjoy increased returns at the cost of higher risk exposure.     
Please note that trading CFDs is considered a high-risk investment, which can result in the loss of your invested capital. Always get in touch with your account manager to discuss profit targets and how you can minimize your exposure to downside risk.    
Ready to start trading? Open an account today     
Join CMTrading, the largest and best-performing broker in Africa, and discover more opportunities with an award-winning broker. Register here to get started                   
Follow CMTrading on Facebook, Instagram, LinkedIn, Twitter, and YouTube