Netflix and Facebook crash – will these popular stocks recover?
 The start of 2022 has been disastrous for tech stocks as some of the biggest companies in the world suffered devastating losses. Two companies that suffered stock crashes were streaming giant Netflix and social media titan Facebook.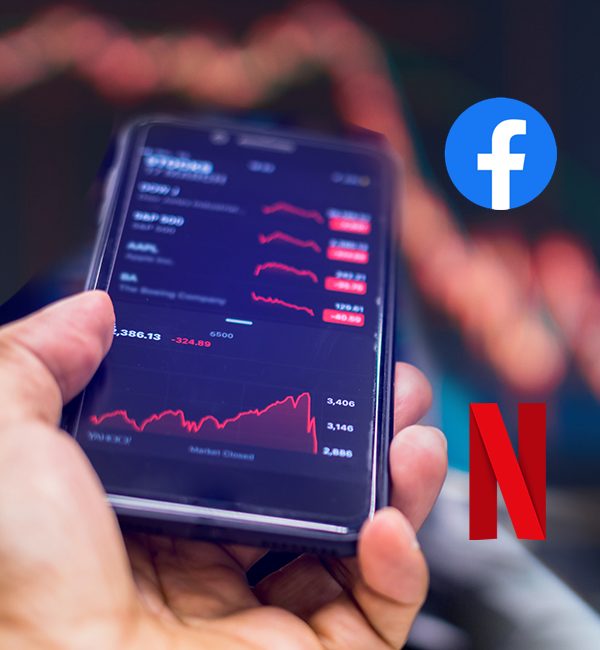 From 2020 to 2021 these companies saw their respective profits and stock skyrocket, benefiting from a pandemic-induced surge in popularity.   
In 2022, their fortunes could not be worse as they suffered a stock crash on poor earnings reports.  
Stock crash  
Netflix (NFLX, -1.97%) was the first to fail; it missed analysts' revenue estimates to hit a new 52-week low of about $351 on January 26. This marked its lowest level since the first half of 2020. Since then, however, it has recovered to just over $400.  
Facebook's parent company Meta Platforms (FB) lost about $230 billion in market value in a single session. It also fell to early 2020 levels to $224,91. Unlike Netflix, however, Meta remains in decline.  
There is however a saying in trading and that's "buying the dip"; for traders, whether a stock rises or falls always presents an opportunity. The trick is to figure out when you can buy low to sell high.   
Today, we take a look at these two popular stocks and see whether they present a buying opportunity.  
 How to become an online trader in 2022 
Netflix bounces back  
Netflix reported lower-than-expected revenues due to fierce competition from rival video streaming services and slower subscriber growth. The number of new subscribers did not exceed 8.3 million worldwide, well below the 8.5 million subscribers added in the fourth quarter of 2020. Worse, Netflix's "catastrophic" forecast of just 2.5 million new subscribers for the current quarter – a significant decrease from 3.98 million new subscribers in the first quarter of 2021. Analysts had hoped for 6.93 million new subscribers – nearly three times what the streaming giant has forecast.    
Shares of Netflix surged by 10% in the first week of February 2022, despite the streaming service being in decline for months. The catalyst behind the spike is a recent filing with the Securities and Exchange Commission revealing that co-CEO Reed Hastings added $20 million to his company stocks. This brings his total share count to nearly 5.16 million shares.   
This has spurred others into purchasing shares in the streaming platform despite its recent disastrous quarterly report to bouncing back to above $400 by February 8.  
The issue for investors is growth – can Netflix continue to meet high expectations and goals for revenues and subscribers in 2022?  
Facebook – worst crash in years  
Meta Platforms was criticized after it filed a disastrous earnings report for the fourth quarter that led to shares falling by more than 20% in a single day. Meta Platforms saw its stock market value crash by more than $230bn on February 3, a record loss for the social media giant. Its shares fell by 26.4% after disappointing quarterly figures; FB fell from $322 on February 2 to a low of $237 by February 4.    
The company reported a slight, but striking, decline in the number of active daily users of Facebook, which fell to 1.929 billion in the three months to December, compared with 1.930 billion in the three months before that.  
The company warned of a slowdown in revenue growth amid intense competition from other platforms, including TechTalk and YouTube, which have succeeded in stealing younger potential users. It also reported a decline in advertiser spending due to controversy that has plagued the brand for the past year.  
Privacy concerns may hinder Facebook's ability to generate growth. In 2021, both Google and Apple revised privacy settings which proved detrimental to Facebook. There are reports that another change to privacy settings on the latest generation iPhone could wipe out $10 billion in profits this year.  
On February 7, Meta threatened to end its Facebook and Instagram in the EU due to local online privacy policies.   
Road to recovery  
Both companies face serious challenges to their growth including declining subscribers and competition from rivals.  
Netflix said in a press release: "Even in this uncertain world and the face of increased competition, we are optimistic about the long-term growth prospects as streaming gradually replaces traditional television around the world."   
Facebook may be helped by its foray into the "metaverse" as it continues to develop technologies and equipment to support this new endeavor. This has led to a huge boost for this tech in the form of lucrative virtual assets such as virtual real estate.  
Trade the easy way            
Join CMTrading, the largest and best-performing broker in Africa, and discover more opportunities with an award-winning broker. Register here to get started             
Follow CMTrading on Facebook, Instagram, LinkedIn, Twitter, and YouTube.