Bitcoin breaches $45,000: Crypto king gains for 5 straight days  
Bitcoin, the king of cryptocurrencies, breached beyond $45 000 on February 8, marking its fifth consecutive rally.   
Bitcoin gained more than $2000 (7%) in 24hrs before facing resistance at $45,488 and shifting back down to $44,912.46 at the time of writing.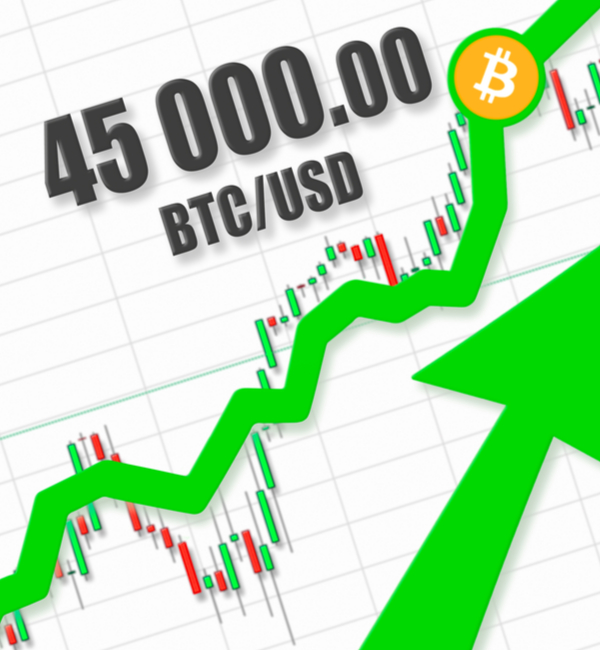 The entire cryptocurrency market is experiencing a rally; Ethereum rallied by 2.8% to $3171.29, XRP rose 18% to around $0.8 and Shiba Inu surged by 50% to 0.000034 cents.   
A disastrous start to 2022   
After reaching a record high of nearly $69,000 in November 2021, Bitcoin lost 50% of its value since then. In February, however, the cryptomarket is on the rise, with analysts believing Bitcoin could soon retest $48 000.   
Boost for Bitcoin   
Auditing giant KPMG said it has added Bitcoin and Ethereum to its corporate treasury as part of a commitment to emerging technologies and new asset classes. The company joins a growing list of high-profile mainstream firms that are investing in cryptocurrencies.   
Take advantage of the crypto rally – invest in Bitcoin today!  
Trade the easy way            
Join CMTrading, the largest and best-performing broker in Africa, and discover more opportunities with an award-winning broker. Register here to get started             
Follow CMTrading on Facebook, Instagram, LinkedIn, Twitter, and YouTube.