MT4 APP: Your Key To Trading & Stock Market Success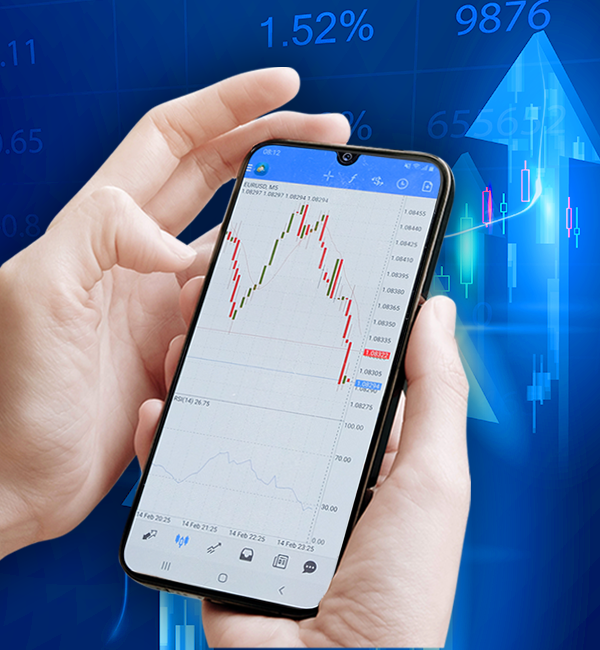 Are you interested in dominating the Forex and Stock markets while making those dream profits? Well, look no further! Meet Metatrader 4 app, or simply MT4, the ultimate weapon in the trader's arsenal. In this article, we'll explore how traders can leverage this powerful platform, with a casual and friendly tone, and highlight just how easy it is to master. So, buckle up, traders, and let's dive into the world of MT4!
What is MT4?
First things first, let's unravel the mystery behind MT4. Metatrader 4 (MT4) is a popular trading platform designed for forex trading. It's like the Swiss army knife of trading tools, offering everything you need to analyze the market, execute trades, and monitor your performance, all in one place.
MT4 has won the hearts of traders worldwide, and for good reason. Its user-friendly interface, flexible customization options, and robust features have made it the go-to choice for both beginners and seasoned traders. Plus, it's accessible on desktop, mobile, and web versions, allowing you to trade anytime, anywhere.
How Can Traders Use MT4?
Let's take a peek at how you can unleash the true power of MT4 and elevate your trading game:
1. Intuitive Charting
MT4 offers an extensive range of charting tools that allow you to scrutinize price movements, spot trends, and identify patterns. Whether you prefer candlesticks, bars, or lines, MT4 has got you covered. For instance, you can use Moving Averages to determine trend directions or employ Bollinger Bands to identify volatility levels.
2. Trading Indicators
MT4 boasts a plethora of indicators, which are like mystical potions that help you decode the market. RSI (Relative Strength Index), MACD (Moving Average Convergence Divergence), and Stochastic Oscillator are just a few examples of these magical tools that can guide your trading decisions.
3. Automated Trading with Expert Advisors
Not everyone can be glued to their screens 24/7, but that doesn't mean you can't trade! MT4's Expert Advisors (EAs) come to the rescue. EAs are custom algorithms that can automate your trading strategy. Imagine having a robot assistant placing trades on your behalf while you sip on your favorite beverage at the beach.
4. Risk Management Tools
MT4 allows you to set Stop Loss and Take Profit levels to manage your risk effectively. This way, you can prevent major losses and secure your profits even when you're not actively monitoring the market.
5. Mobile Trading On-The-Go
Life is dynamic, and so is the market. With MT4's mobile app, you can trade while you're on the move. So, whether you're stuck in traffic or enjoying a coffee break, you won't miss any trading opportunities.
Is MT4 Easy to Learn?
Absolutely! MT4 is designed to be user-friendly, making it accessible to traders of all levels. If you're new to trading, you'll appreciate its simplicity and intuitive layout. Even if you've never traded before, you can quickly grasp the basics and start making your first moves.
To begin your MT4 journey, sign up with a reputable broker such as CMTrading, which offers the MT4 platform for its clients. They provide educational resources, webinars, and tutorials that can help you navigate through the platform and sharpen your trading skills.
Why Traders Love MT4: A Closer Look
MT4 has taken the trading world by storm, and traders can't stop singing its praises. Let's delve deeper into why traders love this platform and how it enhances their trading experience.
User-Friendly Interface: MT4's interface is a breath of fresh air for traders. It doesn't overwhelm you with unnecessary clutter, and its straightforward layout allows you to focus on what truly matters – the charts and the markets. Even if you're a beginner, you won't find yourself drowning in a sea of complex menus. The intuitive design makes it a breeze to navigate and find the tools you need.
One Platform, Many Instruments: If you're a trader with diverse interests, MT4 is your perfect match. This platform doesn't just limit itself to Forex trading; it also supports CFDs (Contract for Difference) on commodities, indices, stocks, and cryptocurrencies. With all these options under one roof, you can easily switch between different markets and instruments, giving you the flexibility to explore various trading opportunities.
Customization Galore: Traders are unique, and so are their trading preferences. MT4 acknowledges this fact and offers a high level of customization. From chart colors to timeframes, you can tailor the platform to suit your personal style. You can even create custom indicators and Expert Advisors to match your specific trading strategy. This adaptability empowers you to build a trading environment that resonates with your personality.
Community and Sharing: Trading can sometimes feel like a solitary pursuit, but MT4 brings the community together. Traders can share their insights, strategies, and even copy trades through the MT4 trading signals and the MQL5 community. By connecting with fellow traders, you can learn from their experiences and gain valuable insights into the market.
Constant Updates and Improvements: MT4 is a platform that never sleeps. Its developers continuously update and improve the software, ensuring that traders get access to the latest features and enhancements. These updates may include bug fixes, new indicators, and additional charting options, keeping MT4 at the cutting edge of trading technology.
Charting and Analysis Tools: The heart and soul of any trading platform are its charting and analysis tools, and MT4 doesn't disappoint. With a wide range of technical indicators, drawing tools, and chart types, you can conduct in-depth market analysis and make informed trading decisions. Whether you're a technical analyst or a price action trader, MT4 caters to all trading styles.
Support for Algorithmic Trading: For tech-savvy traders, MT4 offers a gateway to the world of algorithmic trading. The platform supports the use of Expert Advisors, which are automated trading strategies written in MQL4 or MQL5 programming languages. If you have coding skills or access to pre-built EAs, you can let these virtual assistants manage your trades with precision and discipline.
Top Tool For Traders
In conclusion, MetaTrader 4 is the go-to platform for traders of all levels, and its popularity is well-deserved. With its user-friendly interface, diverse range of instruments, and unparalleled customization options, MT4 provides an enriching trading experience. Traders can analyze the markets, execute trades, and manage their risk effectively, all within a single platform. The constant updates and a supportive trading community further add to its charm.
Whether you're a newbie or a seasoned trader, MT4 has something to offer everyone. So, head over to CMTrading, sign up for an account, and join the MT4 revolution today!
For further information and inquiries about trading or partnership opportunities, visit CMTrading.com.
Join CMTrading
, the largest and best-performing broker in Africa, and discover more opportunities with an award-winning broker.
Register here to get started