Market winners: Boeing, Dogecoin, cotton, and more!
 Boeing takes flight with deliveries of new jets, cotton prices at record highs… it has been an interesting second week to January 2022.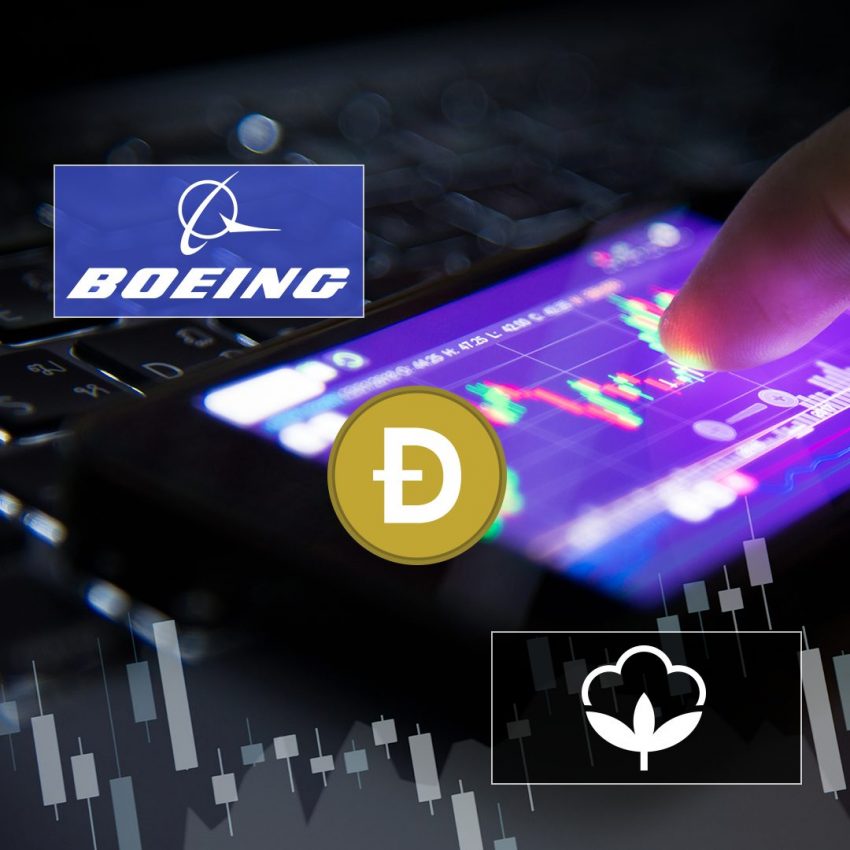 Earlier in January, the cryptocurrency market experienced a crash as the US Federal Reserve warned of a series of rate hikes later in the year. This, however, didn't stop meme-coin Dogecoin from gaining popularity.  
Ongoing supply issues have driven up the price of cotton and traders are taking advantage of the record high momentum.  
Today, we look at some market winners for the second week of January 2022.  
 How to become an online trader in 2022 
Biggest percentage move weekly:  
Stock: BOEING 4.61%  
The ongoing pandemic has played havoc with the global tourism industry, with airlines and airplane-makers grounded. Boeing's fortunes are beginning to change as deliveries of its airplanes are picking up, causing a rise in its stock.   
The company revealed in its fourth-quarter delivery figures that it had handed over 99 planes to customers in the final three months of 2021 for a yearly total of 340 jets. It's good progress but nowhere near its pre-pandemic levels. For comparison, Boeing delivered 238 planes in a single quarter in 2018 before two deadly crashes grounded the company's latest single-aisle jet, the 737 MAX, globally from March 2019 to November 2020. Boeing stock has seen lows of $188 to highs of $269 in 2021. By January 17, its stock hovers around $225. The company, however, remains at the mercy of pandemic-related effects on tourism.  
Commodities: COTTON 2%  
The cotton industry is experiencing a boom due to COVID-19 and traders are taking advantage of the popular commodity. Demand for clothing has never been higher and coupled with supply shortages sent the price of the plant to record highs. It should be noted however that experts expect price regulation in the short term to curb the effects of high cotton prices on suppliers and consumers. Leading commodity market MCX reports that it has received requests to suspend cotton futures on its platform. As we've seen with OPEC and its attempts to curb global oil production, we could be looking at a comparable situation with cotton. High cotton prices could be detrimental for consumers in the short term, reducing overall spending on the product and cutting demand. Restricting cotton futures, however, would be detrimental on farmers and producers, disastrous for a commodity already suffering from huge volatility.  
Crypto: XDGUSD 15%  
It has become the norm in the crypto market that whenever Tesla CEO Elon Musk mentions an asset, the market will be hugely affected. This was the case with meme-coin Dogecoin; Musk said on Twitter that the digital coin can now be used to buy Tesla merchandise. This singular tweet sent the price of Dogecoin rising by as much as 15% to $0.20 in 24hrs. Musk's tweets in 2021 have propelled Dogecoin to increase by a staggering 5859%. It was a standout feature of a flat crypto market.  
Most tradeable instruments weekly:  
XAU/USD
Gold traders started the second week of 2022 with a bull rush towards $1,800. This comes off the announcement of rate hikes set to affect the USD and 10-year US T-bond yield retreating from two-year highs. Gold buyers managed to raise the precious metal above the key resistance area, pushing towards $1,830 before consolidating at $1,815.  
SOL/USD
Crypto Solana has recovered to $144.7 from a drop affecting the crypto market. This gives traders a bullish outlook. Its price has been sliding for the past six months though it hit a crucial support barrier and could be in for a huge recovery given its performance in January so far.  
NVDA
Nvidia, a global semiconductor innovator, has gained huge momentum and remains of the darlings in the tech sector. The company's shares have soared more than 700% since 2019 and hit $346 in November 2021. However, markets are cyclical and NVDA has since a decline to currently trading at $269. Given the ongoing semiconductor shortage and a huge increase in video gaming, this dip has proven to be a fantastic opportunity to grab this popular tech stock. 
Trade the easy way!        
Join CMTrading, the largest and best-performing broker in Africa, and discover more opportunities with an award-winning broker. Register here to get started        
Follow CMTrading on Facebook, Instagram, LinkedIn, Twitter, and YouTube.       
Prices are accurate at the time of publishing.