Market winners: Apple, oil, VeChain and more!
 From tech megacorporation Apple seeing its biggest winning streak to gold outperforming in 2022 so far, it has been an interesting week for traders.  
Bitcoin has regained ground after a disastrous start to 2022. The king of cryptocurrency is still way off its record highs experienced in 2021 but is gaining lost ground.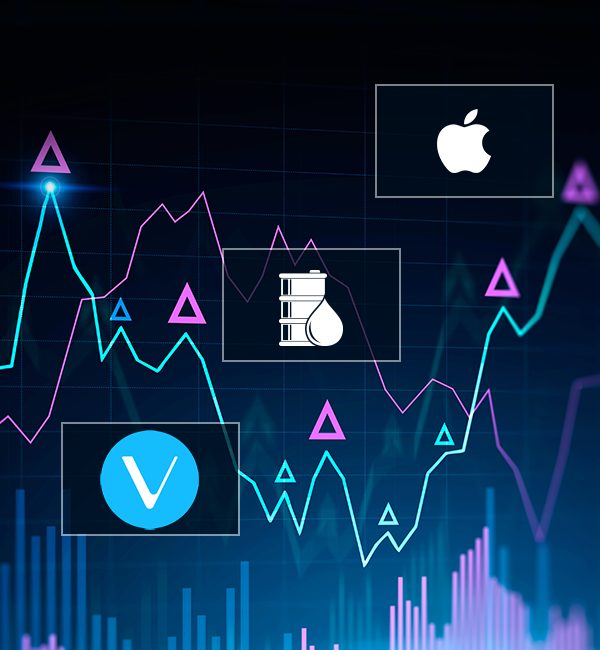 Crude oil and gold continue to be heavily affected by the ongoing conflict between Russia and Ukraine.  
We look at some of the most tradeable instruments on CMTrading's award-winning platform:  
Become a better trader – join our webinars 
Most tradeable instruments weekly:  
XAU/USD 

 
Gold prices have outperformed expectations for Q1 2022. At the start of 2022, gold had already experienced growth as many central banks, including the Federal Reserve, had begun to withdraw pandemic-era stimulus. US rate hikes also negatively affected the USD.   
Of course, the biggest catalyst for the price of gold is Russia's invasion of Ukraine in late February 2022. The invasion resulted in global financial turmoil and disruption of commodity supply chains. Gold, oil, and wheat prices soared throughout March. The gold price however is stabilizing as the prospect of a Russia-Ukraine ceasefire gathers steam. If sanctions on Russia are eased, pressure on global commodity supply chains will be lifted.  
BTC/USD 

 
Bitcoin price fell from a high of $48,000 to $46 000, ending March on a lower note but still positive for the month. The overall sentiment toward cryptocurrency has improved considerably after a huge drop in January and February. The $48 000 price level remains the strongest area of resistance for the crypto king. Since breaching $45 000 earlier on March 28, Bitcoin has entered into a rally. Traders are eyeing a breakout to $50 000 soon as historically, April is one of the best-performing months for Bitcoin.   
Take advantage of the Bitcoin price 
 APPLE  

 
Apple shares rose for the 11th straight day on March 29; the company's stock at $178.99 was up 1.9%, recouping its losses for 2022. The price is still about 1.7% off its record close on January 3, when the company hit a market cap of $3 trillion.   
The start of 2022 saw the high-growth tech sector experience a mass selloff. More established tech companies such as Apple, however, showed their resilience better than emerging startups. With inflation rising at its fastest rate in nearly 40 years and the US Federal Reserve hiking interest rates, many traders are turning to less-risky assets such as gold.  
Biggest percentage move weekly:  
Stock: APPLE 7%  
Apple is showing its resilience against a broader tech sector selloff earlier in 2022. The last time Apple's stock experienced a similar extended winning period was a 12-day streak record in 2003 from the launch of its then iconic iPod music player. Apple's rally comes alongside a broader tech market gain, as investors are optimistic about ceasefire negotiations between Russia and Ukraine.  
Commodities: CRUDE OIL – 10%  
Volatility in the energy sector has become a common feature of current trading conditions. As the Russian invasion of Ukraine heads into its second month, energy supply issues persist. Having already traded in a 38% range over the past month, crude oil prices swung 10% higher last week to their second-highest close of the year at 112.56 a barrel. Brent oil gained +17%, its highest close of 2022 at 120.21/brl.  
Crypto: VET/USD 35%  
The Russia-Ukraine 2022 war saw the price of VeChain (VET) drop to its lowest point in a year. As often happens with crypto, it has started bouncing back. At its best, it reached $0.2782, currently, however, it is hovering around $0.06 – $0.09.  
Vechain is on a rebound along with the rest of the crypto market. Altcoins typically follow the performance of Bitcoin through VeChain has been an outlier. March has proved to be a good month for VET; BTC has gained a marginal 8.6%, while VET has risen by about 66%. 
Ready to start trading? Open an account today 
Join CMTrading, the largest and best-performing broker in Africa, and discover more opportunities with an award-winning broker. Register here to get started               
Follow CMTrading on Facebook, Instagram, LinkedIn, Twitter, and YouTube.