Luxury carmaker Porsche set for $84bn IPO
The Volkswagen Group announced on September 5 that it will float luxury carmaker Porsche on the market. The Porsche IPO could become one of the world's biggest listings.   
The IPO comes at a volatile time in the market; record-high inflation has stunted economic growth and a Russia-Europe energy standoff has crippled European stocks.  
Become a better trader – Join our webinars     
Today, we look at the Porsche IPO and what it could mean for the other carmakers going forward.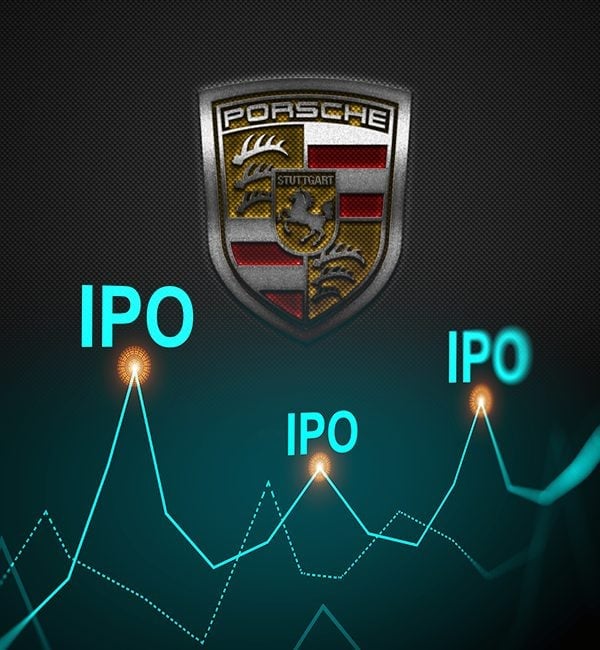 Porsche worth billions  
VW, owners of Porsche, said it could float the initial public offering in late September or early October 2022 but added the listing was still "subject to further capital market developments."  
Volkswagen said it will gauge buyer interest for the IPO in the coming months.  
Investors expect a valuation as high as $85 billion. If it succeeds it will be one of Europe's highest IPOs in years.  
Preferred shares will be offered to retail investors in countries. Interestingly, Qatar could become a key investor, intending to purchase a 4.99% stake in Porsche.  
Volkswagen said the IPO forms part of its plans to transform its electric vehicle offering for brands under its collective umbrella.  
Don't miss out – Get Daily Trading Signals     
Porsche's profit has increased by 22% in 2022 compared to the 8% drop in Volkswagen. Germany's car association is expecting a 4% drop in car sales in 2022.  
Volatile car market   
While Porsche has maintained strong sales many other luxury carmakers, such as Aston Martin and Ferrari, have dropped in valuation.  
Many investors question the move as European shares are on a downward spiral. Russia has halted its gas supply to EU nations, causing record-high energy prices. Coupled with the highest inflation Europe has seen in decades, it is an incredibly volatile time for a stock market debut, especially for such a niche company.  
VW has said that if the Porsche IPO is successful, it will propose a meeting in December 2022 where it will announce a special dividend of 49% of the proceeds to shareholders.  
Here's how to trade IPOs 
Fred Razak, CMTrading's Senior Trading Specialist, shares valuable trading advice: 
Q: What's an IPO?  
Razak said: "An initial public offering (IPO) is when a private company that has no public investors decides to open up its business to allow other people to own a piece of its company. Decades ago Facebook, Google, and Amazon all had initial public offerings. An IPO is usually set at a certain price. Sometimes right after the IPO is set, the price goes up or down depending on the market conditions.   
An IPO is when a privately held company issues shares and sells shares of its company to the public. Anybody can buy shares at that point. Now there are regulatory standards in terms of how many shares can be issued to the public and the price. So these types of things are dependent on the index that the particular stock or the particular company is listed on."   
Q: Why is there so much interest in the $85-billion Porsche IPO?  
Razak said: "These major valuations don't happen daily. Porsche is a major, company in the world and has a very interesting niche in luxury cars. When it's a huge company that's doing an IPO, that's a head-turner in the markets. It's a major opportunity for traders investing in these companies and for the company itself to be branded as a public company."  
Q: What do you think of the Porsche brand?   
Razak said: "Truth is, I never owned a Porsche but always desired one. I did have a friend that owned a Porsche and I loved it. It was an incredible Porsche 928 S4. If I had extra discretionary accounts, I probably would import and buy an antique. I would buy it for $20,000. I love that car, it was such a powerful vehicle. You'd turn it on you're hit with the indescribable feeling of power.   
"Sadly, most of us give up our dreams of owning such cars or participating in owning such cars, but the truth is we shouldn't. I love the Porsche brand. I think their quality is outstanding. I mean, you know you're purchasing a quality vehicle. I think it beats all sports cars in that category; Lamborghini and Ferrari just don't compare to me. When I look at them all I see is an impractical race. Porsche, however, is a practical sportscar. It doesn't overwhelm you in terms of going from a regular car and stepping into a Porsche. Moving to a Ferrari or going into a Lamborghini is a huge step. Porsches are just classy and beautiful. Whereas a Lamborghini is like a bull, I see a Porsche as a graceful gazelle."   
Q: What are some of the biggest IPOs you can recall?  
Razak said: "So the biggest IPO that I can recall are Microsoft and Netflix. They were huge and there was massive interest in those brands. I do remember Google, Amazon, and Facebook having incredible IPOs. It's difficult to say which one was bigger than the other.   
"Facebook came onto the market at a much later stage than the other tech stocks. Facebook 2012 did its initial IPO and it secured billions. I think the biggest game changer was Google because Google's IPOs came out of the dot-com race of the late 1990s. The 2000s saw Google, Yahoo, and Amazon all present IPOs.    
"The biggest one that was the most successful brand would probably be Amazon. Apple was in a different generation to those tech companies."  
Advice for traders looking at IPOs?  
Razak said: ""When there's an initial public offering, traders need to watch that the opening price of what is traded in the market doesn't go below that value. That's a very, very important sign. Traders need to watch this as it could dictate which way the shares will move.   
"When stock company Robin Hood delivered its IPO about a year and a half ago, many were expecting huge things. The market however didn't respond as favorably as the company had hoped, however. Traders need to consider the economic climate at the time of an IPO. "  
Want expert trading tips?  
CMTrading offers all the latest trading tips, news, and information in real-time. Simply sign-up for an account and access your trading dashboard. What's more, it's completely FREE!  
 Gain access to the following powerful features:  
Trending stocks 

 

Analyst ratings 

 

Insider activity 

 

TipRanks smart score 

 
What's more, it's completely FREE!  
Ready to start trading? Open an account today        
Join CMTrading, the largest and best-performing broker in Africa, and discover more opportunities with an award-winning broker. Register here to get started            
Follow CMTrading on Facebook, Instagram, LinkedIn, Twitter, and YouTube