Interest rates are rising – Here's what it means for traders 
Interest rates are rising globally and that means major changes for the markets.  
The onset of the pandemic in 2020 saw the global economy enter a recession. To curb the disaster, many governments and financial institutions kept interest rates low and pumped billions into their respective economies in the form of economic stimulus.  
Unfortunately, these policies cannot be held indefinitely and at some point, governments will have to curb their spending through various methods I.e., reducing economic support and raising interest rates. Already, many governments have announced interest rate hikes for 2022.   
Today, we take a look at interest rates and how rate hikes will affect the global economy.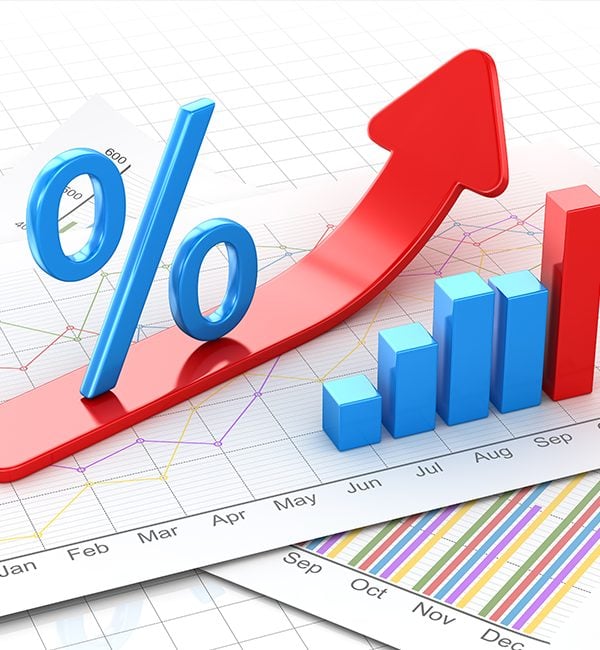 What are interest rates?  
In short, interest is the cost of borrowing money, presented as an annual interest rate. It is one of the primary tools central banks use to try and curb rising prices called inflation. The ongoing pandemic has resulted in the disastrous combination of high demand coupled with supply shortages; the cotton industry, for example, has seen soaring demand yet supply cannot meet this resulting in record-high prices. Unfortunately, high-interest rates hurt markets too and negatively currencies.  
Five key areas of concern: Rate hikes around the world  
The US Federal Reserve expects to raise interest rates three times in 2022. The US government is also scaling back economic support introduced during the onset of the pandemic in 2020. 

 

The European Central Bank, which sets interest rates for the 19 EU nations, is reducing economic support for its member states. 

 

Japan's central bank, the Bank of Japan, is reducing economic support though has stopped short of an interest rate cut so far in 2022. 

 

The Bank of England raised interest rates for the first time in more than three years back in December 2021. 

 

South Africa, South Korea, New Zealand, Brazil, and Russia and just some of the countries that raised interest rates in 2021 and are set to continue in 2022. 

 
 Fred Razak, Senior Trading Specialist at CMTrading, shares valuable advice for all traders:  
Q: What are interest rates?  
Razak said: "Interest rates are basically, the rates that central governments issue to their respective home banks that they charge to loan money. Central banks in every country have an interest rate that they charge their local financial institutions. Those domestic banks end up charging their retail clients, namely the citizens of the country, the interest rates for any loans.  
"Depending on how high or low these interest rates are, one currency becomes more attractive over another. For example, if I know that the interest rates in Japan are zero and in the United States it's 0.25, then I would be more inclined to change my money into Japanese yen or borrow Japanese yen and then invest in a US bank. I'd do this to get some percentage back where I'd pay back my loan at 0% in Japan. So, interest rates are basically just the charge that the central banks charge their domestic banks. This affects the level of how much those retail banks end up charging their clients."  
Q: Are interest rates are set to rise in 2022? 
Razak said: "This is the current situation. Most of the central governments have gone to zero or close to zero interest rates and they really follow the suit of Japan which fell into this problem about 10 years ago. So, interest rates are predominantly low but at the same time, if they're so low, then that adds to the inflation to the devaluing of the money, and thereby you get hyperinflation.  
"So, you have countries right now like Turkey and Lebanon that are going through ridiculous kinds of inflation that it's not sustainable for their economies to continue at this rate. Interest rates are a tool that the central governments use, but they can't keep them at zero forever. At a certain point either the country can't stop printing money for free, and that's not an economy, right? If money is worthless, money is worthless."   
Q: How do interest rates affect the market?  
Razak said: "Interest rates affect the markets in several ways. Number 1 – it's one of the many tools that central banks use to curtail the flow of money, through either the supply or demand of money. Money, however, is bound to supply and demand as well; If it costs a lot of money to borrow money, people are less inclined to borrow it. If it's ridiculously cheap to borrow money, then more people are more inclined to spend it and borrow it in the hopes of paying it back much later.  
"That's the mentality behind interest rates and its effect is tremendous on the markets. If it's very inexpensive to borrow money, then there's a lot of money in the markets to borrow. At the same time that creates inflation; if I flood too much money in the market, I've created too much supply. That's not something that we look to do, so there are several ways that you can curtail it such as issuing bonds and buying money back."  
Q: Why can't governments keep interest rates low?  
Razak said: "Well, historically speaking, anytime there's a rise in interest rates or hiking interest rates, then the market usually sells off. This usually means that down the line there's going to be less money available in the markets and that's going to stave off some of the expansion that we're currently experiencing in the markets.   
"This goes back as far as 30-40 years ago when the system was first implemented by Alan Greenspan, a previous Fed Chairman for over 25 years. He was put in by Ronald Reagan and he was chairman through Ronald Reagan and George Bush senior, Bill Clinton and George W Bush eras. He implemented probably what we still have today, maybe with a little bit of tinkering here and there.   
"We're playing musical chairs when it comes to the interest rates, and I think it's just the Fed is printing way too much money in the markets. I mean if you look at the history of all the money that was printed in the United States, 40% of it was printed in the past 18 to 19 months, so that's not a good sign."  
Advice for traders:  
Razak said: "My advice for traders going into 2022 is to be aware and study the markets. I mean, you know the markets are playing a little bit of a game of musical chairs and it's a matter of time before somebody is left without a chair and the markets will sell out."  
Trade the easy way!           
Join CMTrading, the largest and best-performing broker in Africa, and discover more opportunities with an award-winning broker. Register here to get started            
Follow CMTrading on Facebook, Instagram, LinkedIn, Twitter, and YouTube.         
Prices are accurate at the time of publishing.